Great News Review: Tina Fey's Latest Is Unlikely To Leave You Wanting More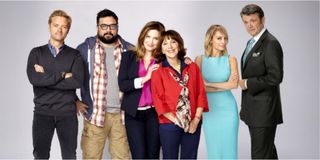 Fans of 30 Rock and Unbreakable Kimmy Schmidt will definitely notice some similarities between those shows and Tina Fey's new project, Great News. But, I doubt this show will end up with the same rabid fanbase as those other comedies. From the very first moments of Great News, it's clear that the show has been made to fit in right along with Fey's other well-known sitcoms; the incidental music is even almost identical to what fans will remember from 30 Rock. Unfortunately, Great News can't really find a good way to capitalize on the wacky style of comedy that was established in those earlier programs. And, I can't imagine that most viewers who've been looking for a 30 Rock replacement on network TV will see this show as a truly worthy successor.
Great News focuses on 30-year-old Katie Wendelson (Briga Heelan), a producer who's starting to feel stymied in her job working on the fluffiest pieces for the national cable news show The Breakdown. Katie has decided to try and make a move upward at work, with the hopes of talking the show's executive producer, Greg (Adam Campbell), into giving her harder-hitting stories to produce for the series. But, at the same time, Katie's helicopter mom Carol (Andrea Martin) has decided to make a big change in her own life by going back to school to study broadcasting. And, this leads Carol to an internship at The Breakdown, where she'll make Katie's professional life (and, often, her personal life) a lot more difficult, whether she means to or not.
Any workplace comedy worth its air time needs to have a crew of oddballs populating the office, and Great News is no different. The Breakdown is anchored by news veteran Chuck Pierce (John Michael Higgins), a difficult blowhard who's feeling left behind by new trends in journalism and has a penchant for firing interns. Joining him at the desk is Portia (Nicole Richie), his uber hip, young co-anchor who tackles "hard-hitting" issues like going under cover as an ugly person for the show. The show also features reports from weirdo meteorologist Beth (Tracey Wigfield), who's actually hoping to one day control the weather, while Katie's best friend at the office, Justin (Horatio Sanz), works behind the scenes as a video editor who frequently doles out zen-like advice.
This sounds like a pretty good setup for some solid laughs, but Great News, which comes from creator/executive producer Tracey Wigfield, along with executive producers Tina Fey, Robert Carlock, Jack Burditt and David Miner, squanders pretty much all of its potential, despite trying so very hard to make this an enjoyable bunch of professional misfits to watch. I'll admit that I was never a diehard 30 Rock fan, but even to me it was clear why so many people loved that show, with its surreal humor and frequently manic pace. While Great News clearly tries to approximate that style, though, it just doesn't pan out. I was able to preview five episodes, and most of what was obviously supposed to be funny fell flat.
I was especially disappointed in Great News because the show seemed to be heading somewhere really funny when, about three minutes into the pilot, something so crazy happened that I laughed out loud for a good long while. But the funny quickly tapered off and settled around "meh" for most of what I saw. I kept watching, mostly in the hope that it would hit its stride and be able to get back to those highs on a regular basis, but it simply didn't get any better as it went along.
The thing that annoyed me the most about Great News, is the show's reliance on the tired idea of older people being completely out of touch with whatever modern world they find themselves living in. Sure, once most of us hit our late 50s or 60s we'll probably be stubbornly in the dark with regards to a lot of technology or what fuels pop culture, but I think Great News would have actually been funnier if everyone around Chuck and Carol (who is referred to by Greg as "the old") assumed they were out of touch, but they both knew way more than they let on, just so they could be underestimated. Instead, Carol has no idea that the toner you put in a copy machine isn't the same as the toner you use to clean your face (even though copy machines have been around since 1959), and Chuck thinks Snapchat is the name of one of the Minions, who must also be Pokemon, right?
For the most part, the cast does the best they can with what they're given. Heelan is perfectly likable as Katie, and manages to make her relatable even with her quirks. Higgins and Martin soldier on like the comedy pros they are, and Sanz, Campbell and Wigfield round things out well enough. Richie, making her debut here as a regular in a scripted TV show, could use some work still, but she's not totally out of place with the rest of the cast.
You can catch Great News on NBC Tuesday, April 25 at 9/8 CST. To see what else you can watch on the small screen, be sure to check out our Netflix premiere schedule, midseason premiere schedule and summer premiere schedule.
Yennefer's apprentice, Gilmore Girl; will Vulcan nerve pinch pretty much anyone if prompted with cheese...Yes, even Jamie Fraser.
Your Daily Blend of Entertainment News
Thank you for signing up to CinemaBlend. You will receive a verification email shortly.
There was a problem. Please refresh the page and try again.