David Boreanaz's SEAL Team Vs. Shemar Moore's S.W.A.T.: Which New Show's Trailer Looks Better?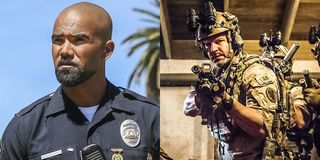 Two new CBS shows will be bringing some familiar TV favorites back to our screens full time this fall: Shemar Moore in S.W.A.T. and David Boreanaz in SEAL Team. Like most people, we only have so much time to laze around watching television, especially when fall TV is back in full swing. We've finally gotten first looks at each of these new dramas, so, which one appears to be the better bet? Well, luckily for you, we're here to help you figure out which of these new shows has the cooler trailer. Let's start with our friend Shemar Moore, since he's been off the air a bit longer, shall we?
Phew. Boy, I have to say, the S.W.A.T. trailer isn't what I was expecting at all. Clearly, those behind the show want us to know right up front that this isn't just going to be a shoot 'em up kind of show. It looks like new Los Angeles S.W.A.T. leader Daniel "Hondo" Harrelson (Shemar Moore) and his team will be dealing with some pretty heavy issues in the community they serve, and Hondo himself seems to be pretty conflicted about the way things have been done there so far. But, they will be bustin' some heads and getting their action on, along with giving those interested some Moore eye candy on occasion. Also, it's nice to see that S.W.A.T. will have some lighter moments to help break up all the emotional stuff and the blowing-cars-up-with-rocket-launchers stuff. All in all, this trailer gets high marks for showing off a wide variety of what we can expect to see when the show debuts. Nice work, S.W.A.T.
Alright, let's move on to a man who's only been out of work for a few months, and take a good, long gander at David Boreanaz and SEAL Team.
OK, what is happening here? Again, I thought I knew what I was going to see when the SEAL Team trailer kicked into high gear, but this first look was even more emotional and heart-tugging than the S.W.A.T. trailer. I'm legitimately nervous for the family members these guys leave behind when they get sent to handle some of the most difficult tasks at the behest of our government. Jason Hayes (David Boreanaz) is leading a team that makes up the elite of the elite and takes on some of the most dangerous missions with the most impossible odds. It's clear that his team trusts him with their lives, but it's also obvious from watching Jason closely that he might be at a point in his career where he's seen too much and has to overcome that each time he sets out on a mission. There's some good action here, but the focus of the trailer appears to be the heart-pounding tension involved in completing assignments.
So, what's the verdict? I can't really knock either show, as both S.W.A.T. and SEAL Team look like they'll offer viewers some cool, thrilling storylines. Obviously, if either Shemar Moore or David Boreanaz are personal favorites, their respective shows will be a given on your viewing slate. Action fans should be good with either show; if you like non-stop suspense, SEAL Team might be the better choice, and if you need a bit of humor to break things up, S.W.A.T. seems like a safer bet. I have a feeling both series will be able to find a diehard audience when they hit CBS later this year.
Bachelor Nation, Gilmore Girl; will Vulcan nerve pinch pretty much anyone if prompted with cheese...Yes, even Jamie Fraser.
Your Daily Blend of Entertainment News
Thank you for signing up to CinemaBlend. You will receive a verification email shortly.
There was a problem. Please refresh the page and try again.