The Epic Prank Doctor Who's Steven Moffat Wanted To Pull On The New Showrunner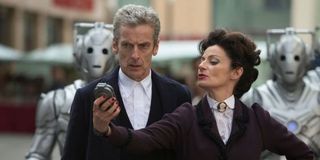 An era of Doctor Who is going to be ending in the very near future. In fact, Steven Moffat only has one Christmas special left in his tenure as showrunner before the torch is officially passed to Chris Chibnall. As it turns out, Moffat and his Doctor Who predecessor Russell T. Davies concocted a prank to pull on Chibnall that would have been both hilarious and kind of cruel. Moffat revealed the prank that could have been, saying this:
I have to imagine that Chris Chibnall would second-guess his decision to take over Doctor Who if he discovered that he was being left with a pregnant Time Lady, a regenerated Doctor, and John Simm's crazypants incarnation of the Master. Sure, working as the head honcho of a legendary series has to be a dream come true for folks in the TV biz, but would anybody really want to deal with a pregnant Missy as a cliffhanger? For Chibnall's sake, I'm glad Moffat decided not to go with this prank.
Of course, judging by Steven Moffat's comments on the Doctor Who aftershow, he didn't give much serious thought to leaving poor Chris Chibnall with a baby bombshell. The idea came about when Moffat emailed Russell T. Davies to let him know that John Simm's version of the Master -- which originated during Davies' time as showrunner -- would be coming back to the show. In their emails, they came up with the idea of punking Chris Chibnall with the Missy pregnancy prank.
Hopefully Steven Moffat doesn't stick Chibnall with too painful of a cliffhanger. Russell T. Davies swept the board clean when he left Doctor Who, closing the door on the Tenth Doctor and putting all of his companions behind him. Moffat got a fresh start when he began running the show in Season 5, and he did well enough with it. Chibnall deserves the chance to plot his own course without resolving Moffat's cliffhanger in Season 11.
Doctor Who is done for the time being. When the show returns for the Christmas special, fans will have to say goodbye to Peter Capaldi as Twelve and Steven Moffat as showrunner. We don't yet know who will be taking control of the TARDIS after Twelve regenerates into Thirteen, although fans have been speculating that an actress will land the role this time around. Given that the Master's regeneration into Missy set the precedent of Time Lords regenerating into Time Ladies, it's entirely possible that the next Doctor will be female. If you need some shows to watch between now and Christmas, our 2017 Netflix guide and our summer TV premiere schedule can help you out.
Resident of One Chicago, Bachelor Nation, and Cleveland. Has opinions about crossovers, Star Wars, and superheroes. Will not time travel.
Your Daily Blend of Entertainment News
Thank you for signing up to CinemaBlend. You will receive a verification email shortly.
There was a problem. Please refresh the page and try again.