How BBC Responded To Complaints About The New Doctor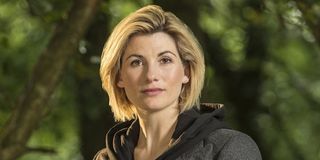 Big news on the Doctor Who front broke recently when BBC revealed who will be playing the Doctor after Peter Capaldi departs at the end of the year. Jodie Whittaker of Broadchurch fame landed the role, making her the very first woman to play a version of the Doctor. Many fans all over the world celebrated Whittaker's casting and are looking forward to seeing a woman as the Thirteenth Doctor; other fans... well, others weren't so happy that the BBC was going in such a revolutionary direction with a character who has always been played by men. BBC evidently got complaints about the casting, and this was the response:
If that's not the most polite way "Deal with it!" has ever been said, I don't know what is. It's impossible to deny the logic in BBC's response to the complaints. Honestly, just the line that the Doctor is an alien from the planet Gallifrey should be enough to quell some of the complaints. Time Lords are a fictional species hailing from a fictional planet on a fictional TV show, and Doctor Who frequently changes the rules of what can and can't happen on the show. The biology doesn't need to make sense on a scientific level. Besides, Doctor Who has set the precedent in recent years that Time Lords can regenerate into Time Ladies. If the Master could regenerate into a female body, why couldn't the Doctor?
BBC went on to praise Jodie Whittaker for her interpretation of the iconic character, saying that she nailed her audition. Given that Broadchurch showrunner Chris Chibnall will be taking over for Steven Moffat following this year's Christmas special, we can be sure that he knew what he was doing when he cast Whittaker. Who are we to doubt him when he's worked with her before over the span of several years?
At the end of the day, we can bet that the majority of people who have reached out to BBC to complain are mostly just unhappy that Doctor Who is going in such a new direction with a woman as the star. We can only hope that the complaints will die down once we see Jodie Whittaker in the role. Sadly, we still have several months before we'll get to see her in action as Thirteen. She won't make her Doctor Who debut until the very end of the next Christmas special, when Peter Capaldi's Twelve finally regenerates. Steven Moffat is leaving as well, which means that Doctor Who will enter a brand new era with Jodie Whittaker and Chris Chibnall.
Check out our summer TV guide and our 2017 Netflix schedule to see what you can watch to pass the time until Doctor Who returns to the airwaves.
Resident of One Chicago, Bachelor Nation, and Cleveland. Has opinions about crossovers, Star Wars, and superheroes. Will not time travel.
Your Daily Blend of Entertainment News
Thank you for signing up to CinemaBlend. You will receive a verification email shortly.
There was a problem. Please refresh the page and try again.