The Flash Just Cast Another Superhero For Season 4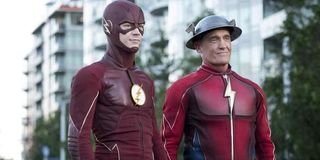 Season 4 of The Flash is going to present some new challenges for Barry Allen and Co. Barry himself will have been out of commission for a while in the Speed Force, and a new leader will be running things on Team Flash. The good guys will also face a new supervillain by the name of Clifford DeVoe, a.k.a. the Thinker, and he'll be unlike all the speedster supervillains who came before him on the show. Luckily, Team Flash will get an assist from a brand new superhero in Season 4. The DC Comics hero known as Elongated Man will have a significant role in the new season, and he'll be played by Hartley Sawyer.
Elongated Men -- also known as Ralph Dibny -- is a private investigator whose powers of deduction and detective skills are so finely honed that they rival those of the World's Greatest Detective himself. When Ralph discovers that he has powers that allow him to stretch his body into just about any form or shape, he decides to fight the good fight alongside Team Flash. With his investigative smarts and his powers, he'll be an asset who helps them to solve one of the greatest mysteries of Central City. Hartley Sawyer will recur throughout Season 4 as Elongated Man.
The news (courtesy of Deadline) that Elongated Man has been cast for Season 4 doesn't come as the biggest surprise. Rumor had it earlier in July that The Flash producers were looking for a Ryan Reynolds/Chris Pratt type of any ethnicity in his mid- to late-30s to tackle the role. At 32, Hartley Sawyer is a few years shy of "mid- to late-30s," but he otherwise seems to fit the bill from the early descriptions of what the show was looking for in the newest superhero to join the team.
The new description of the character hints that Elongated Man will probably be another metahuman affected by the disaster of the particle accelerator. The character of DC Comics lore gained his stretching abilities thanks to a drink that granted him incredible elasticity. The Flash incarnation of Elongated Man will apparently discover his powers, which indicates that he won't be actively trying to acquire them. My big question is still who gives him the superhero name of "Elongated Man." Cisco is usually much more creative, although it's possible that he's so bummed by Barry's disappearance into the Speed Force that he's just given up coming up with cool names for heroes and villains.
Hartley Sawyer has played a variety of roles on the small screen, so it should be fun to see what he can do as Elongated Man. His big TV break came in 2010 as one of the leads of the short-lived TBS sitcom Glory Daze. He turned up on Don't Trust the B---- in Apartment 23 in 2012, then scored a memorable role on The Young and the Restless that lasted from 2013-2014. Sawyer most recently appeared in the Saving the Human Race web series that ran on CW Seed earlier this year. He played a cyborg helping a human survivor in the zombie apocalypse.
Elongated Man will make his Flash debut at some point this fall when The Flash returns to the airwaves. If you're not yet up on everything that will hit primetime in the coming months, take a peek at our fall TV premiere schedule.
Resident of One Chicago, Bachelor Nation, and Cleveland. Has opinions about crossovers, Star Wars, and superheroes. Will not time travel.
Your Daily Blend of Entertainment News
Thank you for signing up to CinemaBlend. You will receive a verification email shortly.
There was a problem. Please refresh the page and try again.