Game Of Thrones Director May Have Just Revealed Why The Show Never Introduced Aegon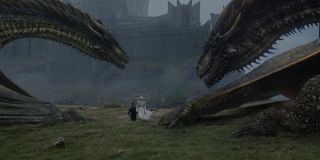 Game of Thrones has been taking liberties with the A Song of Ice and Fire source material from the very beginning, and fans have had to accept the fact that the stories on the show will be different from the stories in George R. R. Martin's books. Still, the show has generally included the major characters from the books. One of the most surprising omissions has to be the character of Young Griff, a.k.a. Aegon, who claims that he is the son of Rhaegar Targaryen, and he survived the sack of King's Landing because he was swapped with another baby boy and smuggled to safety. Now, Game of Thrones director Alan Taylor may have revealed just why Aegon never made it to the show, saying this about the importance of Jon and Dany:
Young Griff/Aegon appeared in the Tyrion chapters of fifth (and latest) book in George R. R. Martin's saga, called A Dance with Dragons. It was never confirmed that the young man was truly a Targaryen, but he clearly believed that he was. Given that Aegon's status as Rhaegar's first son puts him ahead of Dany in the line of succession, he emerged as a character who could possibly steal the show from Dany and Jon. In fact, Rhaegar even considered him the prince that was promised. According to Game of Thrones director Alan Taylor in his chat with Mashable, however, George R. R. Martin was clear to the folks at the show that Dany and Jon were the ultimate players in the game. No need to introduce Aegon if Dany and Jon are the ones who will matter!
George R. R. Martin still has a couple of books left in his saga, so readers haven't yet learned whether Aegon is legitimately a Targaryen or if he has been tricked. The reveal that Martin was emphasizing Dany and Jon way back in Season 1 may indicate that Aegon is no more than a pretender who won't be of much consequence in the books. Yes, the show has gone in some different directions from the books, but Alan Taylor seems pretty firm that Martin was the one making it clear that Dany and Jon were the end game.
It's worth noting that Martin intended to have at least one more installment in A Song of Ice and Fire on bookshelves by now. Perhaps the idea back in Season 1 was that he would have settled the Aegon question on the page before the show ever got to the point when he would or wouldn't be introduced. Winds of Winter might have resolved Aegon's story if it was released earlier. We'll likely have to wait until Winds of Winter does finally hit bookshelves for the answer to whether or not Aegon matters in the overall scheme of A Song of Ice and Fire, but it seems likely that George R. R. Martin doesn't have any grand plans for Aegon, as the prince that was promised or otherwise, and that's why he never turned up on the show.
While we don't yet know when the next book will be released, we don't have to wait much longer for the next episode. The Season 7 finale of Game of Thrones airs on Sunday, August 27 at 9 p.m. ET on HBO. Swing by our fall TV premiere schedule for your other viewing options now and in the coming weeks.
Resident of One Chicago, Bachelor Nation, and Cleveland. Has opinions about crossovers, Star Wars, and superheroes. Will not time travel.
Your Daily Blend of Entertainment News
Thank you for signing up to CinemaBlend. You will receive a verification email shortly.
There was a problem. Please refresh the page and try again.