How Jon Snow's Name Cleverly Hinted At His Game Of Thrones Secret This Whole Time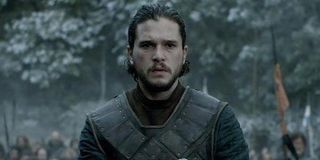 It's been just a little over a week since the Game of Thrones finale aired, and fans can't stop digging into the details to unearth new treasures. Regarding Ned Stark and Jon Snow's secret lineage, many fans have been on the right trail for a long time, a recent Reddit post is a wow-worthy reminder of how George R.R. Martin had been cleverly teasing that Jon wasn't Ned Stark's son long before that Season 6 reveal. And as it usually goes with the Longclaw-wielding character, it's all about where the name Jon came from, and what inspired Ned to use it.
One Game of Thrones fanatic noted on Reddit that all of Ned Stark's sons are named after people Ned Stark was close to in life, such as Rickon and Bran being named after Ned's father and brother, respectively. Jon Snow, specifically, is named after former Lord Paramount of the Vale Jon Arryn, who raised Ned in his youth and served as a father figure to both him and Robert Baratheon. It's known that one reason this name was chosen was to keep the non-bastard child safe from Robert, whose hatred for Rhaegar Targaryen could have meant bad things for the child. Now that we know Jon is actually Ned's nephew, the name Jon itself draws a parallel between the two characters in a way that hasn't been immediately obvious to everyone.
Some Game of Thrones fans believe that naming Jon Snow after Jon Arryn was a conscious decision by Ned to show that he would raise the boy like he was Ned's own, despite not actually being his biological son. This sounds like a very plausible scenario, and with Jon getting that name not long after Ned's brother and father were killed (prior to the child's birth), it seems like this is the case. (More so, anyway, than Ned just running out of other people to name kids after.) Of course, it's not really a call for anyone other than George R.R. Martin to make, but it all seems to fit together too neatly to be just some happy accident.
If Game of Thrones really is so deep that something as subtle as this can draw back to major plot points, one has to wonder just what other things could be lying in wait for the GoT fan base to uncover. Perhaps that whole sword scene everyone was freaking out about a couple weeks ago isn't that crazy after all? Okay, maybe things aren't THAT extreme, but there has to be other stuff hiding in past seasons that may reference what's ahead for Game of Thrones.
Season 7 of Game of Thrones is in the past but CinemaBlend is still pumping out stuff for fans as we all wait for Season 8, which possibly won't hit until 2019! Those keeping the discussion going should check out who the new main character is in the series, according to screen time, or how Sophie Turner is over fans who want to defend Littlefinger following his big finale scene. Those taking a long siesta from Westeros until Season 8 returns can do so knowing there are many great shows featured on our fall premiere guide that are just around the corner.
Mick likes good television, but also reality television. He grew up on Star Wars, DC, Marvel, and pro wrestling and loves to discuss and dissect most of it. He's been writing online for over a decade and never dreamed he'd be in the position he is today.
Your Daily Blend of Entertainment News
Thank you for signing up to CinemaBlend. You will receive a verification email shortly.
There was a problem. Please refresh the page and try again.