Netflix's American Vandal Is A Must-Watch True Crime Parody Of Making A Murderer And Others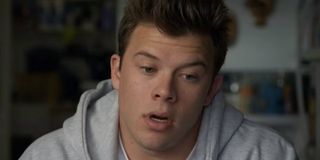 The last few years have seen a notable boom in true crime stories, with Netflix very much leading the charge. Documentaries like Making A Murderer have fundamentally changed the way in which we look at true crime tales, while also creating an entirely new generation of fans of the genre. Now the cycle has come full circle, as Netflix's American Vandal offers up a pitch-perfect parody of that tried-and-true formula, while also delivering a surprisingly fascinating mystery that -- like any good true crime story -- can sink its hooks into you and become totally addictive.
What started as a typical day for the teachers of Hanover High School in Oceanside, California quickly turns to horror when they discover that someone has spray-painted each of their cars with a giant red penis in the faculty parking lot -- causing upwards of $100,000 in damage. The finger pointing starts immediately, and they all uniformly place the blame on moronic Hanover senior Dylan Maxwell (perfectly cast YouTuber, 22 Jump Street actor, and Total Frat Move icon Jimmy Tatro).
What follows is eight-episode deep dive into the mystery of the dicks as Dylan's Hanover classmate Peter Moldonado documents the twists and turns of the case to discover the truth and prove (or disprove) Dylan's innocence. Along the way, the principal characters find themselves forced to navigate a high school landscape that (oddly enough) often seems just as treacherous and fraught with peril as a real-life criminal proceeding.
It takes a while (at least it did for me), but eventually, you realize that the dicks are not the joke. Are they funny? Sure, but they are not the meat of the show. No, the beauty of American Vandal is the fact that it does not deconstruct shows like Making A Murderer or Serial; it embraces them. This show does not poke fun at the constant dead-ends, left turns, and false narratives that consistently pop up on its more serious counterparts. Instead, it takes those tropes and crafts its own version of them. Yes, the penises are funny, but the emotional impact that this ride has on Dylan and the Oceanside community is the core through line that carries the show. It is as if somebody combined the best elements of Rian Johnson's Brick and Superbad, and then added a found footage/documentary layer to it. On paper, it should not work, but it really does.
That's not to say that there aren't some great gags throughout the show's eight-episode run. While the show is seldom laugh-out-loud funny, it provides consistent chuckles in the ways it uses imagery and ideas that have become fundamental aspects of modern documentaries. Whether it's the simple act of laying out diagrams of potential suspects or using a digital recreation to show how a Hanover student could've gotten a handjob at camp without anyone seeing, it's clear that the folks behind American Vandal have read the Making A Murderer playbook several times over.
Of course, beyond American Vandal's ability to embrace (and skewer) certain well-worn ideas in the true crime genre, the show also works incredibly well as a coming-of-age tale. The high school setting not only allows the show to develop a documentary framework with amateur film student Peter Moldonado, but it also has plenty of honest fun with the concept of adolescence and why being a teenager in 2017 can suck. It doesn't matter if it's working a dead-end job delivering for Postmates or navigating the minefield that is the high school social scene. American Vandal neatly combines the biting with the insightful and offers a story that stands alongside the likes of The Breakfast Club, or Freaks and Geeks. Not bad for a mockumentary about penises on cars, right?
American Vandal is now available to stream on Netflix, but it's not the only great show set to debut this fall. To keep yourself up to date on anything and everything related to small screen programming over the next few months -- such as Stranger Things Season 2 and all of the Arrow-verse shows -- take a look at CinemaBlend's fall TV premiere guide!
Your Daily Blend of Entertainment News
Originally from Connecticut, Conner grew up in San Diego and graduated from Chapman University in 2014. He now lives in Los Angeles working in and around the entertainment industry and can mostly be found binging horror movies and chugging coffee.