8 Big Questions We Have After Stranger Things Season 2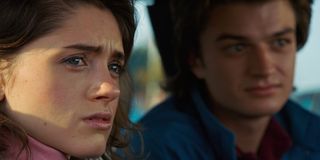 After over a year of patiently waiting, Stranger Things fans were finally awarded last weekend. Because Stranger Things 2 has finally arrived, bringing nine new episodes and a heartbreaking and horrifying new adventure in Hawkins, Indiana. But given the mysterious nature of the show's mythos (and the need to set up a third installment), there are still a ton of questions that fans will be left with after binge watching. We'll no doubt dissect and discuss every possibility until a new series of episodes is released, and smart money says these eight are at the top of your mind.
Is Steve Cool With Nancy And Jonathan?
One of the more relatable and low stake plot lines in the past two seasons of Stranger Things revolves around the love triangle of Nancy, Jonathan, and Steve. Nancy and Jonathan's connection was palpable from the show's very first episodes, although she ended up picking Steve at the end of Season 1. Stranger Things 2 continued this conflict, as Nancy's lack of strong feelings for Jonathan was made clear when she got drunk at a Halloween party. And after Nancy and Jonathan went on their mission to expose the truth about Barb's disappearance, they finally physically connected and ended up together. Steve handled the rejection like a champ, but is he actually friends with the new couple? Or is he too busy hanging out with the boys in Mike's basement? We'll have to wait and see.
What About Bob?
Sean Astin's Bob Newby was Season 2's big victim. After dating Joyce for a few months prior to the season's opening, he ended up getting involved in the main conflict with the Shadow Monster. He actually managed to take the craziness of the season in stride, and in the penultimate conflict at Hawkins Lab, he was killed trying to save Joyce and her sons' lives. Although he almost made it out of the lab alive, one dropped mop ultimately ended with the demodogs ripping him to shreds while Joyce watched in horror. While we were privy to her grieving process, it's unclear if Bob left any friends or family behind. He also ran Hawkins' Radio Shack, so there should be people noticing his disappearance. So he may end up being the Barb of the season after all, with his death having implications for Joyce's motivation in Season 3.
Is Billy Still An Asshole?
Billy is no doubt the most divisive character from Stranger Things 2. Max's stepbrother spent the majority of the season terrorizing more likable characters like she, Steve, and Lucas. But when we met his verbally and physically abusive father (Will Chase), he finally became a vulnerable chraracter. Max was eventually able to stand up to him in the finale, and he seems to have backed off a bit. But will it stick? Actor Dacre Montgomery recently revealed some of the character's motivations, but it's unclear how he'll function in the narrative of the show moving forward. Perhaps he'll be able to connect with Steve, who will need a new scene partner now that he and Nancy broke up.
How Has Dr. Owens Avoided The Investigation Into Hawkins Lab?
Sam Owens (Paul Reiser) was another new character to join Stranger Things in its sophomore season. Taking over Hawkins Lab after Dr. Brenner's presumed death by the Demogorgon, he seemed like an antagonist at first glance. But he eventually worked to save various members of the group, and after Eleven sealed The Gate in the season finale, he helped organize papers that would allow Hopper to formally adopt her. But how exactly did he manage to avoid the investigation we were shown happening at Hawkins? Not only did he avoid implication of the facility he ran, he also still had enough power to get a fake birth certificate made. He seems like a powerful dude, and it should be fascinating to see how he affects the future of the series.
Are Joyce And Hopper Finally An Item?
The other unrequited love story currently in Stranger Things is the relationship between Joyce and Hopper. The two shared a past before the events of Season 1, and you can sense their connection in any scenes they share together. But with Joyce dating Bob in Season 2, their romantic plot line was put on pause. He's since passed away, leaving the door open for Hopper to be Joyce's support system. They shared a sweet moment in the Season 2 epilogue, with their shared trauma and loss bonding them more than ever before. It would also be interesting to see Will and Eleven (aka Jane) finally interact, and see the strange blended family come together.
When Will Kali Come Back?
Perhaps the most controversial episode of Stranger Things 2 is the capsule episode in episode 7. Focusing entirely on Eleven's journey to find her "sister" in Chicago, we were given an interesting glimpse into both characters' past-- and Eleven was given more of an independent personality and grasp over her powers. Plus, she got a cool new look out of it, as well. One has to wonder if Eleven is still "visiting" Kali, and keeping tracks on her sister of sorts. Kali and her group seemingly made it out of Chicago alive, so we should expect them to eventually return; it's just unclear exactly how.
Is Dustin's Demodog Dart Still Alive?
Another somewhat frustrating aspect of this past season was Dustin's relationship with the Demodog Dart. Despite his knowledge of The Upside Down and experience in the show's first season, he still attempted to keep the creature and feed it 3 Musketeer Bars. Eventually his relationship with the creature would pay off, and Dart would let the kids and Steve escape from the tunnels underneath Hawkins. And while Eleven managed to close the tear in the finale, could Dart still be out there somewhere? Fans might not be particularly excited to see this plot line continue, but it's an open thread that should probably be handled one way or another.
Is Will Finally Free?
Stranger Things 2 allowed for Will Byers to become a more significant character in the series, and we watched him struggle with the virus and influence of the Shadow Monster. This also allowed for young actor Noah Schnapp to show off his stunning range, which was a nice change for the season. And the finale saw Joyce expel the virus from her son, just as Eleven seemingly saved the town. If Will is finally done being the show's token victim, it should be interesting to see how The Duffer Brothers attempt to keep the character relevant. One option might be a potential relationship with Eleven, who he never really got to meet in the first two seasons. They've both shared some terrifying experiences, and she may give him a support that the boys simply cannot.
Your Daily Blend of Entertainment News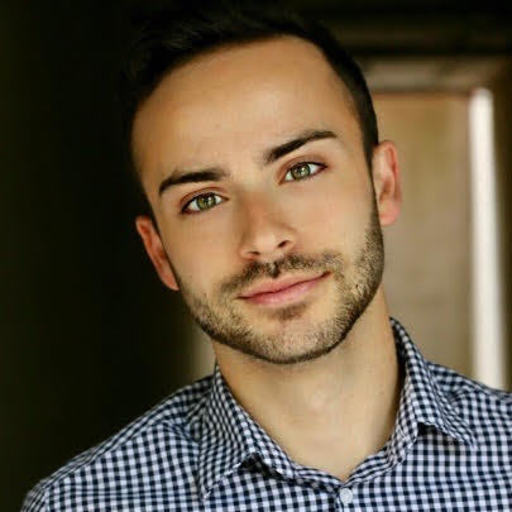 Corey was born and raised in New Jersey. Double majored in theater and literature during undergrad. After working in administrative theater for a year in New York, he started as the Weekend Editor at CinemaBlend. He's since been able to work himself up to reviews, phoners, and press junkets-- and is now able to appear on camera with some of his favorite actors... just not as he would have predicted as a kid.