How Well Agents Of S.H.I.E.L.D.'s Season 5 Premiere Did In The Ratings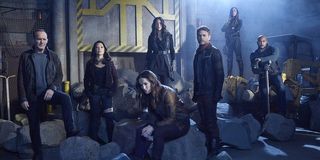 (Image credit: Image courtesy of ABC)
Agents of S.H.I.E.L.D. has finally returned to the airwaves with new episodes. Season 5 was pushed back from a fall premiere date to make room for Marvel's Inhumans, and fans had to wait all the way until December for payoff on the crazy Season 4 finale cliffhanger that saw Coulson and Co. whisked off to outer space. S.H.I.E.L.D. returned with a two-part premiere that set the stage for a game-changing fifth season. Now the numbers are in, and we know how many people tuned in to watch. As it turns out, the numbers aren't too shabby.
The Season 5 premiere scored a 0.7 rating and was watched by 2.5 million viewers in the coveted 18-49 demographic. While those numbers admittedly aren't the kind that will set any records for network primetime, they're not bad at all by S.H.I.E.L.D. standards. The 2.5 million viewers is the largest audience to tune in to an episode since way back in January, according to TVLine, and the ratings didn't change from the finale back in May. Obviously a bump in ratings and viewership would have been preferable with a two-part premiere, but we should take the time slot into account.
Season 4 of Agents of S.H.I.E.L.D. aired on Tuesdays at 10 p.m., which was a pretty solid time slot. For Season 5, the show was moved to Fridays at 9 p.m. Friday night time slots are sometimes known as "death slots" because of the frequent drops in ratings and viewership, so the fact that S.H.I.E.L.D. got a boost in viewership and held steady in ratings may bode well for how the show will perform.
That said, the Season 5 premiere was a two-part event that was set to pay off on a cliffhanger that had fans wondering for more than half a year. It's possible that all the people who were curious enough to tune in for the premiere won't necessarily be inclined to tune in on Friday nights for the foreseeable future. Given that ABC reportedly wanted to cancel S.H.I.E.L.D. after Season 4 and the renewal only happened because of a mandate from Disney, we can only hope that the numbers for Season 5 are good enough to keep the show on the air. Only time will tell.
Agents of S.H.I.E.L.D. is likely to stay in space for a while. We now know that the agents were sent into the future as well as into space, although one of their crew is noticeably absent. The Framework is back causing problems yet again, and the Kree are ruling with an iron fist. All things considered, we're in for an intense Season 5 that will presumably lead up to a crazy milestone 100th episode.
Tune in to ABC on Fridays at 9 p.m. ET to see what's next for Coulson and Co. on Agents of S.H.I.E.L.D. Take a gander at our 2018 midseason guide for the dates of when many shows will return in the new year, and be sure to swing by our breakdown of 2017 TV cancellations.
Resident of One Chicago, Bachelor Nation, and Cleveland. Has opinions about crossovers, Star Wars, and superheroes. Will not time travel.
Your Daily Blend of Entertainment News
Thank you for signing up to CinemaBlend. You will receive a verification email shortly.
There was a problem. Please refresh the page and try again.