2008 Fall TV Preview: Worst Week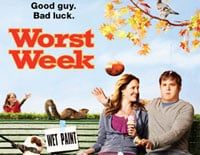 Worst Week - Season 1
Premieres: Monday, September 22, 2008 at 9:30 p.m. EST
Network: CBS
Creator(s): Matt Tarses
Starring: Kyle Bornheimer, Erinn Hayes, Nancy Lenehan, Kurtwood Smith
Website: CBS.com
---
Worst Week
is a new CBS comedy series that centers on Sam Briggs, an entertainment magazine editor who really wants to impress his girlfriend's parents. The problem is, whenever he's around them, nothing goes right. What's worse, now he and Melanie have to break the news to Melanie's ultra-conservative parents that not only are they getting married, but they're also expecting a baby.
The premise alone wasn't really selling me on this but the clips (below) have kind of turned me around a bit, plus this new series follows CBS's hilarious comedy, How I Met Your Mother, so it's likely that I'll find myself watching this series premiere, which airs after HIMYM's season premiere and Two and a Half Men.
For the full 2008 Fall TV Premiere Schedule: CLICK HERE
BEHIND THE SCENES OF WORST WEEK:
CLIPS:
Image 1 of 15
Image 2 of 15
Image 3 of 15
Image 4 of 15
Image 5 of 15
Image 6 of 15
Image 7 of 15
Image 8 of 15
Image 9 of 15
Image 10 of 15
Image 11 of 15
Image 12 of 15
Image 13 of 15
Image 14 of 15
Image 15 of 15
Your Daily Blend of Entertainment News
Thank you for signing up to CinemaBlend. You will receive a verification email shortly.
There was a problem. Please refresh the page and try again.