2009 Midseason TV Preview: Nip/Tuck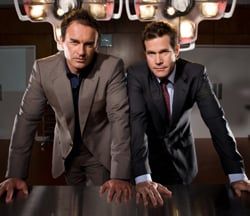 Nip/Tuck - Season 5 returns
Premieres: Tuesday, January 6, 2009 at 10:00 PM ET
Network: FX
Creator(s): Ryan Murphy
Starring: Julian McMahon, Dylan Walsh,
Website: FX.com
---
Nip/Tuck is bucking the trend. Last year the writer's strike cut the fifth season off at 14 episodes. Where most shows continued on with new seasons, the writers and producers of the FX series went back to the stories and decided to finish up season 5. Giving audiences, finally, the full 22 episodes they were looking for.
The series picks up with the attack on Sean, which you can tell from the photos in the gallery below has left him in an altered state. He was left for dead by his former agent Colleen (played by the always wonderful Sharon Gless). While Nip/Tuck has always been one of the top rated cable shows I only catch on occasion I was pretty caught up in the first half of the January 6th return before being pulled away to go back to work at the restaurant.
Click here for the full 2009 Midseason TV Premiere Schedule
Image 1 of 15
Image 2 of 15
Image 3 of 15
Image 4 of 15
Image 5 of 15
Image 6 of 15
Image 7 of 15
Image 8 of 15
Image 9 of 15
Image 10 of 15
Image 11 of 15
Image 12 of 15
Image 13 of 15
Image 14 of 15
Image 15 of 15
Staff Writer at CinemaBlend.
Your Daily Blend of Entertainment News
Thank you for signing up to CinemaBlend. You will receive a verification email shortly.
There was a problem. Please refresh the page and try again.