9 Truly WTF Romances From Netflix's Original Shows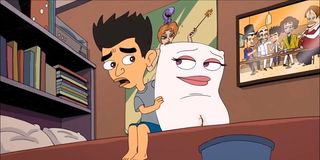 Netflix is home to some great original series, and while many of the people in those shows experience grand adventures and are privy to things that viewers can only wish they had, very few of those characters have traditionally balanced romantic relationships that anyone would readily seek out in the real world. As nice as it is to see two people in love, it's always more fun when normalcy is thrown by the wayside in order to embrace chaos and drama.
In honor of Valentine's Day 2018, here are nine very "special" Netflix relationships that consistently inspired viewers to say "WTF" quietly to themselves and aloud to their TVs. For the most part, these romances aren't the envy of anyone, and we'll start things off with Netflix's very first match made in hell.
Frank & Claire - House Of Cards
It's only fitting this list would start with Netflix's first original WTF couple, as Frank & Claire Underwood really set the tone for a peak dysfunctional marriage on House of Cards. Affairs, domestic violence, murder, secrets; these two have shared it all. The Season 5 finale arguably brought the biggest betrayal of all, as Claire refused to offer Frank the Presidential pardon he wanted, which is about as cold-blooded as an American marriage can get. It goes without saying the relationship of these two is one of the more wtf-worthy entries on this list, though we won't be getting any more of it in the future.
Jake & Pam - Big Mouth
A teenage boy's love between him and his pillow is sacred, right? At least, it was in Big Mouth, and Jay banging his pillow was definitely one of the show's more WTF moments. Things only got weirder when Pam (his pillow) got pregnant. Though Jay tried to make an honest cushion out of his 40-year-old pillow by agreeing to raise their son Scorpion, despite the tiny pillow looking like his brother, it wasn't enough. Pam left Jake, knowing she couldn't have a real future with a 13-year-old boy. It was for the best, honestly, because we don't really know if we could handle much more elaborate pillow sex in Big Mouth Season 2.
James & Alyssa - The End of the F*ing World
There's a lot of WTF-ness throughout The End of the F*ing World, and most of it revolves around the burgeoning "relationship" between James and Alyssa. It's kind of hard to call it a real relationship (at first anyway), considering James only started dating Alyssa because he saw her as an easy target for him to murder in cold blood. Without getting too heavy into spoilers, the two do form an actual bond of sorts as the series progressed, but while their dynamic did change some, the level of WTF surrounding them managed to stay pretty consistent.
Sheila & Joel - Santa Clarita Diet
If viewers had to choose the love-life of any characters on this list, they'd probably pick the genuinely heartfelt love between Sheila and Joel Hammond on Santa Clarita Diet. Sure, Sheila is a zombie and Joel has joined her in a murdering rampage in an effort to keep normalcy and a constant food supply in their family, but who among us wouldn't also want someone willing to go to such extreme measures all in the name of love? Season 1 ended with Joel in an asylum and Sheila chained up in the family's basement, but something tells us their "undying" love will reunite them once more in Season 2.
BoJack & Sarah Lynn - BoJack Horseman
Honestly, this entry could have just been "Any Romantic Relationship Anyone In The Horseman Family Has Ever Had," as BoJack Horseman Season 4 gave us some horrifying peeks into the titular equine's past. But when it comes to WTF-ery, BoJack's mentorship-turned-friendship-turned-fuckbuddyship with his former Horsin' Around co-star Sarah Lynn wins by a nose. Everything about it is slick with (hilarious) discomfort, from their father-daughter vibe to their substance abuse problems to their inabilities to properly function around other people. Even if it hadn't gotten sexual multiple times, despite each time being the last time, they still might have drunkenly flopped their way onto this list. Rest in relationship-free peace, Sarah Lynn.
Sam & Paige - Atypical
Nothing about love for Sam is normal in Atypical, especially when it comes to his relationship with Paige. While most girls shy away from Sam, Paige dives deeply into their coupling in a well-meaning way, even if it's sometimes pestering to Sam. Their relationship has had its ups and downs, with plenty of WTF moments worth mentioning, but far and away, the wildest moment the two shared happened at the school's winter dance. Sam proudly announced to his family that he got a handjob from Paige in an igloo, which was possibly the show's best moment, and it was definitely one of the many reasons folks should watch this unique tale of love.
Kelly & Yorkie - Black Mirror
There isn't initially a ton about the "San Junipero" couple Yorkie and Kelly that appears all that WTF-worthy. Then in fine form, Black Mirror threw in the twist that the two meet in a manufactured world inhabited by the consciousnesses of the dead and the soon-to-die, which increased the WTF factor exponentially! In the end, Black Mirror created a unique and award-winning story that, to date, is one of the show's most acclaimed and truly heartwarming episodes. And on top of the WTF factor and the central couple, "San Junipero" is required viewing for the 80s-tastic soundtrack, which will leave you convinced that heaven is indeed a place on Earth.
Gus & Mickey - Love
Judd Apatow has a gift for crafting realistic fictional relationships, and he and his Love co-creators picked about the worst kind of relationship possible for Paul Rust's Gus and Gillian Jacobs' Mickey. They are the roller-coaster personification of that couple with high-decibel drama always keeping them in an on-and-off again status, when for all intents and purposes, they should never work as a couple. Regardless of all this, Gus and Mickey (like many real-world couples) continue to push their way further into each other's dysfunctional lives, finally becoming exclusive at Season 2's end. But if Season 3 is anything like the first two, this toxic relationship can't possibly last that long, right?
The Sense 8 Characters - Sense 8
Sense 8 explores the lives of eight unique individuals around the world who are mentally and emotionally linked through shared senses. So it obviously had to show us what happens when they all have sex like that, right? Right. Season 1 featured an orgy between a handful of the sensates was a complete mind fuck to watch (literally), with each character's mental link causing a collaborative mega-orgasm. There's definitely a sense of WTF in that scene and others like it, but the show's deeper message of love and acceptance has resonated with an audience large and passionate enough to get the series renewed after cancellation. So this show's WTF factor is one meant for embracing, not confused ogling.
All these couples' respective WTF romances can be streamed right now on Netflix. For a look at shows coming in the near future, visit both our 2018 Netflix schedule and our midseason premiere guide.
Mick likes good television, but also reality television. He grew up on Star Wars, DC, Marvel, and pro wrestling and loves to discuss and dissect most of it. He's been writing online for over a decade and never dreamed he'd be in the position he is today.
Your Daily Blend of Entertainment News
Thank you for signing up to CinemaBlend. You will receive a verification email shortly.
There was a problem. Please refresh the page and try again.