Big Mouth Review: Netflix's Coming-Of-Age Cartoon Is Hilariously Crude, Yet Shockingly Earnest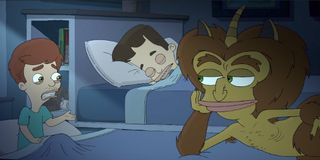 No matter who you are or where you're from, if you're an adult, then you went through puberty. Though the nitty-gritty details of your teenage years may differ from those of other people, many would likely agree that those tumultuous, hormone-fueled years sucked. Netflix's new show Big Mouth is an unflinchingly grotesque look at that terrible time, and while the animated series doesn't always fire on all cylinders, it delivers a ton of laughs and even more heart along the way.
Loosely based on the teenage years of Nick Kroll and Andrew Goldberg (who created the show along with Mark Levin, and Jennifer Flackett), Big Mouth centers on two dorky teenage high schoolers named Nick (Kroll) and Andrew (John Mulaney) as they navigate the cliquey landscape, along with potty-mouthed classmates Jay (Jason Mantzoukas), Jessi (Jessi Klein), Missy (Jenny Slate), and others. The series depicts the relatively universal experiences of adolescence -- awkward and untimely erections, first periods, first kisses -- but adds an otherworldly, almost supernatural layer to the story with the Hormone Monster (Kroll again) constantly harassing Andrew to embrace his surging testosterone, and the Hormone Monstress (Maya Rudolph) does the same for Jessi's burgeoning womanhood.
Right off the bat, Big Mouth makes it entirely clear that it has no place on a traditional broadcast network or most cable outlets. Whether it's a scene of a teenage boy microwaving soup to have sex with inside of a pillow, or a young girl having a full-blown conversation with her vagina upon the discovery of her own sexuality, Big Mouth pulls zero punches in its use of crude humor and anatomy to get a laugh. If the sight of a basketball court full of anthropomorphic penises at least puts a grin on your face (which it might not, with the show already generating a fair amount of controversy), then you're in good company.
What makes Big Mouth's crass sensibilities ultimately work is that the cartoon maintains a consistent and notable commitment to the heart at the root of its crude jokes. Not unlike Netflix's American Vandal (which similarly received a warm welcome from critics and a potential renewal earlier this month), Big Mouth's use of dick jokes (among ones aimed at other body parts) ultimately serve deeper themes.
Every story within the 10-episode Season 1 arc focuses on a specific insecurity that a real teenager would go through with a warts-and-all degree of honesty, and each (relatively) episodic adventure ends with a different and necessary catharsis about the nature of growing up. Yes, the bodily-fluid humor is funny, but it's the simple act of watching Nick and Andrew laugh through tears about how everything in high school is embarrassing that really sells Big Mouth's core thesis. Even when you make a mess of your pants while dancing with a girl at the school dance, everything's okay if you have a friend to laugh with.
Much of this stems from the comedian-centric cast, most of whom are great. John Mulaney and Nick Kroll continue to have fantastic chemistry coming off of their work together on the absolutely hilarious Oh, Hello -- though many of Kroll's other character's on Big Mouth (aside from the Hormone Monster) feel like recycled bits from the now-canceled Kroll Show. Combining the deadpan nature of the "kids" with the insanity around them -- Maya Rudolph deserves every award for her performance -- creates and fosters a fantastic energy, and while it doesn't always sustain that energy for full episodes, Big Mouth knocks it out of the park when it hits its stride.
That's not to say that Big Mouth doesn't have its own share of specific faults that are worth acknowledging as well. Although John Mulaney and Nick Kroll anchor the show as Andrew and Nick, respectively, Big Mouth sometimes has a hard time balancing its relatively large cast of characters. In particular, it 'd be good to see more of the female side of the ensemble -- if for no other reason than to get Maya Rudolph's Hormone Monstress in every single episode. The girls certainly have their subplots, but they often feel somewhat undercooked compared to what the boys get to do.
Then there's the fact that Big Mouth sometimes has a hard time adhering to the logic established by its universe. From fourth wall breaks to talking animals, to the existence of ghosts, the Netflix cartoon throws every conceivable type of joke at the wall. While much of it works, the show seldom takes the time to convey the specific rules of the series adequately. These might feel like minor quibbles in the grander scheme of what Big Mouth gets right, but it's clear that the show still needs some time for its characters and ideas to coalesce into something a bit more coherent.
If you can stomach it, Big Mouth will deliver an oddly heartfelt tale about a group of teenagers bumbling their way through adolescence. Though not quite as razor sharp as Netflix's top-tier animated comedy, the recently renewed BoJack Horseman, its strong performances and commitment to its emotional core make it well worth your time.
Big Mouth's first season will premiere on Friday, September 29 at 12:01 p.m. PT on Netflix. Make sure to keep an eye out for it, and take a gander at CinemaBlend's comprehensive fall TV premiere guide for even more information on all of the most highly-anticipated shows set to debut over the next few months!
Your Daily Blend of Entertainment News
Originally from Connecticut, Conner grew up in San Diego and graduated from Chapman University in 2014. He now lives in Los Angeles working in and around the entertainment industry and can mostly be found binging horror movies and chugging coffee.