A Cross Country Skiing Announcer Delivered An A+ Call At The Olympics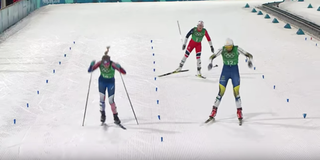 The Olympics always make for an intense couple of weeks as people all over the world tune in to root for athletes from their home countries to win medals. Viewers from home aren't the only ones to get worked up over the Games, however, as one cross-country skiing commentator proved during a climactic event on February 21. NBC analyst Chad Salmela was announcing for the women's cross-country skiing team sprint freestyle race, and he got caught up in the final moments. Check out his awesomely intense commentary on the event!
Well, I need a nap! Between the exertions of the women on the course and Chad Salmela's commentary, it's hard not to be a little bit exhausted by the intensity. Can we really blame him? Salmela has been a biathlon and cross-country skiing analyst for the Olympics since 2006, with the 2018 Winter Games in PyeongChang marking his fourth for NBC. The gold medal for the women's freestyle event was the first-ever won by a United States team in cross-country skiing. No wonder he was so excited!
Chad Salmela might have been a lot more chilled out about the event if it hadn't been so close at the very end. The athletes all seemed to be running on fumes as they raced toward the finish line, and Sweden's Stina Nilsson was ahead of the United States' Jessie Diggins. Salmela lost his cool when Diggins caught up to Nilsson on the klaebo bakken -- which is actually the name of a hill and not a nonsense phrase uttered by an overexcited analyst -- and the rest is history.
Of course, Chad Salmela wasn't the only person getting pretty excited in the commentary. Fellow analyst Steve Schlanger also sounded on the very edge of his seat watching the event, although he did manage to continue a play-by-play even after Salmela was reduced to shouting "YES! YES! YES!" and "GOOOOOLD!"
The commentating from Chad Salmela may not have been very helpful for any viewers who were hoping for insightful analysis in the final moments of the race, but it made for an exhilarating end to the event for those of us who really just want to enjoy the Olympics viewing experience. Salmela's commentary guarantees that this race will go down as one of the most memorable moments of the 2018 Games in PyeongChang.
Of course, there have been many memorable events of the Games so far, ranging from skater Adam Rippon's comments on the Olympics (which earned him an offer from NBC) to NBC getting rid of one of its analysts early in the Games. Luger Emily Sweeney suffered a serious crash that was absolutely alarming, and one figure skater danced to the unforgettable "Cantina Song" from Star Wars: A New Hope. My personal favorite might be Leslie Jones and Adam Rippon providing commentary on the steamy Tessa Virtue/Scott Moir short dance.
The Olympics aren't over yet, so keep on tuning in to NBC to catch the latest coverage. For your viewing options once the Games come to an end, be sure to take a look at our midseason TV premiere guide and our 2018 Netflix premiere schedule.
Resident of One Chicago, Bachelor Nation, and Cleveland. Has opinions about crossovers, Star Wars, and superheroes. Will not time travel.
Your Daily Blend of Entertainment News
Thank you for signing up to CinemaBlend. You will receive a verification email shortly.
There was a problem. Please refresh the page and try again.