How Blue Bloods Brought Back Those Two Trouble-Making Characters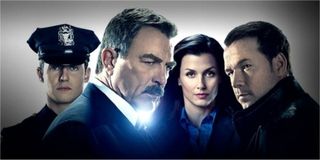 Warning: Spoilers ahead for the Blue Bloods episode "Close Calls." Read at your own risk!
Blue Bloods just brought two well-known trouble makers back to the show, and now we know why they crossed paths with the Reagan family again. That's right, Frank's first partner Lenny Ross (Treat Williams) and Linda's brother Jimmy O'Shea (Kevin Dillon) are back and getting into heaps of trouble that the Reagan's have to try to clean up. Here's what happened.
The episode opened with Danny and the boys trying to head out the door to start their day, but they were stopped by a delivery man who informed Danny that he had $120,000 worth of merchandise on his truck to deliver to either him or Linda. Obviously, Danny was pissed and tried to tell the man that he hadn't ordered anything and his wife had never even lived in that house. When the man told him that meant it sounded like he needed to call the cops, Danny knew it was time to spring into action.
Meanwhile, the wee hours of the morning saw Frank get called downtown, where he finds Lenny without his pants and generally looking like hell in an office. Apparently, Lenny got thrown in a holding cell for shooting a bouncer and a stripper after the bouncer tried to get him off stage and stop him from taking his clothes off. Lenny informs Frank that he had two drinks and then woke up at the station; he doesn't remember anything that happened, especially shooting up a strip club. When Frank looks skeptical and Lenny asks if he can really believe he did this because "it's me, Frank," he responds, "Yeah, it's you. Exactly." So, we know that Lenny is going to have a long way to go to get Frank fully on his side after a strip club shooting.
In order to make sure Lenny's case is taken care of, Frank goes to Erin and asks that the District Attorney's office take the lead in the investigation. Erin agrees, but knowing that Lenny's completely capable of straying from the straight and narrow, she tells Frank that if she finds any evidence that Lenny really did this, Frank shouldn't expect any leniency from her people.
As Danny tries to track down what happened with his and Linda's credit card information, Maria brings in another cop who tells Danny that the Albanian mob has been stealing personal information so they can open credit accounts in people's names, charge several thousands of dollars worth of goods and then fence the stuff and use the money for guns. He informs Danny that someone really close to him had to have taken his details, and he immediately thinks of Jimmy. When Danny tracks him down at an unsurprisingly skeevy abandoned warehouse in the middle of a (probably illegal) card game, he's quickly proven right and punches Jimmy in the face.
After Danny and Maria get Jimmy to the station, he tells him that the only way to set things right after using his dead sister's personal details to open credit accounts is to wear a wire and help then take down the mobsters he's been working with. Jimmy is not cool with it, but does it in the end, and when things go south, he actually manages to get the jump on the two gangsters he had to meet with and shoot both of them by the time the cops get to them.
Lenny, for his part, is found to be the victim of a setup. It turned out that the strip club owner is the son of a dirty cop that Lenny helped take down back in the late 1980s, and the owner blamed Lenny for destroying his family. He had his bartender slip something in his drinks so he'd pass out and they could pin the shootings on him.
So, while Lenny's past as a less than above board person certainly made it easier to frame him, he actually hadn't done anything wrong this time. Jimmy was up to his eyeballs in trouble, as usual, but after Maria told him that he'd never be able to stop running if he didn't wear the wire, he stepped up, did the right thing and may finally be able to get his life in order.
You can catch Blue Bloods Fridays at 10 p.m. EST on CBS. For more on what you can watch in the coming weeks, be sure to check out our midseason premiere guide and summer premiere guide.
Your Daily Blend of Entertainment News
Yennefer's apprentice, Gilmore Girl; will Vulcan nerve pinch pretty much anyone if prompted with cheese...Yes, even Jamie Fraser.