24: Season 8 Premiere Review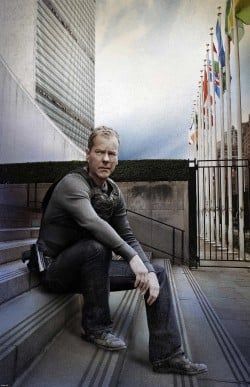 Kiefer Sutherland and FOX have already stated they are open to continuing 24 into a ninth season, but it will all come down to how well-received this New York-based eighth season will be. Particularly the two-night four hour premiere event that starts tonight at 9 PM ET. I'll give them credit for giving us four great hours of 24 action to kick things off.
I've been a fan of 24 since the first season. I have a thing for experimental television, and the "real-time" experiment was enough to get me to tune in. The series has had its ups and downs, but it really feels like things are off to a great start on Jack's eighth "very bad day." Now retired from government work, there's an element of Lethal Weapon to this grizzled and older Jack Bauer I saw in the first four episodes FOX sent my way.
He starts the day off playing the role of grandpa, actually smiling for the first time since Audrey Raines, and considering a move to Los Angeles to be able to spend more time with his daughter and granddaughter. I was a little surprised to see that Kim had hooked up with The Vampire Diaries' Stefan. I thought he was only into women who looked the same as the vampire who turned him.
The way in which Jack was inevitably brought into the craziness of the day was well-handled, and featured the return to my screen of The Shield's Benito Martinez. If he's on TV anywhere, it's not something I'm watching, and maybe I should be. If he's not, the man is an amazing actor.
The stakes raise higher and higher throughout the first four hours, but 24 also does something kind of nice for us. They actually put a close on the initial threat, though as expected it only shows us how big and more deadly the threat really is.
Cherry Jones is back as the President Allison Taylor, and she's joined by Anil Kapoor as President of a Middle Eastern country that is actually working with her toward lasting peace in the region. Of course, there are elements in the world who don't want to see peace in the Middle East, so there's your reason Jack's day is about to be ruined, in case you need one.
Also back is Annie Wersching as Renee Walker. I really grew to like her character in Season 7, but she always was a bit of a loose cannon. Her return here is handled excellently, as is the hints as to what her relationship with Jack has been and likely will be as the day progresses.
And, of course, Chloe (Mary Lynn Rajskub) is back as well, but this time they've put her at a disadvantage. Out of the work force for awhile, suddenly Chloe is behind the times and struggling to catch up to speed at the New York CTU, which has brought her under scrutiny from the new boss, Brian Hastings. This guy is an interesting character, and CTU has had some characters through the years, both good and bad, in that leadership role. I won't spoil the surprise, but I anticipate some major conflicts as things progress.
I was impressed with how well Katee Sackhoff and Freddie Prinze, Jr. integrated into the story. A largely new cast works perfectly well with this new 24 as we're in a new city. Right away, though, you get great insight into Prinze's Field Ops leader, as well as the unraveling secreat past of Sackhoff's Dana Walsh. It is these character elements and little side mysteries that help make the best season of 24 so much fun.
It's a little early to declare this one of the best seasons of 24 to date, but it's certainly off to a start that could easily put it there. With all the changes, and the new location, it almost feels like the first season all over again. Everything is shiny and new. Except, of course, that if you give Jack a gun and a bad guy, the screaming and threats will begin immediately.
24 premieres Sunday, January 17 at 9 PM ET with a two-hour episode, followed by another two-hour installment Monday, January 18 at 8 PM ET. It then continues on Mondays at 9 PM ET.
Your Daily Blend of Entertainment News
Thank you for signing up to CinemaBlend. You will receive a verification email shortly.
There was a problem. Please refresh the page and try again.