Take A Sneak Peek At Cancelled Series Lucifer's Bonus Episodes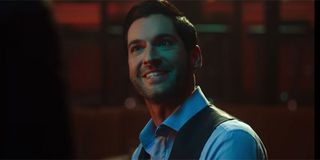 Lucifer has been cancelled, and no Season 4 will be happening. Fox made the news public a couple of weeks ago, now, but despite having time to adjust to this reality, the news still stings. Recently, fans learned that there is a minor silver lining to this story, however, in the form of two bonus episodes that were already shot and had been anticipated to be the episodes kicking off Season 4. Lucifer has already released a clip from one of those extra episodes, and if you like to watch Dan and Lucifer bickering, you'll probably enjoy it. Take a look, below.
In the clip, Dan and Lucifer spar about Delilah's death. If you can remember back to Season 1, Delilah was a musician who Lucifer helped rise to fame, only to be murdered. It was her death that became the catalyst for Lucifer to join up with Chloe and "Detective Dildo" and help out the LAPD. So, why is she coming up in the clip?
We've known for a while that Monday's big episode will feature an alternate dimension in which Lucifer "had never met Chloe, but is granted the freedom of choice." Kevin Alejandro directed one part of the two-hour airing, "Once Upon A Time" (the other half is "Boo Normal"), and he's seen in the clip verbally sparring with Lucifer. Previously, Kevin Alejandro spoke with CinemaBlend about the bonus episodes, mentioning that the episodes were created more as a fun "what-if" type of episode and not to continue the story in any way. He said previously:
Over the last few episodes, the big storyline had been about Pierce trying to figure out how to die, and then deciding that was a bad idea, instead trying to live a good life with Chloe. At one point, he and Maze hatched a plan to kill Amenadiel that went awry; instead, Charlotte died in Amenadiel's place. In the meantime, Chloe, Lucifer and Dan figured out that Pierce was involved in Charlotte's death, leading to a confrontation where Pierce tried to attack Lucifer and ended up dying, instead. Chloe was eventually clued in to all of the stuff Lucifer had been telling her about being the Devil over Lucifer's three seasons on the air. It was a cliffhanger ending, but not just any cliffhanger. Chloe learning the truth about Lucifer has been the arc the Fox drama has been working toward for the past three seasons, and it's a shame we won't get to see the character's reaction to the news thanks to the show's cancellation.
All hope is not lost. There's a #saveLucifer fan campaign running around the Internet, and the show is being shopped around in the hopes that someone will bite. Kevin Alejandro also told CinemaBlend that he encourages fans to speak out, because the more support the cancelled series gets, the more likely that someone will want to create future episodes of the series. He said:
The final two episodes of Lucifer will air back-to-back on Monday, May 28, starting at 8 p.m. ET. If you are already over this spring's cancellations, you can look into what's coming this summer with our TV premiere schedule.
Your Daily Blend of Entertainment News
Reality TV fan with a pinch of Disney fairy dust thrown in. Theme park junkie. If you've created a rom-com I've probably watched it.
Your Daily Blend of Entertainment News
Thank you for signing up to CinemaBlend. You will receive a verification email shortly.
There was a problem. Please refresh the page and try again.