All The Big Network TV Shows That Got Cancelled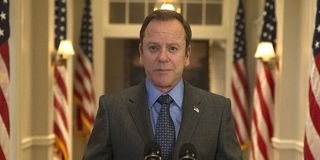 As the beginning of the new TV season approaches, it is now time to reflect on the network's big decisions regarding which shows to renew and which shows to cancel. The bloodbath of cancellations has undoubtedly only begun, but an awful lot of shows have already gotten the axe. Before the cancellations start piling up faster than you can count, check out our list of big network TV shows that have already been cancelled!
The Mick - Fox
The Kaitlin Olson-starring sitcom debuted to huge numbers on Fox, and the network didn't waste any time in expanding its first season back in early 2017. The Mick gave viewers the chance to see Olson as somebody other than Sweet Dee from It's Always Sunny in Philadelphia, and it was a comedy unlike any other. Sadly for fans, The Mick was cancelled by Fox after two seasons.
The Last Man On Earth - Fox
Another Fox comedy to be cancelled recently is The Last Man on Earth, which starred Will Forte (and his hair) and ended on a crazy cliffhanger with its Season 4 (and now series) finale back on May 6. Fans haven't rallied and petitioned to save this particular comedy, so we may never know what was going to happen to pay off on the cliffhanger. Perhaps the producers will reveal what would have gone down; otherwise, we may never know.
Life Sentence - The CW
Lucy Hale returned to TV after the end of her time on the popular Pretty Little Liars to star in Life Sentence on The CW. The show followed a cancer survivor who began to discover herself after she learned that she was not going to die. Unfortunately for Hale, Life Sentence was not the hit Pretty Little Liars was, and it was cancelled not too long after its episode count was cut. No life beyond Season 1 for Life Sentence.
Timeless - NBC
As has been made quite clear by the reaction to the terrible news, Timeless is one of the most upsetting cancellations to be announced recently. The show didn't get official word from NBC until after it had wrapped up, and a reportedly expensive production budget contributed to the cancellation. Thankfully, the network heard the pleas of fans and is wrapping up the storyline with an official two-part finale. So, if you want Rufus to get saved, you'll likely get your wish.
Valor - The CW
The CW went in an ambitious new direction with new military drama Valor in the 2017-2018 TV season. The network more known in recent years for superheroes and the supernatural got grittier and more grounded with Valor, but it was a gamble that didn't pay off. The show was cancelled after one season of disappointing ratings. Valor and Life Sentence were the big CW series to get the boot.
The Exorcist - Fox
No, The Exorcist was not already cancelled. It was just off the air ever since its Season 2 finale back in December. What fans there actually were for this particular series may not be utterly devastated by this news, if only for the fact that even the showrunner didn't have a whole lot of faith in a renewal. It was also on our list of big network shows in danger of being cancelled, and we've been right about a lot of those entries already.
Great News - NBC
Great News had the potential to become a big hit for NBC thanks to Tina Fey's role as an executive producer. Fey has been a star for the Peacock Network thanks to her years on Saturday Night Live and 30 Rock, and the premise of a look behind the scenes of TV news showed promise. Unfortunately, Season 2 was unable to hold onto the ratings of Season 1, and NBC made the decision to cancel rather than renew for Season 3.
Kevin Can Wait - CBS
After retooling with Leah Remini, Kevin Can Wait isn't getting any love. The traditional CBS sitcom was cancelled by the network and will not be returning next year. Leah Remini has already moved on to a new TV deal in the aftermath of the news, and we'll have to wait and see what Kevin James ends up getting up to next. Anyone guess Grown-ups 3?
Designated Survivor - ABC
Designated Survivor was one of the biggest new network TV shows of the 2016-2017 TV season, and between its numbers and the fact that Kiefer Sutherland was the star, it seemed like it could be around for a long time. Sadly, not enough of those Season 1 viewers stuck around for Season 2, and all the 24 reunions in the world couldn't deliver a bigger audience. Designated Survivor will not be back for Season 3.
Taken - NBC
NBC's Taken was a bold attempt by the Peacock Network to use a character from a hit movie franchise to anchor an ongoing TV show. It scored a renewal despite a first season that didn't perform especially well, and its trip to Friday nights along with some behind-the-scenes changes could have meant a more enticing Season 2. Well, Season 2 didn't entice enough people, and Taken will not return for Season 3 after being banished to Saturday nights back in April.
Quantico - ABC
ABC had a show unlike any other when Quantico premiered with a strong cast and complex mystery back in its first season, but the resolution of that mystery seemed to result in viewers moving on from the show. Throw in the major casting changes between Seasons 2 and 3 on top of ABC pushing the Season 3 premiere back until almost a full year after Season 2 ended, and the show was practically doomed. No Season 4 in store for Quantico.
Alex, Inc - ABC
Zach Braff's new sitcom Alex, Inc. barely got the chance to live before getting the death sentence from ABC. The comedy followed radio journalist Alex Schuman (Braff) after he quit his job to start his own podcast company and all the family shenanigans that ensued with his wife and children. The show only premiered on March 28, but ABC has apparently seen enough. It will not be back for Season 2.
The Brave - NBC
Valor isn't the only military drama to be cancelled so far this season. NBC has decided to put an end to The Brave. This is another cancellation that isn't a huge shocker. The 13-episode first season came to an end back in January, and NBC hasn't made a lot of noise about it in the months between. Never a strong ratings performer in the key demographic, The Brave just didn't have what it takes to earn a Season 2.
The Crossing - ABC
Ever since Lost finally got viewers off of the island back in 2010, ABC (and others) have repeatedly tried to recapture the show's blend of mysteries and character drama. The Crossing was the latest effort, hailing from the duo who adapted Scream for MTV. With an interesting hook involving war refugees claiming to be from the future, and comedy vet Steve Zahn as its star, The Crossing opened to mixed reviews and subdued audiences, and its fate was seemingly sealed once the key demo rating dipped to a 0.5 by the fifth episode.
Rise - NBC
Ahead of its premiere, NBC's Rise had quite a bit of positive buzz going for it, with a creator in Parenthood and Friday Night Lights'Jason Katims, and a star in How I Met Your Mother's Josh Radnor. But upon its release, audiences weren't overwhelmed by the inspirational drama club drama, and the viewer turnout wasn't very overwhelming itself. Neither the response nor the viewership/ratings were so bad that Rise seemed like a sure-shot for cancellation, but it was apparently decided that newer projects would fare better in its spot.
Deception - ABC
American audiences are sporadically very interested in magical illusions, as evidenced by the success of The Prestige, Now You See Me and David Blaine. But ABC missed the window with its "illusionist whose talents are somehow useful enough to the FBI that they let him help solve crimes" drama Deception. Created by former Chuck writer and producer Chris Fedak, Deception was viewed by many as a lackluster Castle successor, and its viewership and demo rating couldn't save it from disappearing, sans a puff of smoke.
Kevin (Probably) Saves The World - ABC
Freshman dramedy Kevin (Probably) Saves the World was a charming series with a unique premise, but it debuted in a time slot that is generally rough for ABC. The show never gained much of a foothold on Tuesday nights at 10 p.m. ET, although ABC was originally pleased enough with it that the network ordered three extra episodes in the first season. Unfortunately, Kevin has exhausted all of his chances to save the world. His show will not be back for Season 2.
Scorpion - CBS
Scorpion enjoyed a long and healthy run on CBS, but it wasn't to be this year. Ahead of what would have been its Season 5 premiere, CBS made the tough decision to cancel the Katherine McPhee and Robert Patrick starrer. The cast was sad about the news, and even took to social to share their sadness with their fanbase.
There were plenty of first season shows that didn't make it onto the bubble and were sadly let go by the network, as well. Our full rundown of renewals and cancellations can fill you in on the shows that have and have not had their fates decided.
Your Daily Blend of Entertainment News
Laura turned a lifelong love of television into a valid reason to write and think about TV on a daily basis. She's not a doctor, lawyer, or detective, but watches a lot of them in primetime. Resident of One Chicago, the galaxy far, far away, and Northeast Ohio. Will not time travel, but will sneak references to The X-Files into daily conversation.