Lucifer's Kevin Alejandro Talks Fan Response To Cancellation, Finding Show A New Home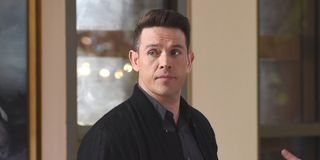 (Image credit: Image courtesy of Fox)
Lucifer fans got some heartbreaking news earlier this month when Fox announced that the show would be cancelled after the end of the third season. The announcement came only days before the Season 3 finale was slated to air, and the finished product ended on a cliffhanger that would have set the stage for an epic Season 4. Fans immediately took to social media with a campaign to #RenewLucifer and #SaveLucifer, and the outcry still hasn't quieted down. Kevin Alejandro, who plays Detective Dan Espinoza on Lucifer, spoke with CinemaBlend about the fan response to the cancellation, saying this:
Although Lucifer wasn't one of the network TV shows that scored an early renewal to ease fans' worries, many weren't expecting Fox to cancel the series the way that it did back on May 11. Fortunately, the Lucifer fandom is not one that takes bad news quietly if there's an alternative. Legions of Lucifer viewers hit Twitter to campaign for the show to score a renewal, whether on Fox or another platform. Given how Fox series Brooklyn Nine-Nine and The Mindy Project were both saved from initial cancellation, a renewal for Lucifer as a result of fan outcry is far from an impossibility. According to Kevin Alejandro, the impassioned response from fans gave the Lucifer team hope at a very difficult time.
The Season 3 -- and now possibly series -- finale of Lucifer ended on a killer cliffhanger that showrunner Joe Henderson hoped would motivate Fox to keep the show on the air long enough to resolve the twist. Tom Ellis hasn't given up on the show coming back in some way or other on another platform, and although the fans' efforts to get the show renewed haven't resulted in a renewal at this point, Kevin Alejandro has some encouraging words:
The battle for Lucifer isn't over yet! Despite the show's cancellation and the Season 3 finale already having aired, two episodes have yet to premiere. Fox held on to a pair of standalone episodes that filmed this year and saved to air during a Season 4. Rather than letting those episodes go unwatched and unappreciated forever, Fox is airing them back-to-back on Monday, May 28 at 8 p.m. ET. Neither will pay off on the cliffhanger, but the episode descriptions indicate that fans are in for a lot of fun in the two-hour block. If everybody is lucky, news of whether or not Lucifer gets a fourth season will break by the time the two episodes air next week.
Given the fan outcry over Lucifer's cancellation, it's probably a safe bet that the two episodes on Monday night will score some high ratings. Solid numbers could help make the case that the show is more than worthy of another season on the airwaves, whether on Fox or another platform. Kevin Alejandro went on to tell me this about why Lucifer still has a chance the find a home on the small screen:
Lucifer may not have Fox's backing for a fourth season at this point, but Jerry Bruckheimer and Peter Roth are two big allies to have in the fight for a second life on the small screen. Peter Roth is President of Warner Bros. TV, which is one of the production companies that has brought Lucifer to television. Jerry Bruckheimer Television is another production company working on the series, and Bruckheimer himself is a big name in showbiz. If there's a new home for Lucifer somewhere in television, surely Roth and Bruckheimer will find it!
We'll have to cross our fingers (and tweet) that Lucifer finds a new home on television. For now, you can plan of seeing Kevin Alejandro and Co. back on the small screen for two more episodes on Monday, May 28 starting at 8 p.m. ET. Alejandro directed the second episode, which will be something unlike anything Lucifer has done before, so it should be a devilishly fun night of primetime on Fox. For what you can watch once Lucifer's final two episodes air, swing by our 2018 summer premiere guide.
Resident of One Chicago, Bachelor Nation, and Cleveland. Has opinions about crossovers, Star Wars, and superheroes. Will not time travel.
Your Daily Blend of Entertainment News
Thank you for signing up to CinemaBlend. You will receive a verification email shortly.
There was a problem. Please refresh the page and try again.