Local TV News Anchor Dies After Tree Falls On Vehicle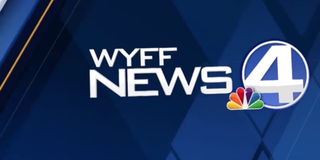 Tragedy struck the Polk County, North Carolina community on Memorial Day when a local TV news anchor and his accompanying photojournalist were killed in an accident while traveling on a highway during bad weather. WYFF News 4 anchor Mike McCormick and photojournalist Aaron Smeltzer died on Monday in what has been described a "freak of nature." Here's what happened.
Mike McCormick and Aaron Smeltzer were traveling on Highway 176 in Polk County, North Carolina after covering the impact of recent heavy rain in the area. A tree fell on their SUV, killing both men. Heavy rains softened the ground and uprooted the tree, and it fell on their vehicle. In an interview with WYFF News 4 in the aftermath of the tragedy, local fire department chief Geoffrey Tennant referred to it as "a freak of nature" that "you know it's going to happen or you can predict that it may happen, but you don't know when." Estimates place the tree as falling 30 feet down to collide with the SUV carrying the two men. The tree was around 3 feet in diameter and had stood off the road before it was uprooted and fell at exactly the wrong moment.
News of a tree down on a motor vehicle reached fire chief Geoffrey Tennant only ten or so minutes after he concluded an interview with Mike McCormick. McCormick and Aaron Smeltzer were on the road to cover the severe flooding in North Carolina resulting from Subtropical Storm Alberto. According to Tennant, the SUV was still running and the transmission was still in drive when authorities arrived on the scene on Memorial Day. WYFF News 4 shared a post on Facebook in honor of the two men:
Mike McCormick began work at WYFF News 4 back in April 2007 as a reporter. In 2014, he was promoted to the position of WYFF News 4 anchor on Sundays at 6 p.m. and 11 p.m. A graduate from the University of Miami with a degree in theater arts and broadcast journalism, he joined WYFF News 4 in North Carolina after working for nearly three years in Arkansas at one of WYFF 4's sister stations.
Aaron Smeltzer began contributing to WYFF News 4 only in February 2018, although he worked as a photojournalist for more than a decade in the region of North Carolina covered by WYFF 4. A native of Tazewell, Virginia, he was a fan of baseball and country music. Our thoughts here at CinemaBlend are with the friends and family of Mike McCormick and Aaron Smletzer in what must be a very difficult time.
Resident of One Chicago, Bachelor Nation, and Cleveland. Has opinions about crossovers, Star Wars, and superheroes. Will not time travel.
Your Daily Blend of Entertainment News
Thank you for signing up to CinemaBlend. You will receive a verification email shortly.
There was a problem. Please refresh the page and try again.