How Much Solo: A Star Wars Story Should Make Over The 4-Day Weekend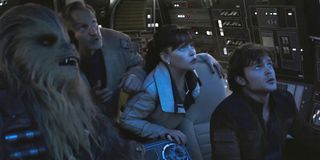 Memorial Day is often a weird weekend at the box office. Although big budget movies are often released for Memorial Day weekend, it's not a moviegoing weekend like say, Thanksgiving or Christmas are in the States. However, bigger budget movies will often try to take advantage of the four-day weekend, which is what Solo: A Star Wars Story did this year. Still, the movie hasn't lived up to box office expectations so far, and while it looks like it will make up some ground on Monday, Solo: A Star Wars Story won't be breaking any box office records this weekend.
As of yesterday, we learned that Solo: A Star Wars Story was estimated to make $83 million dollars in North America through Sunday. Now, we know the movie actually made $84.7 million domestically through Sunday, and estimates for today indicate the movie will bring in an additional $18+ million, bring the domestic total for Solo: A Star Wars Story to $103 million or so by tomorrow. The numbers aren't enough to edge Solo forward to a record-breaking Memorial Day weekend, as estimates had initially projected, nor will it be enough for Solo: A Star Wars Story to beat any of the other recent Star Wars films at the box office.
So far, Solo: A Star Wars Story has had the lowest opening weekend when compared to Star Wars: The Force Awakens ($248 million domestically), Rogue One ($155 million domestically), and Star Wars: The Last Jedi ($220 million domestically). Initial estimates had Solo: A Star Wars Story making $170 million domestically, which would have bumped it ahead of Rogue One: A Star Wars Story. Closer to release, those estimating indicated the movie would probably make less during opening weekend, but even those estimates had the movie making between $130 and $150 million domestically.
Following Solo's $14 million opening night, the movie seemed off to a somewhat successful start, but if the $103 million Variety is noting ends up being the final total domestically, and we add that to the $65 million the movie made outside of North America this weekend, the narrative in the coming weeks might be about whether or not Solo: A Star Wars Story goes on to make money. With a reported budget of $250 million, plus whatever advertising the movie cost, the movie still needs to get more butts into seats to start seeing a profit.
On the bright side, that's still the best Memorial Day weekend intake since 2014. Plus, in the coming weeks, the Han Solo adventure could go on to make up ground. The movie has an A- Cinemascore, and people going to see Ron Howard's Star Wars movie generally have seemed to have had a fun time doing so. While Solo might be heavy for young kids, there's not another more family-oriented film hitting theaters until Incredibles 2 hits theaters on June 15. Summer is also kicking off soon for most families, and we could see people turn to Solo: A Star Wars Story as a leisure activity in the coming weeks. Still, there's no doubt that Disney was hoping for better numbers for the Star Wars flick, especially coming off of the success of Avengers: Infinity War.
To see what movies are hitting the schedule coming up this summer, take a look at our full guide.
Your Daily Blend of Entertainment News
Reality TV fan with a pinch of Disney fairy dust thrown in. Theme park junkie. If you've created a rom-com I've probably watched it.