Making A Murderer's Brendan Dassey May Be Headed To The Supreme Court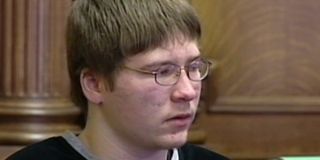 Brendan Dassey wound up in the spotlight back in 2015 when the docu-series Making a Murderer was released on Netflix. The ten-part series chronicled the case of Steven Avery, who was wrongfully convicted of rape and incarcerated for 18 years before being exonerated, then later convicted for the rape and murder of a photographer. Avery's nephew Brendan Dassey was convicted of allegedly helping his uncle commit the crimes and then cover up the evidence. Dassey's conviction was the source of a great deal of controversy, and his case may head to the Supreme Court next.
A team of lawyers intends to take Brendan Dassey's case to the Supreme Court, although there's no guarantee that the court will agree to take on the case. The justices of the court had their first chance to consider the case in a closed-door meeting on June 21, with arguments to be held in the fall if Dassey's lawyers get their way and the case makes it to the highest court in the land. The argument in Dassey's favor is that the confession used to convict him was coerced and should not be considered valid evidence.
The news that Brendan Dassey's case could be headed to the Supreme Court comes months after he and his family got some very bad news. Despite the fact that a federal magistrate judge overturned the controversial conviction back in 2016, a state review overturned that ruling on December 8, 2017 after a federal appeals court voted. It was a close call, with three of the seven judges voting in Dassey's favor.
The odds of Brendan Dassey's case making it to the Supreme Court are relatively slim, given that the Supreme Court rejects most of the cases that it is asked to consider every year, with the cases numbering in the thousands. Dassey's lawyers may hope that he gets his confession thrown out and a new trial, but nothing is certain at this point. According to CBS News, Dassey's lawyers have raised the point that the case could be relevant to other instances of juveniles who are convicted of crimes due to pressure from authorities despite intellectual difficulties.
Given that Brendan Dassey was only 16 years old at the time of his confession, his grades ranged from Cs to Fs, and the confession itself wasn't the most clear-cut (as seen by viewers of Making a Murderer), it does seem like his case could set a major precedent if he gets a new trial, whether his conviction is overturned or not. We'll have to wait and see if his lawyers get their way and his case gets another chance in the courts.
If you're interested in the details of Brendan Dassey's case up until 2015, be sure to check out Making a Murderer on Netflix. Our 2018 Netflix premiere guide can point you toward some more options, including other docu-series. Don't forget to take a look at our summer TV premiere schedule as well.
Resident of One Chicago, Bachelor Nation, and Cleveland. Has opinions about crossovers, Star Wars, and superheroes. Will not time travel.
Your Daily Blend of Entertainment News
Thank you for signing up to CinemaBlend. You will receive a verification email shortly.
There was a problem. Please refresh the page and try again.