The Dog Who Played Duke In The Bush's Baked Beans Ads Has Died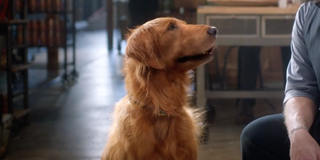 TV has aired plenty of commercials for plenty of products in plenty of different ways, and not all of them have been especially memorable. Bush's Baked Beans found an adorable way to guarantee that people paid attention to their ads, however, and it had everything to do with a friendly golden retriever named Duke who appeared in commercials alongside Jay Bush. Well, the Duke who actually appeared in those commercials was often actually played by a dog actor by the name of Sam, and we have some sad news about Sam: he has passed away. A friend of Sam's owner shared the sad news online:
R.I.P. Sam. David Odom's Facebook post in honor of the Bush's Baked Beans celebrity revealed that Sam had to be put down after an aggressive form of cancer became too much for him. He lived with a woman whose job was to train animals for commercial work, so she was obviously somebody who knew what she was doing when it comes to the care and treatment of dogs like Sam. The decision to euthanize Sam couldn't have been easy. Although most know him as Duke, Sam was a favorite part of the Bush's Baked Beans commercials. What ad isn't made better by the addition of a golden retriever?
Duke is known as the dog entrusted with the Bush family's secret recipe for baked beans, and he frequently talks to the camera in commercials, although he never gives away the secret recipe. In truth, Sam was one of many dogs to tackle the role of Duke over the years, and it's been a while since Sam appeared as Duke in a commercial, but the tribute to him as well as the 27,000+ comments (at the time of writing) on the Facebook post indicate that people cared about Sam and mourn his passing. Poor, poor Sam.
In case you're wondering if the Bush's Baked Beans company had anything to say about Sam's passing, you don't have to worry. The company addressed Sam's death (also on Facebook) and weighed in on whether or not his death means the end of Duke in the Bush's commercials, sharing this:
Sam's death doesn't mean that the character of Duke will be retired by Bush's Beans. Duke is apparently so iconic to the company that even the sad news doesn't mean that future commercials should go dog-less. This stance isn't altogether surprising; Duke is truly iconic to Bush's, and Sam wasn't actually the most recent dog to play the role. If Bush's rushed to replace Sam on camera right off the bat, the company might have seemed insensitive. The current Duke actor is presumably (and hopefully) alive, well, and able to continue his work as Duke. Still, it's nice to see Bush's Beans acknowledge Sam's passing.
If you want to pay tribute to Sam in your own way, maybe cook up a batch of baked beans and raise a spoon to the dearly departed dog during the 4th of July. If you're in the mood for some TV now and in the not-too-distant future, check out our summer TV premiere schedule.
Resident of One Chicago, Bachelor Nation, and Cleveland. Has opinions about crossovers, Star Wars, and superheroes. Will not time travel.
Your Daily Blend of Entertainment News
Thank you for signing up to CinemaBlend. You will receive a verification email shortly.
There was a problem. Please refresh the page and try again.