Watch America's Got Talent's Mel B. Freak Out At The Sacred Riana's Terrifying Magic Act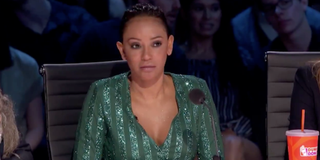 You can always count on a wide variety of acts on America's Got Talent, and they can range from the bizarre like Caterpillar Man to the dangerous like the visually-impaired trapeze artist to the mind-blowing like the choir that got Simon out of his seat with a cover of "Africa." In the latest round of Judge Cuts on America's Got Talent, the talent took a turn for the terrifying with the return of The Sacred Riana, who freaked out the judges her first time around in Season 13, with Mel B. especially on edge. The Sacred Riana upped the creepy ante in her second performance, and Mel B. looked about ready to quit her job as America's Got Talent judge. Check it out!
Well, thanks a lot for the nightmare fuel, America's Got Talent! Can any of us really blame Mel B. for freaking out when face to face with The Sacred Riana and her creepy doll? Unfortunately for Mel, her discomfort with The Sacred Riana's first magic act in the earlier round of competition marked her as a target in the Judges Cuts round, and The Sacred Riana made a beeline straight for Mel. The audience (and Howie Mandel to Mel's right) was clearly unnerved, which almost certainly didn't help settle Mel's nerves as the act got into gear.
Now, in Mel's defense, few of us would probably be 100% comfortable if a creepy young woman with an obscured face, a penchant for communicating via neck jerk, and what looks like the kind of doll that would murder other dolls in her arm came up to us and shoved said murder doll into our arms. Mel deserves credit for not immediately throwing it at Howie or Heidi or guest judge Martina McBride, who may have come to regret agreeing to appear on America's Got Talent if she'd had to hold the doll. It was not the kind of toy anybody would want in their hands when a creepy woman is summoning her imaginary friend who enjoys fun and scrapbooking with bloody handprints.
It was a terrible surprise for Mel -- although a pretty awesome twist for viewers -- when The Sacred Riana popped the murder doll back into its house and began to circle it, declaring that they wanted to play with their new BFF Mel. Then, the house popped open, revealing that the murder doll is actually another person! Oh, Mel. No wonder you wanted a break in your dressing room!
Surprisingly, it was Simon rather than Mel who dismissed The Sacred Riana from the stage, saying that he wanted the act to end. It seemed like The Sacred Riana was doomed to be sent home like most of the other contestants in Judge's Cuts, but the judges revealed at the end that they had to make their decision based on what America would want to see instead of what would fuel their nightmares after filming ends. The Sacred Riana got a pass, and she'll appear in the live shows, probably to scare the figurative pants off of Mel again. This isn't the way to get Mel to stick around!
Tune in to NBC on Tuesdays at 8 p.m. ET for new episodes of America's Got Talent. For some alternate viewing options, check out our fall TV premiere schedule.
Resident of One Chicago, Bachelor Nation, and Cleveland. Has opinions about crossovers, Star Wars, and superheroes. Will not time travel.
Your Daily Blend of Entertainment News
Thank you for signing up to CinemaBlend. You will receive a verification email shortly.
There was a problem. Please refresh the page and try again.