HBO's Game Of Thrones Prequel: An Updated Cast List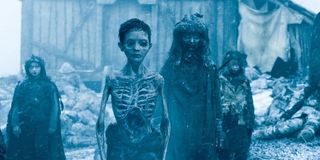 Game of Thrones has only one season left before the end, and it will be the shortest season of the series to date. Although HBO has yet to release an official premiere date for the eighth and final season, fans may already be mourning the end of one of the most epic series in television history. The good news is that the end of Game of Thrones doesn't mean the end of the Westeros action on HBO, as a spinoff pilot has already been ordered.
HBO has actually had multiple spinoffs in development for a while, and the first to get the order for a pilot will be set thousands of years before the events of Game of Thrones picked up. The project hasn't even received an official name just yet, so details are relatively scarce. That said, we do know the bare bones of what the show will be about if ordered to series, and we know some of the actors cast for major roles.
Let's start with the actress seemingly poised to take the spot as leading lady!
Naomi Watts
Naomi Watts is probably best known nowadays for her roles on the big screen, even scoring Academy Awards nominations for best leading actress on two occasions. She did recently star in a Netflix series of her own, but it wasn't especially well-received, and Gypsy got the axe after only one season. The Game of Thrones prequel pilot could be the project that turns her into a force to be reckoned with on the small screen.
For the HBO pilot, Naomi Watts will play a charismatic socialite. Fitting with characters introduced on Game of Thrones, she conceals a dark secret. If she takes after members of high society from Game of Thrones, she may be more than willing to kill if that's what it takes to protect her secret. At this point, we can only speculate about her character's role.
Josh Whitehouse
If you're familiar with Josh Whitehouse, you're probably a fan of Poldark. The actor played Hugh Armitage for ten episodes. He'll appear in the upcoming remake of Valley Girl, tackling the role originally played by none other than Nicolas Cage. You can also find his face on billboards in certain places, as he is the face of Burberry's new fragrance campaign.
Unfortunately, there are even fewer details about Josh Whitehouse's role on the Game of Thrones prequel project than there are for Naomi Watts. Deadline reports that he landed "a lead role," which at least indicates that he'll play a prominent character. Beyond that, we can only guess. Now, onto some new castings!
Naomi Ackie
Prequel viewers can expect to see Naomi Ackie on board the new show, although any details about who she'll play have not yet been released. The British actress is best known for her role in the 2016 movie adaptation of Lady Macbeth, and she did appear on Doctor Who and a couple episodes of British crime miniseries The Five prior to her Shakespearean turn in Lady Macbeth. More recently, she appeared in five episodes of Hulu's The Bisexual, and she will appear in the upcoming Star Wars: Episode IX.
Denise Gough
Although there is no news about Denise Gough on the Game of Thrones prequel aside from her casting (via Deadline), Gough should be an intriguing addition to the show. She has a strong background in both theater and television on the British side of the pond, going all the way back to 2004. The 38-year-old Irish actress appeared on Broadway's Angels in America in 2018, and most viewers will probably recognize her from her performance as Mathilde de Morny in 2018's Colette, which starred Kiera Knightly.
Jamie Bower Campbell
Jamie Bower Campbell's character is under wraps, and his past roles indicate that he could play one of the heroes as well as one of the shadier characters without much trouble. His versatility -- as demonstrated by roles ranging from the lovesick Anthony in Sweeney Todd to young dark wizard Grindelwald in Fantastic Beasts: The Crimes of Grindelwald to Jace in The Mortal Instruments: City of Bones -- means that it may be difficult guessing what kind of character he'll play without more information or footage.
Sheila Atim
Sheila Atim is another actress with Shakespeare experience, as she appeared in The Donmar Warehouse's All-Female Shakespeare Trilogy (which included The Tempest, Henry IV, and Julius Caesar). American viewers are more likely to recognize her from her appearances as Limehouse Nell in the second season of Harlots, which airs in the U.S. on Hulu. She has worked on multiple period projects in the past; although the Game of Thrones universe isn't exactly a period piece, the Seven Kingdoms do generally require historical-esque costumes and language. The prequel could be a good fit for Atim!
Ivanno Jeremiah
Ivanno Jeremiah will make the jump to HBO from AMC, where he spent three seasons playing a synth on Humans. Unsurprisingly, no details have been released about his Game of Thrones prequel character, but he probably won't be playing a robot this time around. The English actor also nabbed roles in episodes of Black Mirror and Doctor Who, so he has experience in genre series all around.
Georgie Henley
23-year-old Georgie Henley made a name for herself on the big screen with her performances as Lucy Pevensie in the relatively short-lived Chronicles of Narnia film franchise, which ran for three movies and covered three of the seven books in the novel series. She's slated to appear in Starz's upcoming Spanish Princess TV show, so HBO won't be the only premium cable network she'll have worked for in recent years.
Alex Sharp
Alex Sharp is another British actor with a strong history in stage theater. After graduating from Juilliard in 2014, he landed a Broadway role in The Curious Incident of the Dog in the Night-Time, for which he won a Tony Award. For non-Broadway fans, he starred in the 2017 sci-fi rom com How to Talk to Girls at Parties, alongside Elle Fanning and Nicole Kidman.
Toby Regbo
Just as the Game of Thrones prequel cast the person who played young Grindelwald in Fantastic Beasts: The Crimes of Grindelwald, young Dumbledore (played by Toby Regbo) is on board as well. TV fans may be more likely to recognize him for his performances as Francis on The CW's Reign and then Aethelred -- no, not that Aethelred -- on The Last Kingdom. Here's another actor used to wearing period costumes!
Miranda Richardson
Yet another actor from the Harry Potter franchise has signed on? What does it mean? Not much, likely, but it still is interesting to note that Oscar nominated actress Miranda Richardson has jumped on board the prequel. Of course, there's no specifics to who she'll be playing yet, although her role is noted to be substantial. We'd expect nothing less considering her resume in Hollywood, and reputation as one of England's premiere actresses.
The setting of the spinoff does mean that none of the Game of Thrones characters we've come to know and love/hate will be able to appear, unless Bran uses his Three-Eyed Raven powers to visit the past (and perhaps build the Wall as Bran the Builder). The spinoff action will reportedly take place during an era of transition, as the world moves from "the golden Age of Heroes into its darkest hour."
Assuming it gets a series order, the show will explore the true origin of the White Walkers, the Starks of days long gone by, and "mysteries of the East." As A Song of Ice and Fire book readers (who are undoubtedly starting to get seriously cranky about how long Winds of Winter is taking) know, the Age of Heroes ended when Westeros was plunged into the Long Night, a.k.a. that dreadful winter that lasted a generation and inspired some of Old Nan's spookiest stories.
The Long Night saw the arrival of the White Walkers from the far North for the first time, and the Children of the Forest teamed up with the First Men to drive them away. If the spinoff prequel does indeed tackle this era, viewers are in for a wild ride. Naomi Watts' character description as a socialite sounds fitting to a golden Age of Heroes, even if only at the end before the Long Night.
If ordered to series, the project still likely won't hit the airwaves for quite a while, although filming may begin sooner than we expected. A casting call recently went out with descriptions of some characters who will be featured, so progress is clearly being made.
For now, we can only imagine. George R.R. Martin will be involved in the pilot despite Game of Thrones not running for as long as he'd hoped, so perusing some of his published materials could provide some background on what's going to happen. He has stated that finishing Winds of Winter will be his top priority, so he won't be overseeing everything on the spinoff project.
George R.R. Martin's Fire & Blood book could be a source for helpful information. It won't be a novel like those in the A Song of Ice and Fire series, but rather a "monumental history of the Targaryen kings of Westeros." It could provide background valuable to the writers and producers of the spinoff prequel. Only time will tell.
For now, you can look forward to the eighth and final season of Game of Thrones hitting the airwaves in 2019. A lot of characters are probably going to die, and we can only cross our fingers and hope for our favorites to make it to the end. Very little footage has released so far. Check out our midseason TV schedule for some viewing options now and in the not-too-distant future.
Your Daily Blend of Entertainment News
Laura turned a lifelong love of television into a valid reason to write and think about TV on a daily basis. She's not a doctor, lawyer, or detective, but watches a lot of them in primetime. Resident of One Chicago, the galaxy far, far away, and Northeast Ohio. Will not time travel, but will sneak references to The X-Files into daily conversation.