Deadwood's Returning Cast Announced For HBO's Upcoming Movie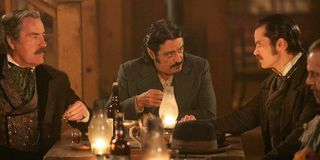 HBO's Deadwood film is finally getting production underway, which fans already know was quite an accomplishment. HBO recognized that as well and marked the momentous occasion by releasing the cast list of returning actors who will reprise their roles from the original series. Ian McShane, Timothy Olyphant, and many others are all on board, and ready to give fans the revival they've been waiting on for so long. Take a look at the full returning cast list!
Ian McShane
Ian McShane's return as Al Swearengen isn't the least bit surprising, considering he's been part of the push for the Deadwood film for a while now. Additionally, Swearengen might be the character most often associated with Deadwood, so pushing a film through in his absence would not be unnoticed. That's not to say that wouldn't be true with any of the main cast, but fans know McShane is the type of actor who commands any role he takes.
Timothy Olyphant
Timothy Olyphant is back as Seth Bullock, and eating a bit of crow in light of HBO's casting announcement (via TVLine). Olyphant went on the record earlier this year and said that while he was really hoping a film would see the light of day, it would "never fucking happen." Even if he was wrong (barring any production breakdowns or cancellations), we're sure Olyphant is happy to admit it now that he's getting back in the saddle as Seth.
Molly Parker
Molly Parker will make her return as Alma, the complicated female lead who had many problems throughout Deadwood. We're not sure where Alma will be when the film picks back up, but it's safe to say there's something happening now that she's supposedly back in town. What role Alma will play in the upcoming film's story is anyone's guess, although we're guessing it'll may involve Seth.
Anna Gunn
Years before she was the vengeful Skyler White on Breaking Bad, Anna Gunn was Seth Bullock's wife Martha on the HBO drama. Martha and Seth's relationship has always been complicated, so it'll be interesting to see if the two's dynamic has changed much from when they were last seen on Deadwood. We're not sure what to expect considering the show's Martha Bullock differs from the real-life counterpart, but we're excited to see Gunn reprise her character.
Paula Malcomson
Paula Malcomson is back as Trixie, and we're hoping a lot of the other things to love about her are back as well. The foul-mouthed former prostitute has the heart of Al and Sol, so we're guessing she's doing pretty well. Still, old habits seem to die hard for Trixie, and we wouldn't be surprised if she's still turning a trick or two just for the thrill of it.
Brad Dourif
Brad Dourif will return as Doc Cochran, although we're not entirely sure how long he'll be around in the Deadwood film. We say that because Cochran was beginning to show the signs of tuberculosis in Season 3, and while he's a solid physician for the era, he doesn't stand a good chance of beating that sickness. He'll probably still battle on regardless, and do his best to heal the various wounds inflicted on people during the feature.
John Hawkes
John Hawkes is back as Sol Star, and things were looking up for Seth's best friend at the end of the series. He's one of the most respected people in the area, and he had Al pulling strings to keep his relationship with Trixie as stress-free as possible. Whether they've stayed that way, or Sol's life will be shaken up going forward remain to be seen.
Dayton Callie
Charlie Utter will appear in the Deadwood film and Dayton Callie will reprise the role. Much like many of the others, we're not sure what's in store for Charlie, but we're curious if Deadwood will refer to the character by his real-life nickname that the show never mentioned. It would be cool to see Utter get his nickname of "Colorado Charlie," although it might also be weird for someone to call him that after 3 seasons of not doing so.
Robin Weigert
Robin Weigert will be back as Jane Canary, and we're sure she's still happy and living with Joanie. We're not sure how the rest of their story will play out, as the ending of Deadwood somewhat teased some tension with Cy outing Joanie and attempting suicide. With Powers Boothe gone, we doubt that storyline will continue in a meaningful way, although it has been confirmed Cy's absence will be addressed in some way.
Kim Dickens
As mentioned, Kim Dickens' Joanie Stubbs seemed to be doing just fine with Jane at the series finale of Deadwood, and we have no reason to suspect anything changed since then. Joanie had converted the Chez Amis into a schoolhouse, so it's possible some of her story on the return will be tied to that. Let's just hope Dickens' character fares better in the long run than her character on Fear the Walking Dead because it would be sad to lose Joanie.
William Sanderson
William Sanderson is back in the mix as E.B. Farnum, in the first return to HBO for the actor since his days on True Blood. Things were never incredibly great for Farnum in Deadwood, and we doubt he'll have many more friends than he did at the series' end. Still, it'll be good to see Sanderson back as the character, as he's had some time away from the limelight in recent years.
Gerald McRaney
George Hearst left camp in the finale of Deadwood, but it's looking like Gerald McRaney's casting means he'll be back for one reason or another. Perhaps he'll learn that Al faked Trixie's death, and he's unhappy the wool was pulled over his eyes. After all, who wouldn't be mad to learn the person who attempted to murder them was still walking around without proper punishment?
W. Earl Brown
W. Earl Brown is back as Al's right-hand man Dan Dority, although it's safe to speculate he might be a little changed this time around. It's been known that Dan wasn't as brutal as he seemed, but that fight with one of Hearst's men seemed to have done a number on him, so we're not sure if he'll be quite as rough and tumble now. Of course, Dority could still get his violent mojo back, and we're hoping he does in case things get sticky for Al.
HBO's Deadwood film is just getting started on production side, so viewers still have a bit until they can see their favorite characters in action. For a list of shows to watch in the meantime, be sure to visit our fall premiere guide.
Your Daily Blend of Entertainment News
Mick likes good television, but also reality television. He grew up on Star Wars, DC, Marvel, and pro wrestling and loves to discuss and dissect most of it. He's been writing online for over a decade and never dreamed he'd be in the position he is today.