How The Walking Dead Characters Look After The Six-Year Time Jump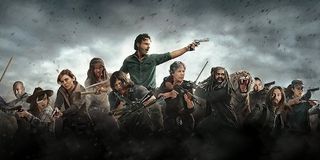 The Walking Dead blew everyone's mind in quite a few different ways following Rick's final episode. In addition to all the Rick-related craziness that was shown and what's happening with that, fans were also treated to some footage that shows the drama's beloved characters six years into the future. Some people look radically different, and others have us convinced that there's a fountain of youth other survivors are keeping for themselves. Check out who's changed and who hasn't below.
Michonne
Time has seemingly chilled Michonne out. Despite the somewhat subtle changes to her wardrobe, she looks radically transformed. It's one of those cases where someone looks like a completely different person with their glasses off, except in her case it's losing the iconic headband and throwing on some denim. We don't see her in kicking ass and taking names in the tease for upcoming episodes, but we're guessing that sword still ain't for show when the going gets tough.
Judith Grimes
Judith is much older and carrying on her family's legacy as she's seen wandering around in her father's sheriff hat. Judith appears to take after Carl more than any other member of the Grimes family, which is interesting given that the latest episode reminded us that she was technically only Carl's half-sister. Let's hope she has as great of aim as Carl did when he wore that hat!
Daryl
We know this is just television and six years haven't actually passed, but couldn't The Walking Dead have put some more gray into Daryl Dixon's hair? Envious fans are forced to cope with the fact Norman Reedus hasn't aged a day for the past decade, so Daryl could've at least lost his hair or something to make us mortals feel better. Daryl teased a storm is coming, and while we might be wrong, we think he's not speaking literally.
Carol
Carol is living that "long hair, don't care" lifestyle in what appears to be her best Katniss Everdeen cosplay. Carol is looking like a badass and appears to be keeping comfortable in the future. She does get some flak from Henry towards the end of the preview, which teased she'll be facing some sort of moral crisis. We're pulling for her to rise to the occasion and do what's right, but only if it means she'll survive another season.
Eugene
The mullet was perhaps one of The Walking Dead's most iconic hairstyles to date, but apparently, it got killed off somewhere in that six-year stretch. That's fine because Eugene is now rocking a bitchin' braided ponytail that blows through the breeze after he knifes a walker right in the skull. We don't know what the future holds for Eugene in Season 9. We're hoping The Walking Dead's new best hairstyle is in it for the long haul.
Aaron
Aaron was already starting to look like the comic book version of Rick Grimes at the start of Season 9, and this flash forward look drives it even further. Aaron is seen voicing his concern that the walkers are evolving, although most diehard fans know that's probably not the case. Still, we have to wonder what kind of alarms Aaron will raise with his theory on The Walking Dead before the truth is revealed.
Jesus
Jesus doesn't look too different between his last scene in The Walking Dead before the flash-forward, but it's hard to say for sure with his hair up. Regardless, Jesus is just as concerned by the "evolving" walkers and confused by their behavior out in the fields. He'll probably find out what's happening sooner or later, as he's seen later cutting down walkers in the dead of night with some badass sword skills.
Father Gabriel
Seriously, some of these guys need to start sharing their beauty secrets with the rest of the characters. Had The Walking Dead started off showing Father Gabriel, it would've been hard to establish this was a flash forward because he doesn't look all that different. Gabriel is of the opinion the group should be branching out, and while we're not sure if that's the right call for everyone's safety, exploration means exciting new stuff and more storylines.
Negan
Negan may be locked away and a bit subdued right now, but we can't shake the feeling he's working towards some sinister and wild plan. Whatever he's planning, it looks like he could manipulate Judith into helping him out. That said, perhaps he's just lonely and needing someone to talk to as he passes time, and he's really changed in six years? We're still too emotionally scarred by Glenn's death to believe that. The last eight seasons have proved that anything is possible, however!
Henry
Henry is grown up and throwing a bit of Carol's imparted wisdom back at her in The Walking Dead trailer. We don't see a lot of Henry in this preview, but we can guess he's going to be taking on some of the comic book storylines that were originally written for Carl. Is Henry capable of living up to the departed character's mantle? Our past analysis would say no. Even Carl did some dumb things in his youth.
Rosita
Rosita gets as many appearances in the preview trailer as Siddiq, who is only seen briefly in the background, didn't. She's popped up everywhere and was more often than not in harm's way. Considering Eugene is the only other person who comes close to that in this preview, bad things could be coming for The Walking Dead character. Of course, the series wouldn't drop another big character in a season that's lost so many big ones already would it?
We're hoping for the best for all the future characters, as The Walking Dead Season 9 rolls on at AMC Sundays at 9:00 p.m. ET. The zombie apocalypse will be a different place moving forward now that Rick is out of the action. Those looking for more shows to fill their nights with as the fall season drags on are in luck, as we have a full breakdown of what's coming soon or on the way via our fall premiere guide.
Your Daily Blend of Entertainment News
Mick likes good television, but also reality television. He grew up on Star Wars, DC, Marvel, and pro wrestling and loves to discuss and dissect most of it. He's been writing online for over a decade and never dreamed he'd be in the position he is today.