Fox's The Masked Singer Looks Like The Weirdest Singing Competition Yet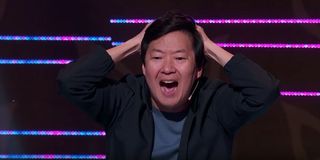 Televised singing competitions tend to follow a pretty standard formula. At the beginning, we're introduced to a bunch of hopefuls, some of them will be amazing "I can't believe this person doesn't already have a recording contract" level singers, while others will either not quite be ready for the big time yet, or they'll just be delusional about their level of talent. As the weeks wear on, the competitors will be whittled down, we'll get some live shows that force the singers to be on their game in front of millions of viewers and eventually the show will crown a winner.
Sure, there are differences in judges, expected and unexpected on-stage shenanigans, how they score the singers and the like, but, overall, we get a lot of singing mixed with the tear-jerking personal stories of those looking to break out and make their mark on the music industry. Well, if you're tired of singing competitions that do the same thing over and over, there's a new one coming up that might just get you intrigued again. Fox is bringing us The Masked Singer on January 2, and the premise of this competition is so weird that it has to be seen to be believed. Take a look:
I don't know about you, but this is so weird it just might work. OK, so first off, instead of a group of wanna be music stars trying to take their fate into their own hands by trying out for a nationally televised singing competition, The Masked Singer will have 12 already well-known stars take to the stage to sing their hearts out. The major catch, as you can plainly see, is that each of them will be covered head to toe in very elaborate costumes to conceal their identity and keep things like age, looks, popularity and the width and breadth of their careers from influencing voting.
And, can we just back track a second and talk about those costumes? Whoever is working behind the scenes to create these things is not playing around. No one went to Party City, outfitted a bunch of celebrities and then pocketed most of the cash. Oh no, just in the clip we see a wide variety of well-covered people-sized animals, aliens, elusive DJs, random critters, insects, toys and what turns out to be things that just don't occur in the real world. Thank heavens, too. I cannot imagine what would happen if someone met any of these folks in a dark alley when they were a little bit tipsy. I have a feeling there might be a few heart attacks in a situation like that. Really, just look at this:
I think we're looking at a hippo with a hat (which happens to exactly match the hippo's skin tone), who is also wearing eyeglasses, possibly with a slight tint to them and who, for some wacky reason, has one gold tooth. Who knows what's going on with the rest of this getup. As far as I'm concerned, if you lower the lights in that studio a bit (or, even without that), this is pure nightmare fuel. Who among us would not be at least momentarily terrified by a sight such as this on a cold, dark night?
But, I digress. The Masked Singer will feature 12 celebrities competing with their, hopefully, lovely voices over the course of 10 episodes. As you can see from the clip, a large part of the show is just trying to guess who is under all the costuming each week. And, the famous folk who will be competing are either not all mainly known as singers, or they have many other talents, as well. All are said to be true household names and have, between them, 65 Grammy nominations, 4 Super Bowl titles, 16 multi-Platinum albums, 4 stars on the Hollywood Walk of Fame, 16 Emmy nominations and 9 Broadway shows. So, the people who agreed to take part are no slouches when it comes to their chosen careers or competing.
Like we've seen in most singing shows, each week will have one singer getting voted off of the show. At that point, though, the guessing game will be over, because when they're told to pack their bags, they also finally take off what must be a ridiculously hot mask and reveal who they are. Prepare for everyone to be surprised, because no one, not even the other contestants, know who they're competing against. But, The Masked Singer has promised to do us all a solid as we're at home playing our guessing games, because clues to each singer's identity will be sprinkled throughout each show.
To shepherd us along each week as The Masked Singer moves along with its weirdo competition, we'll have host Nick Cannon, late of America's Got Talent, which he hosted from 2009 through 2016, and panelists Robin Thicke, Ken Jeong, Nicole Scherzinger and Jenny McCarthy. I think it's a nice touch to have two singers on the panel, in order to better evaluate the actual singing that'll be going on. But, considering the nature of this vocal competition, it's also nice to have two funny people around to give the audience prime off the cuff comments on the voices, costumes and who might be hiding under there.
In case you're wondering who came up with this nutty idea, you can credit some incredibly inventive South Koreans for creating the show for that country (where its title translates to King of Mask Singer). It first aired in February 2015, and currently has 177 episodes under its completely covered belt. The show has been such a hit, that it's already been adapted for several other countries. Shows with the same basic premise have aired in China, Indonesia, Thailand and Vietnam, with over half a billion fans around the world making various versions of the show a viral hit and leading to the upcoming American show being touted as part of a "worldwide phenomenon."
The Masked Singer will debut on Fox on Wednesday, January 2. You can keep your anticipation for this new singing competition in check by checking out our 2018 fall TV premiere guide, and seeing what else is hitting the small screen in the coming weeks.
Yennefer's apprentice, Gilmore Girl; will Vulcan nerve pinch pretty much anyone if prompted with cheese...Yes, even Jamie Fraser.
Your Daily Blend of Entertainment News
Thank you for signing up to CinemaBlend. You will receive a verification email shortly.
There was a problem. Please refresh the page and try again.