9 Celebrities Famous For Other Things Who Have Won Oscars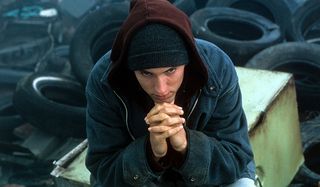 Whenever Oscar season rolls around, there are a fair amount of frontrunners and dark horses plucked out of the crowd for discussion. But by time the big night hits, there's always a surprise or two when it comes to the actual winners. And in the case of the nine folks we're about to share with you, they're all stealth Oscar winners who are known primarily for their efforts outside of the world of film. So as you go through this list, you just might be surprised with who's landed the big golden honor over time. Here are nine people who were famous for something not-film-related, who took home the film industry's biggest prize:
Kobe Bryant
Let's start with the man that inspired this list, basketball player Kobe Bryant! Best known as the shooting guard for the Los Angeles Lakers from 1996 to 2016, the man landed himself an Oscar at this year's past ceremony for Best Animated Short Film alongside acclaimed animation director Glen Keane. As the film was based off of his letter he wrote on the eve of his retirement, Dear Basketball's Best Animated Short win gave Bryant another accolade to add to his personal records.
Peter Capaldi
Whether you know him as The Doctor from Doctor Who or Malcolm Tucker from The Thick Of It, Peter Capaldi is primarily known as a fixture of British television and pop culture. But hidden within that legendary career is some work that Capaldi has done with his other passions: writing and directing! And in 1994, those twin professional loves led him to Oscar victory, as he was part of a tie for the Academy Award for Live Action Short Film with his comedy Franz Kafka's It's A Wonderful Life. The title says it all, as the short that gave him his golden trophy mixes the Christmas classic with a case of writer's block, leading to some problems for our main character.
Jim Rash / Nat Faxon
After their win with Alexander Payne for Best Adapted Screenplay, Jim Rash and Nat Faxon went from a couple of funny guys you recognized from TV to the award winning co-writers of The Descendants. As it turns out, the two men had a previously existing friendship that lead to the two working together to adapt Kaui Hart Hemmings' novel of the same name into an Academy Award nominee for several key awards, including Best Picture and Best Director. But when it came to the award the film actually did win, you can thank two goofballs known for their work on such shows as Reno 911! and Community.
Oprah Winfrey
Yes, Oprah Winfrey has been nominated for an Oscar as an actor, for her work in The Color Purple. But if you were to mention her name to the public at large, the first thing folks would think of is her mega-hit talk show and media empire, both of which have been Winfrey's bread and butter for decades worth of broadcast history. And her Oscar win only further cements that career's influence, as she actually was granted the Jean Hersholdt Humanitarian Award, for "outstanding contributions to humanitarian causes." So while Oprah is a talented actor in the Hollywood firmament, her dedication to bettering the world landed her a very special honor in the history of the Oscars.
Eminem
2002 marked the first win for Best Original Song that would be granted to a song from the genre of Hip Hop, courtesy of Eminem's Lose Yourself from the film 8 Mile. That win was not only historically relevant, it was also a hell of an upset in a field that had a new song for the film adaptation of Chicago, as well as songs from U2 and Paul Simon. But just as he enjoyed acclaim with his first, and so far only, major motion picture lead, Eminem ran away with an Oscar that would pave the way for others to follow in his footsteps.
Three Six Mafia
The second Hip Hop win in the Best Original Song category didn't take too long to happen, as 2005 saw rap group Three Six Mafia claim the prize for "It's Hard Out Here For A Pimp", the pivotal song in Craig Brewer's Hustle and Flow. The group themselves were undoubtedly surprised, as their reaction to the win was so genuine that it became a gag in remarks made later by the evening's host, Jon Stewart. What wasn't a gag though was the fact that Three Six Mafia had become an underdog Oscar victor, and another pioneer in Hip Hop making its way to the big stage yet again.
Mo'Nique
For the most part, Mo'Nique has been known as a stand up comedian extraordinaire that rose up the ranks of TV comedy stardom. Her film career, while certainly not negligible, wasn't as prolific as her televised efforts, which helped make her casting in Lee Daniels' Precious all the more shocking. That shock turned to buzz, with her portrayal of the titular character's abusive mother became strong enough to land her a nomination, and eventual win, for Best Supporting Actress in 2009.
Bret McKenzie
We end our run through the surprise hall of Oscar fame with the most important lesson we've learned today. Which is, if you're looking to win an Oscar, your odds are much better if you can get a nomination in a below the line category. Much like Eminem and Three Six Mafia before him, Flight of the Conchords' Bret McKenzie became a surprise winner thanks to the Best Original Song category. "Man Or Muppet" from 2011's The Muppets. While the catchy nature of the song isn't the part that surprises people, the fact that it was co-written by one of the minds behind such ditties as "Business Time" is the part that might act as the shock.
Your Daily Blend of Entertainment News
Senior Movies Contributor
CinemaBlend's James Bond (expert). Also versed in Large Scale Aggressors, time travel, and Guillermo del Toro. He fights for The User.