Watch The Hadid Sisters Rap In Their Underwear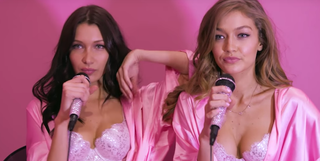 (Image credit: YouTube)
It's no secret that the Hadid sisters rule the runway and Instagram with their killer looks, but the superstar sister act recently revealed another talent: rapping! Bella and Gigi Hadid showed off their lyrical prowess by spitting a few bars of the Nicki Minaj hit "Starships." Check out the Hadid remix of "Starships" below.
In a recent video from the fashion mag 10 Magazine, supermodel sisters Gigi and Bella Hadid team up to tackle the speedy, tongue-twistery verses of "Starships." Clad in pink lingerie and silk robes, the sisters confidently belt the Nicki Minaj hit with playful ease. Before even jumping on the mic, Gigi boasts from off-screen that she knows the whole rap, and her sister immediately replies that she does too. The sister's even inserted a little shoutout to Gigi in the lyrics, pointing emphatically at the older sister during the lyric, "If you're a G, you a G-G-G."
Clearly the supermodel sisters are well-versed in their Nicki Minaj tracks. Perhaps they picked up some musical knowledge from their singing boyfriends? Bella Hadid recently split from The Weeknd after dating for nearly two years together, reportedly due to too much conflict in the couple's schedules. And like her sister, Gigi Hadid has a thing for musicians. Before starting a relationship with her current boyfriend Zayn Malik, Gigi dated singers Joe Jonas and Cody Simpson. It seems the Hadids are just naturally drawn to music.
The video comes at the tail end of a pretty incredible year for the superstar sisters. Gigi Hadid was one of the buzziest models of the year during Fashion Week events in New York, Milan, and Paris, and added event hosting to her repertoire by hosting the iHeart Radio Music Awards and American Music Awards this year. Following in her big sister's fashionable footprints, Bella Hadid was not only named Model of the Year at three different awards shows in 2016, but also got to walk with Gigi in her debut Victoria's Secret Fashion Show.
With the way that the Hadid sisters completely owned the fashion world in 2016; you can be sure that they are only going to become even bigger names in 2017, and pop culture fans may start to see more of the supermodel sisters off the runway as well. Who knows --- maybe there's a rap album on the way? Okay... probably not. But we might hear Gigi offer up a quick verse on Zayn's next album. After all, he did just release a duet with Gigi's BFF Taylor Swift.
Your Daily Blend of Entertainment News
Thank you for signing up to CinemaBlend. You will receive a verification email shortly.
There was a problem. Please refresh the page and try again.