Porn's Most Popular Halloween-Related Search Terms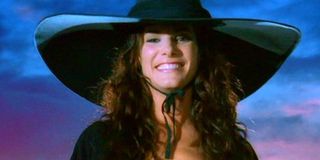 Well, well, well. The good folks at PornHub are at it again, making sure we all know exactly what's floating everyone's sexytime boats at this spooky time of year. That's right, y'all. It's time to see what people are searching for in the realm of Halloween-related porn. Get your kinky boots on, and let's dive right in! (And, before you ask, the answer is yes; you can and should wear your kinky boots on the sexytime boat. So, let's get to it!)
My, oh my. There is a lot to unpack here, isn't there. First off, before you declare this list unfair because it's not actually Halloween yet, the data on this graphic was pulled from the search terms put into PornHub on October 31, 2017, and the increased percentage is based on the daily average for those terms. I have to say, it's lucky for us that PornHub keeps track of just what all our freaky asses are searching for during important events like Halloween, the second season debut of Netflix's Big Mouth and pretty much anytime anything big happens with Game of Thrones. Otherwise, how would we get wonderfully insightful articles like this that allow us to fully enjoy our work breaks during the day?
OK, I'm already quite pleased with this list. Wouldn't it make sense that something simple would lead the way in increased search traffic? Most of us are very busy people. We don't have hours to devote to pornrific pursuits on a regular basis, so what does one do when one loves Halloween but also loves hotties and would like to see what happens when those two things get together? Easy, peasy...one searches for a "Halloween hottie" to see what might come up (pun intended...work with me, people). And, I hope everyone who searched thusly got whatever they were looking for.
In fact, the most popular way to spookify a porn search would appear to be simply adding the word "Halloween" to any number of already important search terms. Like amateur porn? Just add "Halloween" to it and something that will probably involve amateurs and way more fake spider webbing will soon come your way. Need to get your anal fix? Throw a "Halloween" in there and get videos that, I can only imagine, are far more adventurous than normal. Want to see people enjoying some Earthly delights while wearing scary costumes? That's right, "Halloween orgy," "Halloween party" and "Halloween costume" are probably going to have you covered.
Now, while I completely understand, and can even picture in my very creative mind's eye, what types of porn might be brought to the fore by many of these very specific Halloween searches, I can admit to being a bit confused by one. What, prey tell, are "Halloween big tits?" Are these simply massive mammaries encased in a Halloween costume, or is there more backstory at play here? Are the boobs themselves so large that they are threatening an entire town or even a large city with annihilation? Maybe these giant gazongas are scared and running through the woods at night in a wet, white tee shirt while trying to evade a chainsaw wielding serial killer. Or, is it possible that the sweater stretchers we're looking for just like to play pranks on people and jump out at unsuspecting moments, say, after you awake in the morning and are in the kitchen making your first cup of joe. We may never know...
Of course, another good way to get your scary on when looking for porn is to just look for relatively common Halloween themes. Searches like "sexy costume," "skeleton," "vampire pov" and "cat costume" are likely to be sort of popular on a more regular basis (everyone loves a good, horny vampire year round, I figure), which is why they didn't increase in popularity as much as "fuck for candy" or "slutty Halloween." Though it must be noted that "fucking a pumpkin" only increased by 842%. I'm no mathematician, but this would either seem to mean that pumpkins are not the most fun gourds to fuck (hence the relatively small jump in searches), or a lot more people are looking for details on this activity during non-autumnal times of the year than I would have thought. If that's the case for you, I'm not here to yuck anybody's yum, so, you do you player. All day and all night.
At this time of year, people become very interested in enhancing their porny times with costumes. The aforementioned "cat" and "sexy" costume searches are also joined by "costume orgy," "costume anal," "costume blowjob," "costume pov" and "bunny costume." For some reason, though, people don't seem to be searching "lesbian witch" costumes. What does this mean? Are folks actually hoping that real lesbians, who also happen to be real-life witches who wear clothes that easily identify them as such, have become porn performers who use their witchy, lesbian attributes for the enjoyment of others? It would seem unlikely that such a perfect storm of desired traits would be easily accessible through your standard porn site, but all we can do is enter the search and try, right?
I am also intrigued by the fact that there seems to be some sort of "milf uniform" that people are interested in. What is this, and why is it referred to as a uniform and not a costume? Is there a MILF training academy somewhere that teaches attractive mothers of a certain age to seduce and otherwise entice their (hopefully basically grown) children's friends? What do these ladies wear? Pearl necklaces (not that kind, but imagine whatever you must), tight cardigans and prim skirts to the knee? Or, is she more trendy then that, and always in the latest finds that would have you think she's one of Bravo's Real Housewives? Maybe she's a busy, hardworking MILF on the go, and never leaves the house without her sneakers, a form-fitting zip up top and yoga pants that can be removed easily for her next encounter with a much younger man? Admit it, you're super curious now, aren't you?
Thanks to PornHub, there is no denying now that people have some changes in preferences when it comes to porn on Halloween. So, if you've been dreaming of searching for sexy activities that involve candy corn, bobbing for apples and acrobatic ghost sex, go for it. I'm sure you'll find something to suit your fancies.
Yennefer's apprentice, Gilmore Girl; will Vulcan nerve pinch pretty much anyone if prompted with cheese...Yes, even Jamie Fraser.
Your Daily Blend of Entertainment News
Thank you for signing up to CinemaBlend. You will receive a verification email shortly.
There was a problem. Please refresh the page and try again.