10 Unanswered Daredevil Questions We Still Have After Netflix's Cancellation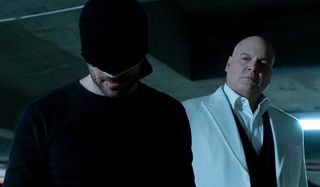 Daredevil is done at Netflix despite its reported success on the platform. For that reason, a lot of loose threads were left hanging at the end of Season 3, maybe because the cast and crew believed a Season 4 renewal was all but certain. With that said, here are some questions I have following Daredevil's cancellation, and what I would like to see answered should these characters return elsewhere.
Will Wilson Fisk Uphold His End Of The Deal?
Despite Wilson Fisk discovering Daredevil's identity, Matt managed to coerce the villain back into prison and silence by threatening Vanessa. It was clever, although Daredevil viewers know Fisk could've worked his way out of leverage. Kingpin was able to keep his love on the move for a long time, and Vanessa could've agreed to another world tour just to give her husband another chance to put the screws to the Defender.
Will Karen Pay For Killing James Wesley?
After two seasons of secrecy, Karen Page finally came clean about her murder of Fisk's right-hand-man, James Wesley. Karen was foolish enough to rub this in the face of Kingpin, and even though he tried to have her killed once and failed, Season 3 showed he's a persistent guy. That sin probably won't be forgotten by the villain, and we're wondering if Fisk would've found a way to exact vengeance sooner or later.
Was Matt Gonna Get A New Suit?
Matt Murdock spent a bulk of the season in his classic Season 1 outfit, while Dex ran around in his traditional garb causing mayhem. With his classic suit possibly in police evidence and his rags not as protective, we're guessing Matt would've contacted Melvin for a replacement. This means Season 4 could've introduced the yellow version or another variant of the suit, which makes the idea that it may never happen more disappointing.
What Happened To Elektra?
Something happened to Elektra's body following the events of The Defenders, but Season 3 of Daredevil didn't give any clues beyond the fact the body wasn't recovered. Is Elektra alive or was her body pulverized into dust by the building's collapse? Many might assume she's alive as well, although the circumstances behind her survival and the state she was left in following may forever remain a mystery.
Will Nelson, Murdock, and Page 2.0 Be Successful?
Foggy Nelson, Matt, and Karen were pumped to be getting back together for more legal fun, but would this reunion result in a success? Obviously Foggy has some funds to keep them afloat, but their business model in helping clients who couldn't pay ended up driving them under. With no reason to suspect this time around would be any different, I'm curious how long they'd keep things rolling a second time around.
Is Karen Done With Journalism?
Karen swooped in and took the press by storm by becoming one of the New York Bulletin's top journalists. Now that Nelson, Murdock, and Page are back in the saddle, this could've meant Karen is out of the journalism game and possibly on her way to becoming a crackerjack defense attorney. That said, maybe the intention was to give Karen two demanding jobs in Season 4, so she could have a challenge?
Was Dex Coming Back As Bullseye In Season 4?
The final moments of Daredevil Season 3 featured Benjamin Poindexter, or "Dex," having his spine repaired. Dex's eyes shot open, and the bullseye seen within them potentially revealed his origin story and road to becoming Bullseye was complete. With the reveal coming so soon, I'm wondering if Dex was going to turn right back around in appear in Season 4, or he was being saved for a later season.
Were Any Defender Cameos Planned For Season 4?
Season 3 of Daredevil was completely devoid of crossovers or other heroes from the Netflix Marvel universe. It would be interesting to see if Daredevil did continue on whether or not the series would bring them in, or continue to exclude heroes like Luke Cage and Danny Rand. Obviously, they'd like to know Matt's alive and well, and we're guessing everyone would be a little salty he didn't give a heads up.
Would Maggie Continue To Be A Factor?
Father Lanton's death, while tragic, appeared to be Daredevil's way of passing his torch as Matt's mentor onto his mother, Maggie. Matt's lived as an orphan for so long, it would be cool to see how his attitude and life would change now that he has a mother again. Maggie might have also affected Matt negatively, as she'd be another important person in his life he's now putting in danger.
Will Matt Find Love?
Matt bounced around love interests for a few seasons of Daredevil, and while it seemed like something serious could develop with Karen, it never quite fully developed. Is love just not in the cards for the Devil of Hell's Kitchen, or would he finally settle down and find someone to be his rock? Dating is always harder for some superheroes, but I'd like to think Matt could've found someone eventually even it if wasn't Karen.
Will Daredevil Appear Elsewhere?
Daredevil may be finished, but does that mean Charlie Cox's character has to disappear? It'd be great to see the him appear in another Marvel feature, especially while the studio heads try to figure out what the next move may be for the character. It doesn't have to be a huge cameo, but just enough to remind audiences how great Cox is in the role so their invested if the show does find a new home.
Why Did Netflix Cancel This Series?
It's the question people may never fully know the answer to, but it needs to be asked frequently nonetheless. Did Netflix dump the show out of fear Marvel would tank it to help Disney+ thrive? Was it less popular than folks imagined? Is there some crazy behind-the-scenes incident no one is talking about? Hopefully the truth is revealed one day, and everyone can move past this situation amicably and without further Marvel Netflix cancellations.
Daredevil (opens in new tab) Seasons 1-3 are currently available to enjoy on Netflix. For a look at what else is happening on television in the near future, be sure to visit our fall and midseason premiere guides.
Mick likes good television, but also reality television. He grew up on Star Wars, DC, Marvel, and pro wrestling and loves to discuss and dissect most of it. He's been writing online for over a decade and never dreamed he'd be in the position he is today.
Your Daily Blend of Entertainment News
Thank you for signing up to CinemaBlend. You will receive a verification email shortly.
There was a problem. Please refresh the page and try again.