The Arrow-verse's Marc Guggenheim Talks How John Wesley Shipp Affected The Elseworlds Crossover In Exclusive Clip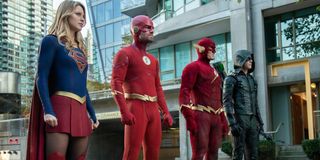 The Arrow-verse's annual crossover in 2018 managed to combine Barry and Oliver switching bodies, the introduction of Batwoman and Gotham City, the debut of Monitor and lead-in to a huge event in the fall, and of course the arrival of John Wesley Shipp's version of Barry Allen. DC TV fans could get a kick out of seeing Shipp back in the suit from his stint as the superhero in his 90s series, and as it turns out, Arrow-verse producer Marc Guggenheim counts Shipp's involvement and impact as his favorite aspect of "Elseworlds."
In this exclusive clip from a feature soon to be available with the Flash Season 5, Supergirl Season 4, and Arrow Season 7 season passes, Marc Guggenheim talks John Wesley Shipp. Take a look!
Marc Guggenheim is former showrunner and current consulting producer of Arrow, and his comments indicate that John Wesley Shipp's involvement in the "Elseworlds" crossover was a very big deal to him, which is something plenty of Arrow-verse fans can undoubtedly relate to. It was already fun to see Shipp on The Flash as Earth-1 Henry Allen (R.I.P.) and Earth-3 Jay Garrick, but there was something special about seeing him play Earth-90 Barry Allen for those who remember him from his time as Barry Allen on his own Flash series.
As if that's not enough, "Elseworlds" effectively confirms that the events of the 90's Flash series are canon in the Arrow-verse, and just happened on an Earth than none of the Earth-1 or Earth-38 heroes had reason to visit!
To see more about the "Elseworlds" crossover, you can find the full extra content piece with any digital season pass purchase for The Flash Season 5, Supergirl Season 4, and Arrow Season 7 beginning on Friday, December 14. For more all about the "Elseworlds" crossover and how John Wesley Shipp was pivotal to the plot, read on! Warning: spoilers ahead for all three legs of the "Elseworlds" crossover.
John Wesley Shipp's Flash breached his way over to Earth-1 from the devastated Earth-90 with a warning for our heroes. He told them that a "crisis" is coming thanks to The Monitor, who has been using "elseworlds" created by the dangerous Book of Destiny, testing various universes to see if there's one capable of withstanding an upcoming attack. That attack will almost certainly come from the legendary DC Comics villain known as The Anti-Monitor.
The good guys get the idea that they can use the Book of Destiny to re-rewrite reality and fix what Dr. Deegan changed after being given the Book by The Monitor. Unfortunately, The Monitor shows up to snag the book and make John Wesley Shipp's Flash disappear, effectively taking him out of the fight where he could have been a massive help to Oliver, Barry, and Kara.
The good news is that Earth-90 Flash's warning was enough to get the heroes in motion to come up with a plan to stop Deegan from permanently altering their reality beyond repair, although they wouldn't pull it off without Oliver turning to The Monitor to make a deal with potentially devastating consequences, and Superman (and Lois Lane) dropping by Earth-1 to lend a hand. Without Earth-90 Flash, who knows what would have happened?
For now, we have to hope that the Arrow-verse finds another reason to bring John Wesley Shipp back as Earth-90 Flash. None of the good guys of Arrow, The Flash, or Supergirl are likely eager to repeat any of what happened in "Elseworlds," but they may not have a choice once Fall 2019 rolls around. The big crossover cliffhanger revealed that "Crisis on Infinite Earths" is on the way.
Be sure to check out Arrow, The Flash, and Supergirl's current seasons on digital via season pass to keep up with the superhero series as well as access extra content. All of the Arrow-verse shows are currently on their midseason breaks, so what better time to rewatch and re-experience the action of the 2018-2019 TV season so far?
Resident of One Chicago, Bachelor Nation, and Cleveland. Has opinions about crossovers, Star Wars, and superheroes. Will not time travel.
Your Daily Blend of Entertainment News
Thank you for signing up to CinemaBlend. You will receive a verification email shortly.
There was a problem. Please refresh the page and try again.