The 10 Best TV Shows Of 2018, According To Nick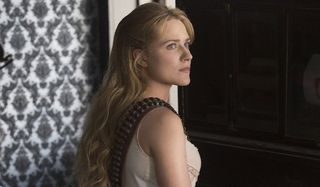 (Image credit: hbo press site)
The already vast number of scripted TV series grew larger than ever in 2018, for a total somewhere north of 550 different shows. The vastness of that selection is both glorious and damning, of course, especially for someone whose job partially relies on watching as many different shows as possible. As such, this was the year when I fully accepted how impossible it can be to give every new and returning TV show a chance to wow me.
For yours truly, 2018 was also staunchly marked by loss and grief, adding to the strain of indulging in the biggest highlights in streaming and primetime TV. Admittedly, I avoided some of the dark and depressing dramas that usually serve as objects of my obsession, though many still snuck by. I was absolutely grateful that 2018 was another fantastic year for blacker-than-black comedies, which are generally comfort food for my sanity. So let's reflect on the ten TV series that hit me the hardest in the past year.
10. Arrested Development - Netflix
Watching the first half of Arrested Development's long-awaited fifth season, it was almost impossible not to view it through the prism of Season 4's disjointedness and the disturbing allegations and stories about Jeffrey Tambor's behavior on this show and on Amazon's Transparent. All that said, Season 5 was still pretty damned hilarious through many of the half-season's meandering plots.
Because the whole gang finally got back together for roughly the whole season, and because much of the previous season's weird plotting got course-corrected, and because I love these characters so damned much, Arrested Development hand-hooked its way into my Top 10. I wonder what the next half-season will be like. [Tony Wonder pops out from behind my couch.]
9. Forever - Amazon
Talk about undersung gems. Alan Yang and Matt Hubbard's genre-bending Forever is the dauntingly imaginative and insightfully neurotic look at death that way too many people slept on. Had Forever's biggest draws only been its heightened narrative, its string of episodic twists, and its co-leads in Maya Rudolph and Fred Armisen, it might have still made this list.
However, Forever's biggest weapon is the ever-present humanity in what is ostensibly a character study of a woman discovering she's no longer content with her stagnant marriage and lifestyle. Armisen is great, as are recurring stars Catherine Keener and Noah Robbins, but Maya Rudolph's shell-dropping June is a character that'll remain in my heart for a long time.
8. Sharp Objects - HBO
Despite being one of the greatest TV offerings of 2018, Sharp Objects is a harsh pill to swallow. (Well, not a pill exactly...) It's a story about murder, obsession, dysfunction, and a small town that could no longer hold back its darkest secrets. Also potentially crooked cops, the perils of crime journalism, the undying hunt for attention and so on.
Amy Adams, Patricia Clarkson and Eliza Scanlen deliver the meatiest performances in this quick-moving thriller, demanding full attention among a stellar cast of TV and film vets. Series director Jean-Marc Vallée and the masterful editing are what vaults Sharp Objects over the top, though, by enclosing audiences squarely within Camille's fractured headspace through this entire sordid affair.
7. Westworld - HBO
The waiting between Westworld seasons felt like a lifetime, and then Season 2 dropped three lifetimes (timelines?) worth of off-kilter developments that continued gnawing at me long after watching. Though I understand that Westworld tries to be too smart for its own good by somewhat arbitrarily complicating narratives, I also understand how much I truly enjoy most of what Jonathan Nolan and Lisa Joy have done with Delos' parks and the morally defunct characters roaming around inside.
I love it all. I love Maeve in Shogun World. I love Dolores' slow-burning journey. I love the Ghost Nation reveals. I love Bernard as the audience's largely clueless surrogate. Perhaps most of all, I love James Delos' maddening story, and William's role in it. Now to nap in a decommissioned area of the park while waiting for Season 3.
6. Atlanta - FX
If only Atlanta could be produced like the evening news, with new episodes premiering every single weekday throughout most of the year, and sometimes weekends. Robbin' Season wasn't quite the tightly wound left-field surprise that Season 1 was, but it dug deeper into its main characters for hilarious misadventures that could only happen on Atlanta.
Atlanta is a special blend of comedy and drama that come from the same disturbing places, making it difficult to quantify the "enjoyability" of the hauntingly melancholy "Teddy Perkins," or the random trauma of "Woods," or any of the show's more racially charged situations, really. But enjoy it I do, along with millions of others, and I'm going to petition for Khris Davis' riotously aggravating Tracy to somehow get his own spinoff season.
5. Counterpart - Starz
Having debuted both of its seasons in December, Counterpart slides into this list with double the power. (Naturally.) As someone who loves theory-inspiring television, I consider Counterpart necessary viewing for everyone everywhere, at any time. Meet and grow comfortable with J.K. Simmons' fairly meek husband Howard, and then find yourself conflicted about whether or not you like him more than J.K. Simmons' more affronting character, also named Howard. Don't worry, it's not confusing. (It's totally confusing.)
Counterpart takes a high-minded science fiction concept and, without really using any additional sci-fi tropes, anchors it to a Cold War-esque back-and-forth between two factions that both seem fueled by creating as many back-room secrets as humanly possible. It's way better than that description, obviously, as double the Olivia Williams performances would already imply.
4. Killing Eve - BBC America
Man, oh man. Or woman, oh woman, as it were. Killing Eve was perhaps the most delightfully evil surprise of 2018 TV, shaking up the "cop chasing a killer" genre with a deep exploration of the central connection between the two sides. Sandra Oh's fun and highly amusing officer Eve becomes obsessed with tracking down Jodie Comer's sadistic and emotionally fractured killer Villanelle, and it's not always easy to tell when that obsession stops being purely professional.
Creator Phoebe Waller-Bridge, who turned romantic sex comedies on their head with the amazing Fleabag, crafted an instant classic with Killing Eve. For anyone whose mind is broken over how many police procedurals are still so popular on broadcast networks, Killing Eve is hopefully a sign of where the genre is heading.
3. Better Call Saul - AMC
If awards snubs were actual crimes, not even Jimmy McGill would want to defend the snubbers. Thankfully, he's got better things to do in AMC's consistently excellent Better Call Saul, such as making his big transition into shyster extraordinaire Saul Goodman. Rarely has an entertainment prequel delivered such an equally engaging story, with its Breaking Bad connections serving as the delectable icing in Season 4, rather than the cake itself.
Why was Season 4 so goddamned great? Rhea Seehorn, for her sympathetic portrayal of Kim Wexler's gradually downward spiral. Bob Odenkirk, for stifling Jimmy's grief over Chuck and trying one last stab at living a mostly lawful life. Jonathan Banks, for this season-long look at what it takes for Mike to make a mistake. And then co-creators Vince Gilligan and Peter Gould, and all the writers and other actors and crew members, etc.
2. BoJack Horseman - Netflix
For the fifth season in a row, BoJack Horseman was arguably the most humanistic show on TV, despite most of its characters being animated anthropomorphic animals driven by their worst instincts. Its lack of live-action storytelling is largely what allows the Hollywoo-based comedy to scathingly reflect the entertainment industry's skeletons with such darkly comedic success.
Giving its titular star a new TV project and a new fling in Stephanie Beatriz's human Gina, BoJack Horseman dives deeper than ever into the character's substance abuse seriously affecting his personal life and career, showcasing a wowzers #MeToo-adjacent storyline that wholly avoided kid gloves. Also, speaking to my own personal catharsis, the stunning episode "Free Churros" delivered an episode-length funeral eulogy that debuted the weekend after my mother died, and it spoke right to my churro-loving soul.
1. The Haunting of Hill House - Netflix
If BoJack's single funeral episode offered me a window of emotional release, then The Haunting of Hill House's first season was a glass-plated skyscraper of heart-smooshing magic, albeit with ghosts and terror and whatnot. Created with methodical precision by filmmaker Mike Flanagan, an all-star cast, and a detail-oriented crew, The Haunting of Hill House was easily the best thing that 2018 TV could have delivered.
As a horror series, it's bursting with intelligent decisions and creep-tastic frights that work visually, audibly and psychologically. As a dysfunctional family story, Hill House hits all the right marks with the sibling rivalries, parental disagreements and the characters' personal hang-ups. As pure entertainment, it's a fully rounded look at grief, the limits of mortality and how the scariest places in the world are often the most familiar to us.
I could feasibly spend most of The Haunting of Hill House's Season 1 running time going on and on about the show's expert balance of style and substance. Or about Mike Flanagan's standout direction. Or about the actresses portraying both generations of Crain sisters. Or about how the writers formatted the story so perfectly by reflecting on previous moments under a new light. 2019 will need a miracle to deliver anything that wows me as much as Hill House did.
Those That Regrettably Just Missed The Cut
The Shivering Truth - Adult Swim
Homecoming - Amazon
Barry - HBO
It's Always Sunny in Philadelphia - FXX
Santa Clarita Diet - Netflix
Titans - DC Universe
Daredevil - Netflix
Mayans M.C. - FX
Your Daily Blend of Entertainment News
Assistant Managing Editor
Nick is a Cajun Country native, and is often asked why he doesn't sound like that's the case. His love for his wife and daughters is almost equaled by his love of gasp-for-breath laughter and gasp-for-breath horror. A lifetime spent in the vicinity of a television screen led to his current dream job, as well as his knowledge of too many TV themes and ad jingles.
Your Daily Blend of Entertainment News
Thank you for signing up to CinemaBlend. You will receive a verification email shortly.
There was a problem. Please refresh the page and try again.