4 Reasons Why Netflix's The Haunting Of Hill House Is TV's Best Horror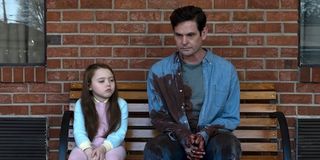 Television is becoming an embarrassment of riches for horror fans. Shows like Channel Zero, American Horror Story, Castle Rock and more offer different tastes for genre fans to gorge upon. Netflix has freaked its customers out before, but the streaming giant has reached an apex with The Haunting of Hill House. An expanded and reworked take on Shirley Jackson's 1959 novel of the same name, The Haunting of Hill House is as transcendent as TV horror gets.
With a story that spans two generations, Hill House is fiercely slow-burning, but can also unleash a deluge of frights at a moment's notice. Audiences won't want it to stop, and it won't...for ten episodes, anyway. Now let's push those heavy front doors in, making sure to keep a sharp eye on everything. and look at why The Haunting of Hill House is the best horror that television has to offer.
It's A+ Family Drama, With Ghosts
Too many horror projects seem to start with a central gimmick, only to later slap generic characters and stories to them. With The Haunting of Hill House, meanwhile, creator Mike Flanagan made it feel as if he'd first worked out a fully functioning dysfunctional family drama. And only then were the more horrific elements added, enhancing the storytelling in an abundance of ways.
The seven-member Crain family moved to the Massachusetts-set Hill House as a happy and boisterous unit, eager to explore its every nook and cranny. But even though their time within the scare-filled abode is temporary, Hill House affects the family for decades in devastating ways that prey upon viewers' emotions.
The perplexing edifice alters perceptions and rattles each character's psyche unendingly through life. It builds metaphorical walls between them all, and causes them to keep their secrets behind closed doors. If not for all the spectral atrocities lurking in the dark and the lack of nudity, The Haunting of Hill House almost plays like a gothic HBO family drama.
The Endlessly Watchable Ensemble Cast
Speaking of the family, let's meet the fantastic group that portrays them all. As the somewhat unreliable patriarchs we have Carla Gugino as the alluring matriarch Olivia Crain, and Henry Thomas as the contemplative patriarch Hugh. The shifting timelines mean viewers will also see Timothy Hutton as a much-older Hugh. Despite the actors not having that large of an age difference, it works because they really do feel like they're embodying the same character.
The fear-filled brother youngest brother Luke is played by Julian Hilliard as a child, and by Oliver Jackson-Cohen as a haunted junkie adult. He shares a special connection with twin Nell, played with adorable young dread by Violet McGraw and with melancholic optimism by Victoria Pedretti. Lulu Wilson and Elizabeth Reaser play the teen and adult versions of the judgmental and pragmatic Shirley. McKenna Grace broods heavily as young Theodora, with Kate Seigel portraying her as a substance-enjoying, emotionally stunted child psychologist. Finally, Paxton Singleton is the young and skeptical Steven, with Michiel Huisman playing the older, still skeptical Steven, whose "true story" paranormal books made him a fortune, and exploited the family.
Two of my biggest horror pet peeves are underwritten child characters and annoying child actors. Thankfully, the younger cast is regularly just as phenomenal as their older counterparts. Everyone absolutely nails their multi-threaded roles, no matter how eerie and twisted. Certain scenes do reach sitcom-esque levels of miscommunication between argumentative family members, but everyone onscreen sells it perfectly. Perhaps the most effective performance motif, vocalized in the opening scene, is how characters rarely scream in fear, but more often just ogle in silent terror.
Creator Mike Flanagan Crushes Every Moment
A major challenge for every horror TV show is maintaining a sense of suspense, dread, revulsion and/or hysteria for such an extended runtime. Yet somehow, series writer and director Mike Flanagan wove all these elements into a rich and layered tapestry with fascinatingly methodical character development. Remove the horror, and the drama mostly works. Remove one timeline, and the story mostly works. Hill House is most certainly not one made of cards. (Not a Netflix pun.)
Scenes that play out in early episodes get revisited later in either a full or a different context. Thankfully, that trick doesn't overstay its welcome, since each moment effectively works both as a visual fright and a story bite. It's at times amazing how much planning went into laying the narrative out in just such a way, for episodes that sometimes stretch beyond an hour. Every detail counts, so paying attention is a must.
Anyone who's enjoyed Mike Flanagan's films like Oculus and Ouija: Origin of Evil will find much to love in The Haunting of Hill House. Yet there are many other familiar elements to be recognized, intentional or not. The meshing timelines come from a movie co-directed by Quentin Tarantino and Alfred Hitchcock. The creeping camerawork is akin to what Stanley Kubrick might've done if The Shining traded its hotel for a mansion. The cinematography and set design, meanwhile, would make Gomez and Morticia swoon.
Hill House Is Such A Magnificent Setting
Haunted house horrors are embarrassments if the central locations aren't as magnificent as the projects promise. The massive and sprawling Hill House, though, is the modern example that should everything to come. With cavernous rooms that beg to be explored, the home entices each family member in different ways. Which means viewers will be transfixed by all of it and then some. (I would totally buy the blueprints as wall art.)
Beware the statues that often appear to be in various states of unrest. Try not to fall down in the long hallways that are tailor-made for being chased around by size-changing phantoms. Wake up confused and screaming inside one of the many lavish bedrooms that beg for your eternal rest. Discover classic home amenities like a dumbwaiter that is the perfect size for curious young children.
Everyone would be wise to steer clear of whatever is lurking behind the red door, however. It seems to be the only room in Hill House whose door can't be unlocked by any of the house's keys. Nobody ever keeps a bunch of good, non-haunted stuff inside a room without a key. Hill House isn't gearing up for any exceptions, either.
Get all the night lights, security blankets and proton packs you can find, because The Haunting of Hill House is currently available to stream on Netflix (opens in new tab) right now! For all the shows that won't send your spine out for coffee, check out our 2018 Netflix premiere schedule and our fall TV premiere schedule.
Your Daily Blend of Entertainment News
Assistant Managing Editor
Nick is a Cajun Country native, and is often asked why he doesn't sound like that's the case. His love for his wife and daughters is almost equaled by his love of gasp-for-breath laughter and gasp-for-breath horror. A lifetime spent in the vicinity of a television screen led to his current dream job, as well as his knowledge of too many TV themes and ad jingles.
Your Daily Blend of Entertainment News
Thank you for signing up to CinemaBlend. You will receive a verification email shortly.
There was a problem. Please refresh the page and try again.