The 10 Best Horror TV Shows Of 2018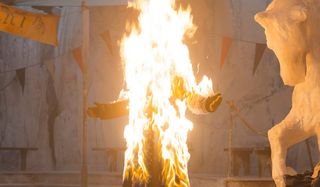 For true genre fans, there can never be enough horror on TV in any capacity. Thankfully, though, recent years have seen more scares, more gore and more evil entities hitting the small screen than ever before. Now that 2018 is coming to a close, it's the perfect time to reflect on all of the heebie-jeebies that we got from horror television in the past twelve months. (As if there wasn't a perfect time.)
Join us in celebrating the ten best horror shows that quickened our pulses and rocked our socks in 2018, from streaming hits to cable giants and back again. (Predictably, broadcast networks shied away from genre offerings this year, as it goes for most years.)
Castle Rock Season 1 - Hulu
In many ways, Castle Rock is the horror TV total package, being loosely based on the disturbingly weird universe created by the King of Horror himself, Stephen King. Castle Rock isn't sourced to a particular novel, so it suffers none of the woes of botched adaptations, and instead builds upon the abyss-tinted themes threaded through King's novels and stories. If Castle Rock sometimes stumbles beneath the weight of its own bizarre and seemingly intangible mysteries, the ambitions overshadow those missteps.
But even if Castle Rock had only been based on works from Stephen King's barber, its magnificent front line of dedicated thesps could spin gold from it. André Holland, Bill Skarsgård, Sissy Spacek, Melanie Lynskey, Scott Glenn and others take on the bulk of the twisting narrative, with appearances from TV faves like Terry O'Quinn, Allison Tolman, Frances Conroy adding to the on screen power. Come for the performances, and stay for the WTF.
Ash vs Evil Dead Season 3 - Starz
Starz's Ash vs Evil Dead was quite the baffling project in plenty of ways, but nobody was bamboozled by just how fucking groovy it got. To close out the series, and possibly Bruce Campbell's last portrayal of the boomstick-blasting hero, Ash vs Evil Dead opened up Ash's personal life with something that truly horrified him: a teenage daughter, played by Arielle Carver-O'Neill.
The show then disrupted literally everything else in the world by expanding the Evil Dead's hell-tastic mythology in gloriously nutso-gutso ways, taking Pablo, Kelly and Ruby down the deadly spiral. Ash vs Evil Dead maintained a consistent balance with its heightened scares and humorous overtones, with the gung-ho cast and flung-ho effects reaching new peaks in Season 3. The sting of its cancellation will reverberate within cabin walls throughout time.
Chilling Adventures of Sabrina Part 1 - Netflix
Sabrina Spellman returned to the small screen on Netflix (opens in new tab) in 2018, but not as part of a revival of the goofy ABC sitcom starring Melissa Joan Hart. Chilling Adventures of Sabrina is scary and spine-tingling as it follows a girl caught between a mortal life filled with normal teenage foibles and life as a witch with all the benefits of magic, including long life. Her pull toward the Church of the Night and all its dark traditions conflicts with her existence as a half-human.
Sabrina Spellman proved in Part 1 that she isn't afraid to cross lines some of her mortal friends would never dare approach, and her ultimate decision to sign her name in the Book of the Beast -- in blood, no less -- felt as earned as it did unnerving. Father Blackwood made for a fabulous villain, and Michelle Gomez' delightful scenery-chewing will keep anybody entertained. Throw in the Weird Sisters, and Chilling Adventures of Sabrina will keep you on the edge of your seat. The holiday special is worth a watch as well!
American Horror Story: Apocalypse - FX
After years of short-time crossover magic, Ryan Murphy & Co. went totus porcus on its hocus pocus, fully mashing up past characters and timelines for American Horror Story: Apocalypse, the FX anthology's eighth season. By no means a perfect trip from beginning to end, Apocalypse still offered a smorgasbord of over-the-top performances, acidic dialogue and offbeat surprises to earn a distinction as a return to the series' glory days.
To get into the crossover details here would be to tempt Hades' most heinous tenants, and would take too long. Suffice to say, Apocalypse frolics through the mythologies of this franchise's witches and quasi-religious beings, giving new American Horror Story recruit Cody Fern a breakout role for the ages as the sinister Michael Langdon. As well, the season arguably offers this franchise's most thought-provoking resolution. (I promise AHS received no preference here just because Sarah Paulson's Venable shares my surname, but it may have played a tiny part.)
Black Mirror Season 4 - Netflix
Charlie Brooker may not have intended to create the apex of modernist horror, but Black Mirror does for technological advancements what Psycho did for showers. (Sure, Psycho's horror status is also debatable.) Indeed, Season 4 remains, for the most part, dark and terror-driven even when it looks like a bright and colorful Star Trek parody. (As it goes with the warped story behind the Emmy-nominated installment "USS Callister.")
A crisp, black-and-white palate -- speaking of Psycho -- is applied to the dread of being hunted by a seemingly unstoppable threat in "Metalhead." A mother's love is tainted by abnormal protection techniques for "Arkangel," directed by Jodie Foster. Perhaps the most chilling concept is shown in "Black Museum," which tells of a hyper-specific collection of tragedies, monstrosities and indignities all tied to the use of illegal devices and technologies. In a genre that embraces heightened storytelling, Black Mirror remains terrifying for its potential as a TV soothsayer.
Preacher Season 3 - AMC
With its Season 2 finale, Preacher hinted at the impending arrival of some major comic book characters, and Season 3 delivered in full. (It's probably not proper to say "full" around the gargantuan head of the Grail, the Allfather.) Preacher unlocked Jesse Custer's family history with the introduction of Betty Buckley's grimace-inducing soulsucker Gran'Ma L'Angelle. Not to mention her violently sordid henchmen Jody and T.C.; just the latter's sexual exploits would land it in any Top Ten Horror ranking.
If backwoods exploits and spirit-awakening resurrections aren't enough for you, then what about Cassidy's first real taste of living the Anne Rice-vampire life with the comic bloodsucker Eccarius? Or maybe Hitler's hellacious machinations? How about the Saint of Killers' return to Earth? Even though the dark comedy and religion-infused plot don't outwardly scream "horror story," every corner of Preacher's southern-fried universe drips with viscera, with a choir of million tortured souls providing the background static.
Channel Zero: The Dream Door - Syfy
For my nightmares' worth, the reigning king of horror TV is Syfy's psychologically aberrant anthology Channel Zero. 2018 delivered both Butchers Block and The Dream Door, with the latter winning out for this entry, though that gory third season would rightfully stand on its own against everything else. Combined with its sharp-turn plotting and breakneck pace, The Dream Door rises above thanks to a young girl's imaginary clown friend named Pretzel Jack.
Portrayed by the jaw-dropping contortionist Troy James, who previously wowed audiences on America's Got Talent and The Flash, Pretzel Jack is a pants-shittingly freaky monster that rarely finds a home on television. The ghastly entity's fright factor is solely visual, employing a doll-like silence to build up the sweat-filled tension. Admittedly, Channel Zero: The Dream Door does feature a scene that haunts me more than Pretzel Jack's body-bending, but I've been trying to wipe it from my brain ever since.
The Terror Season 1 - AMC
Prior to The Terror's premiere on AMC back in March, it was difficult to say just what kind of horror viewers would be getting. Was it going to be a monster show, with 19th century sailors tormented by a creature with sharp teeth, shredding claws, and a voracious appetite for human flesh? Or was it going to be a psychological horror series, with the sailors going mad and murderous once their ship was frozen into the ice on the quest for the Northwest Passage?
Well, as it turns out, The Terror combined a monster with psychological horror as the men faced the... well, terror of their circumstances in the icy middle of nowhere, running out of food, pursued by a creature that seemingly couldn't be killed, and susceptible to sabotaging each other in the desperate drive to survive. The show was enough of a hit that it earned a second season and status as an anthology, and a Star Trek alum is on board.
The Haunting of Hill House Season 1 - Netflix
The latest and greatest adaptation of Shirley Jackson's seminal novel, Netflix's The Haunting of Hill House is a stunning and terrifying tour de force, from the base of the haunted anti-hovel's foundation to the peak of its sprawling roof. The cast deserves half of the accolades, with so many standouts on the adult side, from the ever-dependable Carla Gugino to newcomer Victoria Pedretti. Also, the younger stars and their characters were vastly more impressive than adolescents tend to be within the genre.
Viewers are equally indebted to filmmaker Mike Flanagan and his creative team for The Haunting of Hill House's success. To generalize Flanagan's horror prowess, a single Hill House scene may provide bone-jarring visuals, viscerally daunting dread and psychological character-driven suspense, with each element narratively independent from the others. It's A+ television, award recognition be damned.
The Walking Dead Season 9 - AMC
Though its filthy-nature aesthetic remains the same, The Walking Dead transformed into something startlingly new and hopeful in Season 9. Under the guidance of new showrunner Angela Kang, and with dramatic plans to expand the franchise, the AMC behemoth reshaped its communities, reformed its characters and delivered at least one moment that no one could have predicted back when it began.
From the smothering of Negan's tyrannical machismo to the introduction of new characters and threats that all feel more refreshing than staid, The Walking Dead's ninth season completely overhauls the direction of the past few seasons (and comic arcs) and revisits the sense of discovery that came when Aaron first offered a return to recognizable civilization. May the back half of Season 9, with the Whisperers' proper introduction, immediately cement The Walking Dead among the best in 2019.
These are our top 10 best horror TV shows of 2018, but they're not the only ones worth mentioning. We have to give honorable mention status to Santa Clarita Diet and Shadowhunters, at the very least! Hopefully 2019 will be packed just as full of horror that matches or even surpasses the small screen scares of 2018. Some series are already on the schedule for midseason 2019 and Netflix in the new year, so be sure to tune in!
Your Daily Blend of Entertainment News
Assistant Managing Editor
Nick is a Cajun Country native, and is often asked why he doesn't sound like that's the case. His love for his wife and daughters is almost equaled by his love of gasp-for-breath laughter and gasp-for-breath horror. A lifetime spent in the vicinity of a television screen led to his current dream job, as well as his knowledge of too many TV themes and ad jingles.
Your Daily Blend of Entertainment News
Thank you for signing up to CinemaBlend. You will receive a verification email shortly.
There was a problem. Please refresh the page and try again.