That Time Chadwick Boseman And Michael B. Jordan Played The Same All My Children Character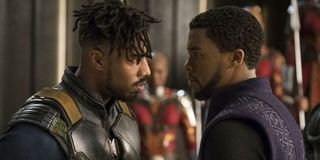 Before they starred opposite of each other in Marvel's Black Panther, Chadwick Boseman and Michael B. Jordan were unified by their time in the popular soap opera All My Children. Boseman originally played the role of Reggie Montgomery but was replaced by Michael B. Jordan not long into the job after he raised complaints about the character. Boseman explained he wasn't comfortable with Reggie's thuggish portrayal, and struggled on what he should do about that after he got the part.
The All My Children staff absorbed what Chadwick Boseman had to say but ultimately decided the actor was too much trouble to deal with. If he wasn't willing to portray a rough and tumble gang member from the streets, it was apparently easier to find another actor who could than it was to bend the writers to this new actor's will. After all, Boseman was relatively unknown in Hollywood at this point, and not the Wakandan superhero he is today.
Though not simply falling in line and just playing the part cost him a job, Chadwick Boseman seems to have no regrets in taking a stand and speaking up for what he felt was right. In voicing his concerns to the staff, he seems to have ended up altering the character for Michael B. Jordan, which he now views as a personal victory.
The torch was officially passed to Michael B. Jordan, who was a rising star only at the start of what has been a long career in Hollywood thus far. Jordan would spend the next three years in that role, as Reggie would continue to get into some sticky situations, but ultimately would become a sympathetic character. He even started a romance with the police chief's daughter Danielle Frye, and vowed to abstain from sex until marriage!
Jordan told The Wrap he was grateful for the stand his Black Panther co-star took in hindsight, as he mentally began to grasp that Chadwick Boseman's battle made his experience on All My Children much easier. Boseman took a stand which meant Jordan didn't have to, and the actor was inspired to speak on how little moments like that can impact the lives of others in a big way.
While it's impossible to know how much or if Chadwick Boseman's talk with the All My Children staff influenced the character's direction, there's certainly a difference between the two's on-screen portrayals. Boseman's Reggie is introduced as a rough and tumble gang-member who demands help at a clinic after sustaining injuries in a gang brawl. He's cold, demands rather than requests, and doesn't come off as too nice of a guy.
Take that in comparison to Michael B. Jordan's Reggie who, as mentioned earlier, dated the daughter of a police chief. He also went to jail for arson and helped dispose of a dead body, so it's not like All My Children did a complete turnaround on the character when he joined. That said, stuff like that is par for the course for the typical soap opera character, so it's hard to say how much is stereotypical and just dramatic writing.
While Michael B. Jordan had only just learned of Chadwick Boseman's issues with Reggie Montgomery, he managed to tie the whole thing together into something he hopes to accomplish with Black Panther. Much like Boseman fought to change Montgomery, Jordan hopes that Black Panther justifies and prevents fights that future generations will have to go through. Specifically, up-and-coming actors who would presumably find more roles in a Hollywood much more diverse than it was for past generations.
For those wondering, All My Children was canceled in 2011 but has had cast reunions on other programs in recent years. There hasn't been recent talk of a return; in this modern age of television, however, there's really no predicting what may become the next big show from the past to get a reboot or revival. Dynasty managed to get a reboot, so it isn't crazy to think an iconic series like All My Children will never return.
2019 has only just gotten underway, so make sure to visit and bookmark our midseason premiere guide to see what new shows are headed to television. Stay tuned to CinemaBlend for the latest in TV and Movies news.
Your Daily Blend of Entertainment News
Mick likes good television, but also reality television. He grew up on Star Wars, DC, Marvel, and pro wrestling and loves to discuss and dissect most of it. He's been writing online for over a decade and never dreamed he'd be in the position he is today.