True Detective Season 3 Review: Mahershala Ali Brings Perfection To Enjoyably Familiar Murder Mystery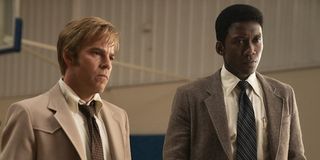 (Image credit: HBO press)
Mahershala Ali's Wayne Hays doesn't immediately look like the kind of guy who would fill True Detective Season 3 with Rust Cohle-esque observations about the shape and structure of time. However, Ali's varied and measured performance stands head to toe with Matthew McConaughey's standout Season 1 work, and he's the main reason creator Nic Pizzolatto's overtly familiar third season is as powerful and intense as it is. The story is definitely solid enough, but Ali truly transcends.
A True detective is only as good as his or her most difficult cases, and the mysterious disappearances at the heart of Season 3 is something of a breaking point for various characters. A small town in the Arkansas Ozarks is shaken to its core when two young children vanish, and the disquiet only gains momentum as the
Enter Mahershala Ali's war vet Wayne Hays and Stephen Dorff's low-key Roland West, two state police detectives who dive headlong into this case that will dictate the rest of their lives. We know such things because True Detective's third season is split across three different points in the case's timeline, with each timeline made instantly recognizable thanks to noteworthy work from the hair and makeup teams.
As it's hinted at above, Wayne bears much in common with Rustin Cohle, from his deliberate word choices to his underlying obsessions with unsolved cases, though the comparisons are surface-level. The extra timeline allows for Wayne to evolve in ways unique to True Detective, and he later falls victim to memory issues, among other overarching mental troubles. With Wayne known for his unwavering attention to detail, it's easy to understand why he becomes so haunted (figuratively and literally) when his faculties start fading.
On the flip side, Roland West may lack the tracking skills and existential angst of his partner, but he also lacks the skin pigmentation that likely kept Wayne from make a similar rise in the ranks. (True Detective definitely addresses the setting's systemic racism in meaningful ways, but without using it as a dramatic crutch.) To me, Roland is a role that Stephen Dorff was born to play, a gruffer counterpart to Woody Harrelson's Marty Hart that serves as the season's lone source of bone-dry humor.
As Tom Purcell, the uncentered father of the missing children, Halt and Catch Fire ace Scoot McNairy ensconces himself in a mostly miserable place guided by alcohol and a failed marriage. McNairy is almost too good in a role that's become a trope in this genre, managing to inspire the reluctant sympathy needed to balance whatever disdainful judgments have about Tom's personality and familial status.
The case begins in 1980, and True Detective does not shy away from making it obvious that the mystery was never completely solved during this and future investigations. The second timeline, set in 1990, sees the characters returning to the case details when a new set of official inquiries comes down the pipe. True Detective also jumps forward to 2015, where an aged Wayne is the subject of a TV docuseries looking back on the 1980 crime's history of developments, and the lack thereof.
To be expected from a mystery plot set in a small town, everyone is a potential suspect in the disappearances, from a disturbed family member to a town hoarder to a school chum to someone of a higher authority. Possibly even Tom himself, or at least his monster of a mustache.
During the early episodes, there were various points where I found feasible enough reason to suspect just about every single character that appeared. Those suspicions were spawned from information shared across all three timelines, with clues and semi-answers to be found everywhere, for those looking hard enough.
One more major character whose presence is accounted for in all three timelines -- in one way or another, at least -- is schoolteacher Amelia Reardon, as played by Fantastic Beasts: The Crimes of Grindelwald's Carmen Ejogo. She becomes intrinsically linked with both Wayne and the overall investigation, and Ejogo's talents add heft and depth to scenes that might otherwise feel incidental. Plus, I think the actress delivers the single most convincing drunken slur I've ever heard in any medium.
Though other positive qualities are also present and accounted for -- including stressed-out performances from Ray Fisher and Mamie Gummer -- True Detective does suffer from certain setbacks and questionable choices in Season 3. For one, the series retains its "more interesting than thou" pretentiousness, and that sense self-importance can become stifling at times, especially when nothing particularly interesting is happening.
As well, Season 3's crime(s), the investigation and the character dynamics are so in line with the first eight episodes that it sincerely feels like an half-formed series reboot. Whether it's watching Wayne and Roland in their separate depositions, or the overhead shots of sparsely populated woodlands, or the vague ties to occult practices, these episodes don't evoke Season 1's tone so much as they invoke every iota of its inspirational qualities.
Nic Pizzolatto maintained his position as the sole creative force behind True Detective's most recent scripts, though Deadwood creator David Milch and Quarry creator Graham Gordy also helped script certain episodes. Such a single-minded approach is assumedly responsible for all the similarities, though it's hard to picture that process changing for Pizzolatto anytime soon.
Of course, anyone who whole-heartedly loved True Detective Season 1 probably wouldn't mind another season that connects many of the same dots. (I may or may not fully fall into that category.) Let's not kid ourselves, either: Season 3 is absolutely better than a host of the artsy and moody mystery dramas that sprang up in True Detective's wake, and it runs (flat) circles around the over-stuffed sophomore season.
It may not be the game-changing follow-up that many fans were hoping for, but Mahershala Ali helps True Detective reach gripping heights that were absolutely worth the long wait between seasons. And even if Season 3 doesn't stick its landing, we can probably expect another batch of thematic copycats to come crawling out of the woodwork in the near future.
True Detective Season 3 will make its dark and dreary debut on HBO on Sunday, January 13, at 9:00 p.m. ET. It's definitely not the only big show on the way, though, so be sure to stay current with our midseason TV premiere schedule to keep track of everything else.
Your Daily Blend of Entertainment News
Assistant Managing Editor
Nick is a Cajun Country native, and is often asked why he doesn't sound like that's the case. His love for his wife and daughters is almost equaled by his love of gasp-for-breath laughter and gasp-for-breath horror. A lifetime spent in the vicinity of a television screen led to his current dream job, as well as his knowledge of too many TV themes and ad jingles.