Andy Samberg Revealed A Bunch Of Golden Globes Jokes That Got Rejected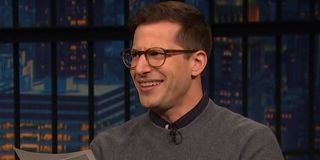 Andy Samberg and Sandra Oh managed to get a few chuckles at the Golden Globes, but with so many awards to present and speeches to hear, the two were kind of rushed for time. For that reason, Samberg revealed on Late Night With Seth Meyers a lot of jokes were rejected or cut, so he showed up with a list of them to share. Not wishing to pull any punches for the late-night crowd, Samberg went straight for the jugular.
That's a joke that might've stepped on Sandra Oh's touching speech she gave about diversity in the end of the monologue, which may be why it was scratched from the roster. Either that or the group collectively thought the joke that led to Emma Stone apologizing for Aloha was much stronger. If that was the case, Andy Samberg and crew put their faith in the right joke, which created a Golden Globes moment that won't be forgotten anytime soon.
Some jokes were great and would've gotten a great laugh from the audience, but it's also fair to say some could've flatlined. Andy Samberg rattled off a joke for Netflix's Roma, which had a punchline that may have gotten a sensible chuckle from only someone with a great sense of humor.
The joke makes sense, but it may take a bit of thinking on the audience's part to wrap their head around the funny. The joke is geared towards users who watch Netflix on mobile phones, and of course, completely ignores the fact that these users (or Andy Samberg) aren't acknowledging the fact that televisions exist. It's not a bad joke, but for those who had to think about it to get it, it probably wasn't great.
The merit can be seen in a couple of Andy Samberg's rejected jokes, but others, not so much. Take, for example, this one about Green Book, with a punchline that doesn't really make sense.
After a brief internet search, a green cover for the book Green Eggs and Ham does exist, but the primarily orange book cover is the iconic one most are familiar with. Whatever Andy Samberg was getting at here, this is one of those examples of a joke where it wasn't so hard to believe it was cut. The Golden Globes wasn't an all-out chuckle fest, but some of the rejected jokes do make the broadcast appear much funnier in comparison.
Andy Samberg kept the jokes rolling on Late Night With Seth Meyers and pulled out one that referenced Spike Lee and his dedication to the NBA. This meant poking fun at his favorite team, which he's supported through and through regardless of their success: the New York Knicks.
That joke is really niche and feels like as good of an indicator as any that Andy Samberg used to be on Saturday Night Live. It's a joke really only relevant to those aware of Spike Lee's obsession with the Knicks, so it would've killed with Reggie Miller and possibly a New York audience. With that said, Uncle Drew missed out on the Golden Globe nominations, so Reggie's absence could be a reason this joke was ultimately scrapped.
A joke at Amazon's expense ended up getting scrapped, as the bit Andy Samberg wrote referenced the streamer's hit show Homecoming. The series didn't only miss out on an award for its three nominations, it also missed out on Samberg riffing on how modern the show's development is compared to traditional standards.
That joke got perhaps the biggest reaction from the Late Night With Seth Meyers audience, much to Andy Samberg's satisfaction. He followed up on the laughs by reminding the audience the Golden Globes show was on a time crunch, so even the jokes that had the potential to get a big response were inevitably cut in favor of more surefire zingers.
Of the many jokes that Andy Samberg read off, he did manage to sneak one in that was submitted to him by the host of Late Night himself, Seth Meyers. Samberg said Meyers sent him this burn meant for A Star Is Born not long before the plans for the show were locked down.
Seth Meyers seemed to question whether it was a joke he had actually written or not, which either says he writes so many jokes he can't remember, or Andy Samberg was just crediting him with a somewhat dark joke to create a funny moment. The audience seemed to appreciate it all the same, and Samberg continued on with even more jokes.
Not every joke may have been the best, but Andy Samberg's gauntlet of rejected jokes was a great way of showing just how much work goes into creating the show. Viewers may take that for granted when they watch an award show, which is surely even more complicated to put together than just the joke telling aspect of it. For the record, Samberg had even more jokes than the ones highlighted, so it's certainly worth watching the whole video, which you can see below:
Late Night With Seth Meyers airs on NBC weeknights at 12:35 p.m. ET. For a look at what's happening with television shows in 2019, be sure to visit and bookmark our midseason premiere guide.
Your Daily Blend of Entertainment News
Mick likes good television, but also reality television. He grew up on Star Wars, DC, Marvel, and pro wrestling and loves to discuss and dissect most of it. He's been writing online for over a decade and never dreamed he'd be in the position he is today.
Your Daily Blend of Entertainment News
Thank you for signing up to CinemaBlend. You will receive a verification email shortly.
There was a problem. Please refresh the page and try again.