A Discovery Of Witches Review: Magical Drama Will Leave Romance Fans Wanting More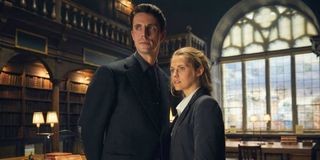 It's no surprise when popular books are turned into, hopefully, popular TV shows. Everyone's looking to capture the built-in audience of a best-selling novel and convince them to watch something they loved reading be brought to life. AMC and BBC America's A Discovery of Witches, based on the first book in Deborah Harkness' All Souls Trilogy, is no different, and those behind the series have done quite a few things right when it comes to adapting the jam-packed story. There's no shortage of gorgeous locations, swoon-worthy actors, danger or mystery on board, and while those who read the book might be tempted to dissect everything that's changed or missing, what they see on screen will absolutely leave them wanting more.
For those of you uninitiated to the tale at hand, A Discovery of Witches focuses on Diana Bishop (Teresa Palmer), a Yale history of science professor who has gone back to Oxford to research alchemy. While working in the library, Diana retrieves a mysterious book, Ashmole 782, which sets off a chain of events that leads to the reluctant witch discovering her true nature, while also becoming a target for every magical creature who has been searching for the lost manuscript for centuries. It isn't long before Diana loses faith in her friends and can't be sure who she can trust anymore as she tries to protect herself, her loved ones and also find answers to the many mysteries surrounding the book and her own heritage.
OK, who are we kidding? Of course Diana knows who to trust. As much as A Discovery of Witches is historical fiction that centers on magical creatures who've been hiding among humans in plain sight for thousands of years, this is also a love story. And, while Diana is certainly put off by mysterious, hottie vampire Matthew Clairmont (Matthew Goode) when he first appears to her, it doesn't take long for her to trust him with her life, and he quickly comes to trust her with his as the two band together to figure out what Diana can really do and what Ashmole 782 means for the history (and future) of creatures everywhere.
Now, if you think that's story enough, then you really don't know A Discovery of Witches. The full scope of the book is (surprisingly) pretty easily included in the series, and this entails vampire / witch / deamon genetics and history, creature politics, vampire family dynamics, ancient prophecies and more. A Discovery of Witches, which comes from executive producers Harkness, Jane Tranter, Ashley Pharoah (Life on Mars) and Julie Gardner (Doctor Who, Torchwood), manages to take what was a sometimes difficult but nonetheless engrossing read and distill all the important bits into eight tidy episodes of television.
I realize that trying to grasp all that A Discovery of Witches covers might make it seem like too much, but one of the best parts of the book, and also the show, is how everything is woven together so that all these seemingly disparate parts make sense as a whole. There are also a ton of characters to be accounted for, and being able to have a clear face to put with a name, creature type and allegiance helps make the story much easier to keep up with on screen.
As you might imagine, Diana and Matthew would have even less time for fun, romancey stuff once she's launched into this world of duplicitous witches, vamps and deamons if they didn't have allies. Diana's always been able to count on her witchy aunts Sarah (Alex Kingston) and Emily (Valarie Pettiford), who still live in her hometown in upstate New York and raised her from the time she was a little girl, and they're right there for Diana as the danger mounts.
For his part, Matthew has his vampire mother, Ysabeau (Lindsay Duncan), who tries to dissuade both of them from pursuing their forbidden romantic relationship but soon realizes how committed they already are to one another and pledges her, literally undying, support. He also has allies in family caretaker Marthe (Sorcha Cusack), his vamp science team of Marcus (Edward Bluemel) and Miriam (Aiysha Hart), vampire brother Baldwin (Trystan Gravelle), a high ranking creature who's sometimes torn between his duty to all creatures and to that of his family, and his long-time deamon friend Hamish (Greg McHugh).
For every ally, though, there are several creatures who would do anything to get their hands on Diana, Matthew and what they know about Ashmole 782, including lie, cheat, double cross, kidnap and torture. They're threatened by a host of vampires and witches, especially Peter Knox (Owen Teale), Satu (Malin Buska), Gerbert (Trevor Eve), Domenico (Gregg Chillin) and Matthew's spurned lover Juliette (Elarica Johnson).
A Discovery of Witches is filled with strong performances. Goode does a wonderful job of switching back and forth between a menacing and mysterious vampire and the hero / gentle lover Diana needs to help her through this, and stands up to the job of leading man quite well. Buska is a special standout as the witch Satu, who clearly has a love of fellow witches but will go to any lengths to get her hands on Diana, because she thinks it's the only way to help witch-kind as a whole.
One of the weak spots in casting, unfortunately, is Palmer as Diana. While she does a good job of playing to the character's defiant, stubborn tendencies and definitely plays the romantic lead well in general, I have to admit to seeing this character very different in my head because of how she was described in the book. As a serious academic, and someone who rows on a regular basis for exercise, Diana was sold as being more mature in the book, as well as being a bit more substantial physically. The show also left out a part of the character I really loved, which is the fact that her hair is always a static-filled mess because of the immense power that hums around her all the time, even though she refuses to try using it. As I said, Palmer isn't a complete disaster as Diana, I just wish she had more gravitas and physical presence for the part.
And, that leads to one of my (relatively) minor issues with the pace of the story. In general, all of the pieces for this very multidimensional story fit together nicely and flow really well. You get just enough questions and answers for the many layers of mystery in each episode, and are left wanting more when the season ends. But, because Palmer is missing a certain amount of bearing in her role as Diana, the love story actually feels like it moves way too fast. By the time Matthew has to leave Diana for a bit, and she loses her mind to the point where she accidentally calls on powers she didn't know she had, it feels melodramatic, hysterical and a bit nutty.
There's really no sense of how many days, weeks or months this story might be taking place over. Because the other parts of the story move so well, it's not an issue there, but when it comes to developing a romance, even when allowing for vampiric attraction and magic, Diana and Matthew's complete devotion to each other feels rushed. Now, once they're clearly together, it's fine because they do seem to fit each other, but how they get to that point will probably seem sudden to most viewers.
It should also be noted that A Discovery of Witches looks amazing. If you're a fan of sumptuous design, majestic locations, ancient buildings and atmospheric scenes, this show has you covered. From the look of Oxford's Bodleian Library and the surrounding city, to the French countryside and village that holds Matthew's vampire family home (which just happens to be an ancient fortress / castle), and the picturesque town where Diana's aunts raised her, there's no shortage of wonderful things to feast your eyes on which are also necessary for the story, and often play huge parts in it.
All in all, A Discovery of Witches is not to be missed, either for fans of the book or fans of romance, fantasy and historical tales. The show premieres on Sunday, April 7 at 9 p.m. EST on AMC and BBC America.
Your Daily Blend of Entertainment News
Yennefer's apprentice, Gilmore Girl; will Vulcan nerve pinch pretty much anyone if prompted with cheese...Yes, even Jamie Fraser.