Legacies Dropped A Touching Vampire Diaries Reference For Stefan Fans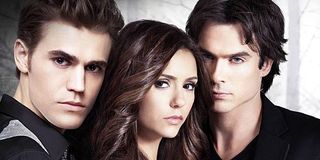 Legacies just had its best episode yet in Season 1, Episode 10. "There's a World Where Your Dreams Came True" was jam-packed with references to The Vampire Diaries and The Originals, and also gave #Hosie shippers what we deserved. The Lizzie Saltzman (Jenny Boyd) showcase took the show through multiple wish world alternate universes. But one that was probably legit was an early one that referenced Damon Salvatore and Elena Gilbert Salvatore having children. Another timeline added the detail that they had a daughter, named in honor of Damon's brother Stefan. That was Jenny Boyd's favorite reference of the night:
Absolutely! The fantastic episode showed Lizzie Saltzman getting various wishes granted, and they all had to do with trying to get Hope Mikaelson (Danielle Rose Russell) out of her life so she could get her father Alaric's (Matt Davis) attention back.
The first alternate timeline showed what would happen if Hope had never come to the Salvatore school. The place was a wreck, and that was due to Hope's father Klaus Mikaelson never giving Caroline Forbes Salvatore the money for the school. In this timeline, Josie Saltzman (Kaylee Bryant) told Lizzie:
The Vampire Diaries Twitter account had some fun with that alternate timeline:
Truth! Damon Salvatore and "generous" are not often seen in the same sentence. At any rate, that timeline also showed Hope down in New Orleans, giving The Originals fans more treats.
With her next wish, Lizzie wanted there never to have been a Salvatore school. That's when Lizzie and Josie ended up at Mystic Falls High, with a new popular very Lizzie-like Josie telling her sister that Stefanie Salvatore's dad gave Alaric a watch that she wanted.
Well, Stefanie Salvatore would be the daughter of Damon and Elena Salvatore. As Jenny Boyd told TVLine in the Stefanie quote above, fans loved that tidbit. They also wondered if we'd ever see this Stefanie Salvatore on Legacies. She'd be several years younger than Lizzie and Josie, but maybe she'd be ready for a Legacies appearance by the time the twins face The Merge at age 22?
The timeline with no Salvatore school had an unexpected benefit -- Klaus Mikaelson was still alive, and he made a Mikaelson school for badass Hope and other supernaturals. (That wish world gave us some quality Hosie time, with Josie and Hope getting quite close.) Joseph Morgan didn't return for the episode, but Klaus' name and face were prominent.
The darkest timeline was Lizzie wishing Hope Mikaelson had never been born. Klaus was still alive in that timeline too, but one of the many supernaturals on the run from Triad Industries -- remember them, from the new guy who might be the big bad of the season? That timeline gave us some Posie love, but it was from Penelope mourning Josie, who was dead.
It's sad to think there are timelines out there where Klaus is still alive, instead of ending his supernatural life in The Originals finale to sacrifice himself for Hope. He could've stayed alive to create his own Mikaelson school, even if there was already a Salvatore school. Legacies recently gave fans an update on Klaus in the afterlife, but it would've been even better if he hadn't died at all.
But we know in the real timeline that Damon and Elena are still in Mystic Falls. That's canon. Elena is now Dr. Elena Salvatore, and she has a practice in town. That was established in The Vampire Diaries series finale. It makes sense that she and Damon would have kids, and it's wonderful to think they named a daughter after her ex and his bro.
Stefan Salvatore sacrificed himself in The Vampire Diaries finale, with vampire Damon ending the series human again -- which is how he and Elena were able to start a family. Salvatore School already honors Stefan with the Stefan Salvatore Memorial Library. Actor Paul Wesley actually returned to Mystic Falls for Legacies, but as the director of an upcoming episode.
It would be great to see Elena and Damon in Mystic Falls, where Legacies is set, but Nina Dobrev has her new CBS show Fam (which competes with Legacies on Thursday nights) and Ian Somerhalder has his new vampire show V-Wars coming to Netflix.
Of course, this episode of Legacies also heavily name-dropped Caroline. She is the one who was given the Salvatore home to use as the school. She is the one who got the money from Klaus to run the school. (#Klaroline forever) She is the mother of the twins. And she has yet to be seen on Legacies.
The CW just renewed Legacies for Season 2 so hopefully Candice King elects to come on the show. Otherwise, we'll just keep seeing scenes of her talking on the phone with Alaric, as they discuss any "leads" on the girls avoiding The Merge.
This episode of Legacies told Lizzie about The Merge, but her final wish removed it from her memory. So she doesn't know about what's potentially to come, that the twins have to battle to the death as members of the Gemini Coven. However, Lizzie's mind is even more delicate after what happened, possibly leading her to go crazy and have a major violent "episode" ahead.
Another reference in the episode was to Kai Parker, the twins' evil uncle. He is the brother of their biological mother, Jo, who was killed (by Kai) in The Vampire Diaries but was revived earlier in Legacies.
Executive producer Julie Plec and Josie actress Kaylee Bryant have already said they would love to have Chris Wood bring Kai Parker to Legacies. He would fit perfectly with this Merge storyline.
Legacies just crushed it with this episode, but unfortunately it will be airing a repeat (of "Malivore") next Thursday for Valentine's Day. Use this time to catch up on The Vampire Diaries and The Originals spinoff, and prepare for a new unicorn-heavy episode to air Thursday, February 21 at 9 p.m. ET on The CW. Legacies is just one of the many shows worth watching in midseason 2019.
Your Daily Blend of Entertainment News
Gina grew up in Massachusetts and California in her own version of The Parent Trap. She went to three different middle schools, four high schools, and three universities -- including half a year in Perth, Western Australia. She currently lives in a small town in Maine, the kind Stephen King regularly sets terrible things in, so this may be the last you hear from her.