Breaking Bad: What We Know So Far About The Movie Sequel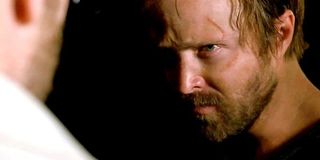 The Breaking Bad franchise is getting a movie, and the world will get another chance to spend time with the colorful characters of one of modern television's most acclaimed dramas. Those looking for details on the upcoming project need look no further, we've got the details below.
When Will The Breaking Bad Movie Premiere?
There's no release date for the Breaking Bad movie at this time, but it's possible this thing could come sooner than some assume. Production started on a project named Greenbriar in New Mexico back in mid-November, and its plot synopsis seemed to have some similarities between what's been reported to be the plot of the Breaking Bad movie. If that was the same project, it's possible this movie could premiere in 2019.
Where Will The Breaking Bad Movie Premiere?
The Breaking Bad movie is said to be a joint collaboration, with Netflix and AMC both teaming up to make it happen. THR reported Netflix will have first-run rights to the project, and then it will run on AMC at a later date. The news is somewhat surprising considering AMC is the series' original network, although there must be some reason the two worked out a deal for a release like this.
It's also worth mentioning that the Breaking Bad franchise has always had a solid relationship with Netflix. Vince Gilligan credited the platform for the show's success when it won the 2013 Emmy for Outstanding Drama Series, and even went so far as to say he believed the AMC series might've been cancelled after Season 2 had it not been for the streaming service. Both Breaking Bad and its spin off Better Call Saul are available to stream on Netflix.
What Is The Breaking Bad Movie About?
There have only been a few reports about the film's plot so far, but several sources have reported that this is a sequel to the finale of Breaking Bad. Specifically, the adventure will follow Jesse Pinkman and will pick up at an unknown time following the events of the show. Aaron Paul has been tapped to reprise his role as the character, so one would think we're not checking in on Jesse decades after the finale.
Vince Gilligan once spoke about what he thought happened to Jesse post-Breaking Bad, which could provide some clues as to what fans may see. Gilligan said he liked to think Jesse met someone nice, got out of the crime world, and didn't go back to the awful life he led for so long. It's a nice thought, although one would think the creator wouldn't work on a feature film just to show Jesse's life was hunky-dory after Breaking Bad.
What Happened With Jesse At The End Of Breaking Bad?
Things went sideways for Jesse towards the end of Breaking Bad, as Walt completely severed his partnership with him and allowed the White Supremacists to take him away. Jesse was then held captive by Todd and his uncle Jack's crew, and forced to make meth against his will. He continued to be beaten and tortured for some time, right up until Walt arrived and killed the White Supremacists.
Jesse killed Todd, and soon found himself with a gun pointed at his former partner Walt. Walt tried to convince Jesse to kill him, but the young man was still hesitant even after all Walt put him through. He then noticed Walt had a gunshot wound, and dropped the gun and told Heisenberg to kill himself if he wanted to die. Jesse was last seen escaping the compound in Todd's car, and crying tears of joy that he was finally free.
Could Bryan Cranston's Walter White Appear?
The events of Breaking Bad's finale make it improbable that Walt appears alive and well in the movie, but Bryan Cranston has long teased fans that it's possible his character survived. Even if he is dead, Cranston could appear as Walt in a dream of Jesse's or a hallucination that's haunted him for some time. Can a Breaking Bad movie really happen without incorporating Cranston in some way?
It might, as the actor confirmed towards the end of last year that he had yet to see a script for the project. The actor also revealed that he's going to be involved in a Broadway production until at least March of 2019, which would limit his availability to appear until then. Will this prevent him from being included in on the fun? We don't know the answer to that one yet, but we're itching to find out.
What Breaking Bad Characters Are Still Alive?
Breaking Bad had a large death toll towards the end, but there are a few noteworthy characters who ended up surviving the ordeal. Skyler and the rest of the White family plus her sister Marie are around, as are Jesse's friends Skinny Pete and Badger. There's also Brock, who was the son of Jesse's former fling Andrea. Could Jesse head out in search of the boy to apologize for Todd killing Andrea?
Let's not forget Saul, who's off living under the name Gene and working at a Cinnabon in Omaha. Jesse probably wouldn't have the resources to track him down, but imagine if he did. That would certainly make those flash-forward scenes in Better Call Saul much more entertaining going forward!
How Could Better Call Saul Be Used?
There's a question of why Vince Gilligan is deciding to tell a follow up story to Breaking Bad now, and one can't help but wonder if it's somehow tied to Better Call Saul. The show does primarily take place prior to the events of the original show, but the occasional flash-forwards of Saul living as Gene could happen around the same time as this upcoming Jesse follow-up.
Perhaps the movie is being used to bridge a gap between the two shows and explain how Jesse reconnected with Saul? It could also just include a future look at a character from Better Call Saul that wasn't in Breaking Bad, such as Kim, Howard or Nacho. An appearance would be a great tease for where these characters are headed in Better Call Saul, and serve as a great way to further intertwine these two great shows.
As mentioned, the Breaking Bad movie is still in development, but will arrive first on Netflix (opens in new tab) with a premiere to happen on AMC at a later date. Keep with CinemaBlend for more updates on upcoming movie and television news, and head over to our midseason premiere guide to see what new shows are coming in 2019.
Your Daily Blend of Entertainment News
Mick likes good television, but also reality television. He grew up on Star Wars, DC, Marvel, and pro wrestling and loves to discuss and dissect most of it. He's been writing online for over a decade and never dreamed he'd be in the position he is today.
Your Daily Blend of Entertainment News
Thank you for signing up to CinemaBlend. You will receive a verification email shortly.
There was a problem. Please refresh the page and try again.