Sarah Michelle Gellar And More Celebrate Anniversary For Buffy The Vampire Slayer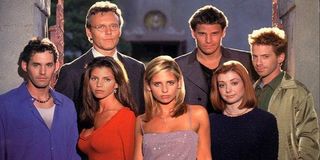 As news on the upcoming Buffy The Vampire Slayer reboot has slowed over the past couple of months, the series is back in the news cycle as stars of the original took time to acknowledge the 22nd anniversary. Sarah Michelle Gellar shared a picture of herself from the show's run, and thanked fans both new and old for loving the series and keeping it relevant after all these years.
Sarah Michelle Gellar is right to celebrate Buffy The Vampire Slayer's fans, as their support over the years seems to make the show's anniversary a bit of a holiday. The 20th anniversary is a milestone for most shows, but it takes a special kind of program for fans to keep that same celebratory attitude 22 years after the fact.
Nicholas Brendon joined Sarah Michelle Gellar in thanking the fans, and posted a screenshot from the show that just screams Xander is doing something to annoy somebody.
Nicholas Brendon was actually the only member of the Season 1 Scooby gang outside of Sarah Michelle Gellar to post a message about the show, as Alyson Hannigan and Anthony Head didn't share any pictures or messages on social media. Of course, that's not the biggest crime or some definitive proof either dislikes the show, as a 22nd anniversary is quite an odd one to celebrate.
Stepping away from slayer sidekicks and moving on to vampires, it's not a surprise David Boreanaz had to share some thanks to all the Angel fans out there. He also threw a bit of shade towards Slayers with a remark that one has to think was a part of Buffy The Vampire Slayer's marketing at some point down the stretch.
If people are still debating whether or not Angel or Spike is better, it should be stated that James Marsters did not write a specific shout-out to the show on his social media. He did post videos of fans in cosplay, however, so maybe he should get a half tally mark for that.
No actor on Buffy The Vampire Slayer managed to get close to the amount of likes on Instagram that Sarah Michelle Gellar did, but second place looks like it's going to someone unexpected. Seth Green, who played Willow's off-and-on boyfriend Oz throughout the series, offered some kind words and great commentary on the show's legacy.
The high amount of likes on Seth Green's page as opposed to other actors may be because Seth Green has a larger following than other members of the Buffy cast. Additionally, he's one of the premiere actors in the industry, so he probably has more than a few fans that like Buffy The Vampire Slayer in addition to Robot Chicken and the various cartoons he does voice work for.
Rounding out the round up is Cordelia actress Charisma Carpenter, who kept her message short and sweet.
It wasn't especially heartwarming or anything, but sometimes a simple acknowledgement is plenty! It's actually weird to see the show have a hashtag abbreviation considering Twitter wasn't even an idea during its run, would "BTVS" have been the one people went with? "ScoobyGang" would've been solid, or a simple "TheWBuffy" would've been great as well.
Those looking to binge Buffy The Vampire Slayer can currently do so provided they have a Hulu subscription. For a look at what new things are headed to television in the coming weeks, head on over to our midseason premiere guide.
Your Daily Blend of Entertainment News
Mick likes good television, but also reality television. He grew up on Star Wars, DC, Marvel, and pro wrestling and loves to discuss and dissect most of it. He's been writing online for over a decade and never dreamed he'd be in the position he is today.