Why Kit Harington Sought Therapy After One Major Game Of Thrones Plot Twist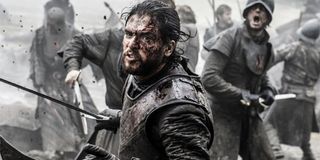 Playing Jon Snow never made Kit Harington happy. In a recent profile over at Variety, the actor made it clear that playing the character in his twenties and into his thirties has always been a struggle for him emotionally, and he even sought therapy at one point while working on HBO's Game of Thrones.
It all came to a head during the insane and intense time period when Game of Thrones ultimately opted to have members of the Night's Watch betray Jon Snow and stab him multiple times. That cliffhanger led to months of speculation before we finally got new episodes. As far as Kit Harington felt during that time, it "wasn't a very good time…"
As Kit Harington points out, most of us would think landing a leading role, or really any role on a giant HBO production would be a "fortunate deal," especially as that program escalated in popularity. We know nothing.
In fact, that wasn't true to how Kit Harington felt, and he says he even started therapy after realizing his biggest career break so far wasn't making him happy.
At plenty of points, Kit Harington reveals he wasn't always happy with playing Jon Snow. He told Variety he's had to come to terms with only liking about 30% of the work he has done on the show, disliking the other 70%. He even said keeping the Jon Snow hair was a giant burden for him and when he was finally able to cut it, it felt like a weight had been lifted off or, as Harington put it, "someone was shedding me of something." His hair is now much shorter than it will be in the upcoming season of the show.
Ultimately, his worst time while filming Game of Thrones seems to have happened around the time the show reached the gigantic cliffhanger point revolving around Jon Snow and his future on the series. In fact, Jon Snow was stabbed repeatedly on the show in an epic finale moment that carried over into the beginning of Season 6. One might think the fact that Kit Harington still had a role in such a major TV show might be reassuring, but Harington says those were actually his darkest days, noting,
Kit Harington does mention that big plotline made him realize Snow wasn't a weak link on Game of Thrones and, after coming back to life, Snow's trajectory was accelerated and became a key focal point on the series. In fact, it was during Season 6 that Jon Snow was a major part of the "Battle of the Bastards," an episode which led Kit Harington to nab an Emmy nomination for his work on the long-running show. He also mentions related to the latest season that he was happier about the work he did on Season 8 than at any other time during Game of Thrones' run.
All in all, Kit Harington does have some positive things to say about what Game of Thrones has given him, also noting that he's gotten the awards nods and the money and fame to sort of go on and do what projects he wants to do next. He's previously spoken out about keeping the statue made of Jon Snow upon the character's death as well, so it's clear he doesn't mind keeping some reminders of the character around. Game of Thrones wasn't all bad.
We'll keep you posted as soon as the actor lands his next role, although he does mention not to expect him in another project that is quite as demanding, lengthy or time-consuming as Game of Thrones has been for the cast, crew and showrunners Dan Weiss and David Benioff. For now, you can catch his voice in How To Train Your Dragon: The Hidden World, in theaters now.
Regardless, there are still several weeks until Game of Thrones Season 8 is released, which means it will still be some time before Kit Harington will really be able to shed the mantle of Jon Snow. Fans are very invested in whether Snow lives or dies this season -- along with a slew of other characters, so he is definitely not alone there -- and I don't expect the fervor to slow down until the last episode has aired and the audience has the chance to take a step back from the series. Especially since HBO has done a good job of not really illuminating the audience on how Season 8 will pan out.
If you haven't caught the teasy trailer yet for the upcoming season, it's definitely worth a watch, lack of spoilers or no.
After that, HBO will be investing in a prequel series to George R.R. Martin's popular work. Then haircuts, long days on set and identity concerns will be someone else's problem, not Kit Harington's. Namely Naomi Watts.'
Game of Thrones returns for its final season on Sunday, April 14, only on HBO.
Reality TV fan with a pinch of Disney fairy dust thrown in. Theme park junkie. If you've created a rom-com I've probably watched it.
Your Daily Blend of Entertainment News
Thank you for signing up to CinemaBlend. You will receive a verification email shortly.
There was a problem. Please refresh the page and try again.