The Walking Dead Season 10: What We Know So Far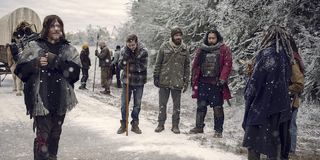 Warning! Major spoilers below for anyone who hasn't yet watched the entirety of The Walking Dead Season 9.
Time jumps! Imprisoned Negan! Disappearing Rick! Disappearing Maggie! Whisperers! The big fair! There are many reasons why The Walking Dead Season 9 was a complete departure from past seasons, and it won't be easily possible for the show to deliver another 16-episode set that hits all the same peaks and valleys. But Season 10 is definitely still coming to AMC later this year, with the zombie drama getting renewed in early February.
Even though the Season 9 finale is still very clear in our rear-view mirrors, we're looking ahead to Season 10. Below, you'll find everything we know so far about where The Walking Dead is going next, using the comic books, interview quotes, and sheer intuition as our guides.
When Will The Walking Dead Season 10 Premiere?
Considering it's so soon after The Walking Dead Season 9 came to its conclusion, we're still likely months away from hearing anything about when Season 10 is going to premiere. That said, we do have many past years' premieres to go by when it comes to making educated guesses on when new episodes will debut.
Season 10 is reportedly set to go into production in Georgia in May 2019, and there's a 99.99% guarantee the premiere episode will first pop up on AMC this October. Season 9 debuted on October 7, which was two weeks earlier in the month than when The Walking Dead had premiered Seasons 7 and 8. When it shows up next will likely depend on what AMC's programming schedule will look like for the latter half of the year. Stay tuned.
Where Will The Walking Dead's Story Go In Season 10?
Following the extremely deadly fair episode, "The Calm Before," The Walking Dead capped off Season 9 with a snow-covered installment that didn't do all that much to advance the Team Family vs. The Whisperers conflict. That said, there were some personal character developments that came up, and the final minutes of the finale offered some vague jumping-off points for the new season.
Carol and Ezekiel Post-Split: After Henry's death, and perhaps a little before that, Carol and Ezekiel's fairy tale romance disintegrated to the point where she could no longer remain in the same community as him. After the winter storm arrived and made the Kingdom unlivable, its residents packed up and shipped off, with Carol eventually heading to Alexandria, and Ezekiel remaining at the Hilltop.
Could they get back together in the future? Or is Carol now once again far beyond the concept of living a happy domesticated life with a husband and a son (or daughter)? What about her and Daryl? Here's one thing CinemaBlend learned from showrunner Angela Kang about Season 10:
That doesn't exactly answer all of our questions, but it does confirm that The Walking Dead won't just dust Carol and Ezekiel's courtship under the rug in Season 10 as if it never happened. Given Ezekiel's flair for the dramatic, things could get uncomfortable.
Alpha's Next Move: In the finale, a giant group of characters cross the Whisperers' boundary in order to take a shortcut through the sometimes blizzard-esque conditions. Thankfully for all the protagonists, Alpha's villainous group decided to migrate to warmer lands during the storm, so none of them seemed to notice the trespassing transgression.
Still, Alpha has some kind of massive scheme cooking up in her spooky bald head, as evidenced by the lone scene featuring her and Beta. She told him she needs to be strong for what's coming next, and that she can't make mistakes next time. All the while, Beta was supplying her arm with a vicious lashing, since that's just how these people spend their spare time.
It's been clear that Alpha uses pain both as a deterrent to keep lower-ranking members in line, and also as a combustible to keep everyone's mindsets focused. It's hard to imagine how she could possibly follow-up the mass beheadings, but let's not forget that Alpha did show Daryl that gigantic walker herd. So the very safe money is on that herd getting gleefully unleashed somewhere important in Season 10.
The Radio Transmission: The final seconds of the Season 9 finale were likely quite jaw-dropping for anyone who isn't familiar with the Walking Dead comic books. Just as the episode began with a shot of the radio that Eugene has been working on, such was how it ended, albeit with a different voice being transmitted.
Ezekiel got to tell his long-winded winter's tale to Judith throughout the finale but it was when he finally left the room that things got wild. A mysterious voice could be heard through the static, asking if anyone was there. That obviously means there is at least one more survivor out there with the skills to work a CB radio, and that person probably isn't alone.
Here's what Angela Kang had to say about that wild last-second reveal.
The radio mystery likely won't get solved in the earliest days of Season 10, so we won't delve too deeply into comic book spoilers here. (You can go here to find those.) Suffice to say, the person on the other end leads to one of the Walking Dead's bigger plot twists, and it completely changes survival dynamics across the communities. That whole Whisperers problem just needs to be taken care of first.
Which Characters Won't Be Back For Season 10?
Just as The Walking Dead's body count was rather massive in Season 8, the victim pool in Season 9 was similarly impressive. (So to speak.) There weren't nearly as many of Negan's minions to kill off in the most recent season, though, and the Whisperers shockingly took out a handful of the show's remaining major characters.
Without counting the various lower-tiered character deaths – such as longtime background character Bob Miller, that pair of Highwaymen, or the shit-head former Savior Jed and his cohorts – let's go over all the noteworthy survivors who made big and meaningful exits.
Gregory: The morally repugnant Hilltop Colony leader was killed off in the Season 9 premiere after both tasking Earl with killing Maggie, and also trying to kill Maggie himself. Gregory was hung in the middle of the Hilltop for all the residents to see.
Arat: Having first appeared in Season 7 as one of Negan's minions, Arat wasn't exactly a major character, but her death marked an important moment in the show. Arat was part of the attack on Oceanside, and her murder (via Cyndie) was allowed by Maggie and Daryl, as a sign they weren't fully on board with Rick's aim to rehabilitate criminals rather than murder them.
Jesus: Just when fans thought The Walking Dead might finally be ready to introduce Jesus and Aaron as an official couple, the worst thing happened. The Whisperers got introduced in the fog-cloaked midseason finale, and one of them surprisingly stabbed Jesus to death.
Enid: Though Enid had become Siddiq's medical protégé, and also moved beyond Carl's memory by getting romantically involved with the reformed Savior Alden, she was not fated to make it through this age of the post-apocalypse, and she was one of the many beheaded by Alpha. It's not clear how she got taken captive.
Tara: A former follower of The Governor, Tara certainly came into her own as a protagonist, and she was just getting the hang of being Hilltop's leader (following Jesus' death) when her own reign got cut short. Though she was seen defending herself like a banshee after being kidnapped by the Whisperers, Tara was eventually killed, with her head stuck atop a stake.
Henry: Despite all the information and guidance he got from Morgan and others, Henry clearly didn't get much advice about girls, and his first stab at a romantic relationship was literally with the worst person possible. Despite his gentlemanly ways, Henry was decapitated by Alpha as a resounding "fuck you" to her daughter Lydia.
Rick: Lauren Cohan's Maggie will supposedly return in Season 10 in some way, and Danai Gurira will appear in a handful of episodes to close out her TV run as Michonne, but there are no plans for Andrew Lincoln's Rick Grimes to head back to his former small screen home in that specific capacity. (Though he lives on in other ways.) Having left the AMC series in Season 9, Lincoln will reprise the role of Rick Grimes in a series of movies that AMC is producing.
Though it'd be awesome if Lincoln did make a surprise return to The Walking Dead in Season 10, it's unclear what kind of production schedule and release window the Walking Dead features will follow. The first may not even arrive until the hiatus between the tenth and eleventh seasons. We can also throw Jadis/Anne on this list as well, since she's meant to appear along with Rick.
What Comic Characters May Be Introduced In The Walking Dead Season 10?
In these earliest of early days ahead of Season 10 arriving on AMC, it's no easy feat to try to predict what kinds of new characters will get introduced into the Walking Dead universe. On the one hand, we can be thankful to have the comic books to look to for information. On the other hand, the Walking Dead TV show isn't far behind in the timeline, and there aren't that many options to choose from.
Stephanie
Though we already shied away from going into deeper comic spoilers concerning the mysterious radio transmission, it would be hard to talk about new comic characters showing up on TV without making some broad reveals. But let's just say that Stephanie has something to do with the other end of that transmission. It's just not clear whether she'll actually get introduced in person in Season 10, or if that will come later.
William
Truth be told, William isn't all that important of a character to the overall narrative, and "The Calm Before" sort of relegated his role moot. In the comics, he later takes over as The Kingdom's leader after Ezekiel got beheaded by Alpha, and it's not yet clear if the TV show will even have a Kingdom to go back to in Season 10. That said, William is one of the only community leaders in the comics that hasn't been introduced on the show yet.
Juanita/Princess
The Walking Dead could sensibly mess with the timeline in order to introduce Juanita earlier than she her debut in the source material. A filter-free firecracker, the self-proclaimed "Princess of Pittsburgh" didn't cross paths with Rick & Co. until the midst of the next big story arc, but it would be fabulous if she showed up right when the Whisperer conflict was drawing to its gruesome close. Juanita is fairly polarizing, too, so the casting would need to be as spot-on as ever.
In Season 9, AMC's The Walking Dead introduced Jocelyn and a handful of other non-comic characters for the origin story of Michonne and Daryl's back scars. That's just one recent example of a complete departure from the source material allowing for new survivors to come into the story. (Also see: The Highwaymen.) As such, Season 10 could bring more TV-exclusive characters than any before it.
Who's Heading The Walking Dead's Season 10 Creative Team?
Beyond Andrew Lincoln and Lauren Cohan's exits, The Walking Dead went through some other major changes behind the scenes for Season 9. The biggest, of course, was the change in showrunner, with longtime writer and producer Angela Kang getting promoted to the head gig. She replaced Scott Gimple, showrunner from Season 4-8, who is now the chief content officer across both The Walking Dead and its spinoff Fear the Walking Dead, among other Dead-related properties.
For Season 10, Angela Kang will remain the resident Walking Dead head honcho, taking charge of the show's next 16 episodes. As such, fans can likely expect to continue seeing episodes with deep emotional cores and strong character development.
Be sure to bookmark this article to stay current with The Walking Dead's ins and outs for Season 10, as we'll be regularly updating when big news goes public ahead of its debut on AMC. And for all the other shows on TV that will keep fans busy in the meantime, be sure to check out our midseason premiere schedule.
Your Daily Blend of Entertainment News
Assistant Managing Editor
Nick is a Cajun Country native, and is often asked why he doesn't sound like that's the case. His love for his wife and daughters is almost equaled by his love of gasp-for-breath laughter and gasp-for-breath horror. A lifetime spent in the vicinity of a television screen led to his current dream job, as well as his knowledge of too many TV themes and ad jingles.