Why I'm Worried About Arya And Jon's Reunion On Game Of Thrones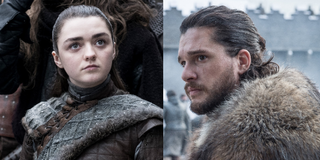 (Image credit: Helen Sloan/HBO)
There is no Game of Thrones reunion that this fan has been looking forward to more than Arya Stark and Jon Snow. The siblings/cousins have been separated ever since Season 1. Seven seasons later, the much-anticipated moment is about to arrive. Arya and Jon Snow will reunite in Game of Thrones' eighth and final season.
The series (and HBO) clearly know that fans are looking forward to this moment as their interaction got partially revealed in a recent teaser. That is where my concerns really got into fear. However, something else had already elevated my alarm bells. More on that in a moment though.
In the brief teaser, Arya and Jon Snow can be seen standing in what appears to be the godswood of Winterfell. The weirwood trees are visible in the distance. Jon seems to be taking in the sights solo at first before Arya can be spotted standing behind him.
Whatever is on Jon's mind must be heavy. Possibly, a my-aunt-is-my-girlfriend level of heavy. His expression is quite broody. He may or may not know that Arya is behind him. She has the skills to be around Jon without him realizing it. She was trained to be "no one," after all.
If Jon does not know she is there, he may just be having a private moment. Winterfell is going to be a pretty full house in Season 8. If so, then his expression may not have anything to do with Arya. Perhaps they are getting ready to have a sibling chat. In other words, it could be a scene unrelated to their initial reunion. Still, it could be one indicative of their relationship in Season 8.
If it is the scene of their reunion, I will be upset. Jon Snow and Arya's reunion should be a happy one. Not one filled with some sort of broody atmosphere. For her part, Arya does not look particularly thrilled either. Given that she is in the presence of her long-lost brother, one would think she would be thrilled or as happy as circumstances allow.
In my dream scenario, Jon Snow and everyone else would arrive at Winterfell. In an ode to Arya being late to receive the Lannisters and King Robert Baratheon in Episode 1, she would be off elsewhere.
Ideally, she would be in the godswood, practicing her swordsmanship. That is when Jon would come into frame saying "stick 'em with the pointy end." Cue to Arya turning around and seeing Jon – run, hug, reunion.
See? Heartfelt, nostalgic, and happy. Not angsty. Everything else on the show being angsty and dark makes sense. Jon Snow and Arya's relationship should not be one riddled with such issues. There is reason to believe that Game of Thrones will have them endure some sort of rough spot.
Why am I worried about the Stark siblings' dynamic in Season 8? A recent interview with Maisie Williams (who plays Arya Stark) provided a reason to take pause. She indicated that Arya and Sansa would be teaming up and have to call Jon out for some things. That hints Arya may not be the cheerleader Jon once had in his corner.
She has grown, so it makes sense for her to challenge him. Agreeing more with Sansa than Jon, though? That seems out of place.
After keeping Jon Snow and Arya apart for so long, for the show to reunite them only to have them bicker would be heartbreaking. That is not how their relationship was, and it is hard to imagine that is how it would be now. Jon has not had a whole lot of supporters in his time. However, Arya was always an exception.
Arya has arguably been Jon Snow's number one fan for a long time. Before leaving for The Wall, Jon gifted his little sister with something that has come in handy more than once. Her prized sword, Needle, was a gift from Jon. Accordingly, Jon and Arya had a sweet sibling bond.
Plus, it was Jon Snow at Winterfell that prompted Arya to return to her home in the first place last season. Arya learning that Jon had defeated Ramsay Bolton in the Battle of the Bastards proved pivotal to her decision, as did learning that Jon was the King in the North.
It was primarily Arya's bond with her brother that caused her to put her revenge plans aside and rejoin her family. Arya and Jon have been away from each other for a long time, and both have changed in countless ways. Their relationship should remain the one thing all they have endured should not take away.
Game of Thrones might have a hard time pulling off such a happy reunion amid all of the high expectations for the final season. Still, not managing to give Jon and Arya a reunion that stays true to their earlier bond would be the most disappointing for me. At its core, the show has been a family drama, and the Stark siblings have been at the heart of it.
There is reason to believe that Game of Thrones can deliver the Jon/Arya reunion fans have been waiting since Season 1 to see. While Sansa reuniting with Bran and Arya felt a bit off-kilter last season for some, the moment she saw Jon again in Season 6 was phenomenal. For me, it was one of Game of Thrones' most emotional scenes to date.
Unlike Sansa's relationship with Bran and Arya, Sansa and Jon had a lot less history. Watching the stirring moment when they reunited, you would have never known it. That reunion is proof that Game of Thrones knows what works. You could feel the sentimentality behind it, and it soared as a result.
Since then, Sansa and Jon's ultimately fractious relationship has not been surprising to see. In my eyes, Sansa never fully embraced Jon as her equal in the Stark family, despite claims to the contrary. Her faith in Jon has never been strong either (as she almost got him killed), and there is nothing he can do to fix that. For whatever reason, Sansa, like her mother, seems to have an inherent bias against him.
The foundation for Jon and Arya's relationship has been the exact opposite. Arya has always embraced Jon as her brother and a member of the Stark family. She has been one of his champions. Her doubting him in the final season would be a difficult thing to watch.
In Season 7, Arya remained directly in Jon's corner. She even confronted Sansa on multiple occasions with concerns about her ambitions threatening Jon. Arya going from fan to frustrated sister in Season 8 would be a leap. Hopefully, it is one that Game of Thrones does not attempt to make.
Jon Snow and Arya have endured too much to reunite in a story arc that is anything less than civil. They should be working together. As Jon told Sansa, they "need to trust each other." I hope fans can trust that Game of Thrones will deliver a reunion worthy of Jon and Arya's bond.
Find out how Jon Snow and Arya's reunion goes down for certain when Game of Thrones' final season begins airing. Season 8 premieres Sunday, April 14 at 9 p.m. ET on HBO.
Like a contented Hallmark movie character, Britt happily lives in the same city she grew up in. Along with movies and television, she is passionate about competitive figure skating. She has been writing about entertainment for 5 years, and as you may suspect, still finds it as entertaining to do as when she began.
Your Daily Blend of Entertainment News
Thank you for signing up to CinemaBlend. You will receive a verification email shortly.
There was a problem. Please refresh the page and try again.