Why I'm Disappointed By Sansa's Reaction To Dany In New Game of Thrones Footage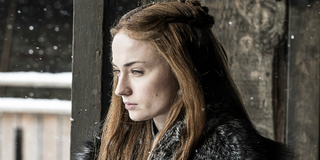 (Image credit: Helen Sloan/HBO)
Game of Thrones fans received a tremendous gift when HBO released new footage from Season 8. The clip in question featured Sansa's reaction to Dany's arrival at Winterfell. Suffice it to say, I was disappointed by Sansa's response to the Mother of Dragons and here is why.
With the exception of Cersei, almost every character on Game of Thrones has rolled out the red carpet for Daenerys. Considering Sansa's behavior in Season 7, it seemed she would be the other to remain cold to Daenerys' conquest. This is what made Sansa's rather warm welcome to Dany, disappointing.
While Jon arguably has the overall say over Winterfell, Sansa has not been shy about publicly voicing her disapproval. So, if she is totally against Dany, she does a great job hiding it in the clip. Sansa does not even say "Winterfell is yours, your grace" with much petulance. In fact, she sounds quite sincere. Now comes the true question. Is Sansa just playing along?
Sansa could have learned from Season 7's display of public disapproval to guard her words. Maybe she is saving them to share with Jon for the private sector. Hopefully Sansa will have her fair share of thoughts on Daenerys when she and her brother/secret cousin get some time alone. Based on what Sansa has previously shared, it makes no sense for her to be Team Daenerys all of the sudden.
Sansa did not even want Jon to go meet with Daenerys in Season 7. It has also seemed as though she has favored the North having an independent identity in the Seven Kingdoms. Something that Daenerys would certainly not allow if given power.
Daenerys' entire position has always been arrogant. She believes she should rule a whole kingdom that she has mostly never even stepped foot in. The North south of the Wall is one such region.
Previous prattle about the upcoming season teased a bit of tension between Sansa and Daenerys. The two will not be instant besties, and that should only heighten the tension between Jon and Sansa.
Daenerys is for all intents and purposes his new girlfriend, and he has already made an alliance with her. Jon was supposed to go ask Daenerys for help in combatting the White Walkers, not bend his knee and his kingdom to her. That is something that should only add to Sansa's annoyance in Season 8.
In the new Game of Thrones footage, Sansa seems to know the writing is on the wall. Having learned to master the need to keep a calm exterior from Cersei, Sansa may be playing at the same game.
Because Daenerys is one of Game of Thrones' "heroes," it was always unlikely that Sansa would be able to remain opposed to her for long. So, Sansa's acceptance is not entirely shocking. Plus, fans were told that it would not last forever.
Game of Thrones is just pushing the "everybody loves Daenerys" bit too far now. Thanks to her dragons, she has remained a pretty unassailable rival. Game of Thrones has set up the idea that it should be smooth sailing for Daenerys, from here out.
Everything she has always wanted, including the entire Seven Kingdoms, seems like it is just within reach. Game of Thrones fans know something that Daenerys, Jon Snow, and countless others do not. Jon Snow is the trueborn heir to the Iron Throne, not her.
When Jon Snow's true identity is revealed, it will potentially jeopardize everything Daenerys has wanted. Jon's rightful claim is unlikely to upset the Mother of Dragons' ambitions though. She feels insatiably entitled to the Iron Throne.
Having set Sansa up to eventually waver on Daenerys, it would seem that Game of Thrones is priming fans for Jon Snow to do the exact same thing as his sister: let Daenerys have her way. That is a beyond frustrating development to contemplate. If Jon's secret identity being revealed merely results in a shrug from Snow, accompanied briefly thereafter by a "It's all yours, Daenerys" from Jon, I will be even more disappointed.
Jon, Sansa, Arya, and Bran are the last vestiges of House Stark. Daenerys' father had their grandfather and uncle brutally murdered. There are reasons for House Stark not to be entirely open to Daenerys' claim as a member of House Targaryen. She has barely acted like she feels truly bad about what her father did to the Starks.
It would be wonderful if Sansa reminded Daenerys of those events. She should want to hear how Daenerys feels about that chapter in her father's twisted reign. No matter what her father did, it has not dissuaded Daenerys from asserting that House Targaryen has lost its right to continue ruling.
If you pay close attention to the HBO clip at the 40-second mark, you can see Daenerys making her entrance without much humility. She considers herself the queen of the entire Seven Kingdoms. Hopefully Sansa holds out longer than the clip implies regarding her endorsement of Queen Daenerys.
Game of Thrones' eighth and final season will premiere sometime in April 2019 on HBO. It is among the plethora of shows awaiting viewers in the midseason.
Your Daily Blend of Entertainment News
Like a contented Hallmark movie character, Britt happily lives in the same city she grew up in. Along with movies and television, she is passionate about competitive figure skating. She has been writing about entertainment for 5 years, and as you may suspect, still finds it as entertaining to do as when she began.