Netflix's I Think You Should Leave Needs To Be Watched By Everyone Immediately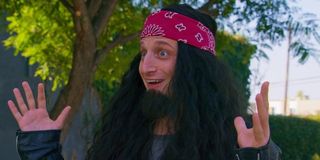 (Image credit: netflix press)
Mild spoilers below, in the sense that this show is best experienced by diving in blindly.
When one becomes a seasoned writer and performer on Saturday Night Live the way Tim Robinson has, the next career step is arguably always the most challenging. But his most recent effort, the Netflix series I Think You Should Leave with Tim Robinson, is something so singularly silly and original that it's a sign that Robinson is just getting started showing audiences his bag of tricks.
Previously seen on Comedy Central's Detroiters and Netflix's one-off series The Comedians, Tim Robinson has returned to the streaming fold along with some friends like series co-creator Zach Kanin and Veep's Sam Richardson. (Richardson was his Detroiters co-star and co-creator.) That creative trio makes up just one of several reasons why I Think You Should Leave deserves to make its way into your living room ASAP.
So if you have the room in your heart, allow me to explain why I Think You Should Leave with Tim Robinson needs to be watched by everyone immediately. Extenuating circumstances excluded, of course, but it takes less than two hours in total, so come on!
The Sketches Are Much Sharper Than Saturday Night Live's
The problem with being a network TV show as storied and widely recognized as Saturday Night Live is the fact that network censors set a lot of limits on comedic content. Netflix doesn't have that same problem, however, which allows Tim Robinson to push scenes into way darker and weirder directions on I Think You Should Leave.
One particularly funny sketch, which features SNL alum Vanessa Bayer, proves this point rather well, as Bayer's character has a rough time finding the line between Instagram humble-bragging and self-deprecating humor. Upping the ante with each failed attempt, Bayer makes the gag even more profane, breaking the time-honored "rule of three" and lording over most of the scene's running time; those things would never fly on network TV.
The Show Isn't Afraid To Get Weird, And Does It Well
Much like Tim and Eric Awesome Show, Great Job, Tim Robinson and Zach Kanin have laid out a playground for humor to reach into weird and obscure places in service of the various jokes that I Think You Should Leave with Tim Robinson unloads onto its audience. But while the jokes on I Think You Should Leave are undoubtedly weird, they're definitely structured for intentional results. (At least, most of them.)
Strangely enough, one such sketch involves Tim Heidecker himself, who guest stars as an imposing party guest that ridicules his fellow players during a party game. Those critiques turn to weird requests for snacks, some oddly detailed relationship problems, and it all leads to an ending that abruptly ends the joke and the episode on an unexpectedly odd note. But in the world of I Think You Should Leave with Tim Robinson, it's the most perfect note that things could have ended on.
Bonkers Appearances From Special Guests Like Will Forte and Steven Yeun
Random and unexpected guest stars are part of what make comedies like I Think You Should Leave with Tim Robinson work so well. While Robinson glues together each episode with his cringe-provoking presence, the steadily rotating roster of comedic talent, like the always bonkers Will Forte, supporting him amplify the tonal range this show employs. And they come from all corners of the entertainment world.
Some are surprising guests, like The Walking Dead's Steven Yeun, who gets entangled in joke that starts with a birthday gift and escalates into something potentially more lethal. Viewers will also spot comedy legends like the absurdity-loving Fred Willard, as well as contemporaries like Brooklyn Nine-Nine's Andy Samberg or the aforementioned Sam Richardson, who add their unique flavors to the jokes that populate Tim Robinson and Zach Kanin's insane world of comedy. (Samberg's fake game show sequence features solid gold awkwardness.)
It's The Easiest Netflix Binge You'll Have In Quite Some Time
Most long-form series take quite a bit of time to get invested, play the long game, and eventually decide whether to move onto the next episode or not. But I Think You Should Leave with Tim Robinson doesn't waste any time, as the entire first season is a brisk 100 minutes, spread out into 8 episodes of hilarious madness. So if you want to down each episode in one, concentrated run, it's easy to do so.
But even if you want to spread the joy of the series through individual or smaller grouped portions, that's easy to do as well, since no episodes last longer than 18 minutes. It's a binge that can fit into a busy schedule, or a lazy Sunday, and still work its magic in the same exact manner in either scenario. Very rarely will you find a show that can be binged in such an interchangeable manner as I Think You Should Leave.
You're Going To Be Quoting And Rewatching It For Some Time
Like any good sketch show, I Think You Should Leave with Tim Robinson has some bits that are so memorable, you're going to want to revisit them a couple of times. Whether it's the "Baby of the Year" sketch with that degenerate infant Bart Harley Jarvis, or Will Forte's tale of vengeance 30 years in the making, there's bound to be a favorite joke or sketch you'll want to replay at least once.
In going back to those new favorites, you'll probably find yourself latching onto other sketches that you may not have appreciated quite as much the first time around while still in hysterics from a previous segment. Which only begins a new cycle of rewatching, and all that streaming will hopefully be more incentive for Netflix to greenlight a new season of I Think You Should Leave. It's a perfect system of comedy and commerce, no?
Getting another season of I Think You Should Leave with Tim Robinson would mean everyone wins. Creators Tim Robinson and Zach Kanin have brought the world a perfectly prepared package of madness, ready to be enjoyed by all who love to laugh. It's absurd, it's ridiculous, and it's the type of show that's designed to share with friends, leading to lots of group texts and social media posts repurposing the plethora of jokes scattered throughout the entire run. ("The bones are their money," is a most unexpected earworm of a line.)
Most importantly, keeping a show like I Think You Should Leave with Tim Robinson on the air gives Netflix the opportunity to continue experimenting in the field of comedy programming, so let's convince the powers that be that Season 2 is a necessity for life to continue normally in 2020.
I Think You Should Leave Season 1 is currently available for streaming on Netflix (opens in new tab), ready to bring you all the laughter you can stand.
CinemaBlend's James Bond (expert). Also versed in Large Scale Aggressors, time travel, and Guillermo del Toro. He fights for The User.
Your Daily Blend of Entertainment News
Thank you for signing up to CinemaBlend. You will receive a verification email shortly.
There was a problem. Please refresh the page and try again.