8 Spectacular Netflix TV Shows Premiering April 2019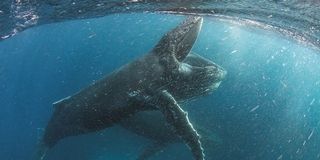 Another month is here, and that means Netflix has a fresh batch of shows just waiting to be binged by its subscribers worldwide. There's actually quite a spectacular lineup for American audiences to look forward to this month, so let's dive in and check out the 8 most promising offerings of April.
Chilling Adventures Of Sabrina (Part 2) - April 5
Sabrina Spellman signed her name in the The Dark Lord's book, and while the decision ultimately saved her friends, things haven't been that great with them since. She and Harvey appear to be on the outs, and a trailer for the upcoming episodes has revealed Nick may make a move in the next batch of episodes. Will this be the season Sabrina turns her back on humanity and embraces her dark side?
The only thing we know for sure is that Netflix plans to tell Sabrina's story for a while, so those who missed out on Season 1 should catch up. That's especially true for those who enjoyed Buffy The Vampire Slayer, as this show is the reboot that, in all honesty, may make the actual Buffy reboot in development pointless. With last season's ending such an unexpected turn of events, who can guess how this season will play out?
Our Planet - April 5
Netflix is jumping into the world of exotic wildlife original documentaries, and it's gotten the best of the best to help them out. It looks like The BBC may have some competition as Our Planet has enlisted famous nature doc narrator David Attenborough to go along with viewers on a journey through various wildlife habitats in over 50 countries. That includes the Arctic, the depths of the ocean, South America, and Africa.
Is it a ripoff on the tried and true BBC nature documentary formula? Well, it's hard to say this series is drastically different from Planet Earth, Life, or Blue Planet, especially when David Attenborough is involved. Then again, who really cares when we ultimately get yet another breathtaking nature documentary to binge on a lazy day? Isn't that all that really matters in the end?
You vs. Wild - April 10
Netflix is getting back into the "Choose Your Own Adventure" game, but this time it's giving something a bit different less trippy than Black Mirror: Bandersnatch. Bear Grylls' new survival show puts him in various parts of the world trying to survive, and you're along for the ride. Viewers will be asked to choose the right decision in how to survive situations, with several ways an episode can branch depending on situations.
It's basically like subscribers will be the special guest star on a Bear Grylls show, with none of the risk! That just might make the decision to chug urine a little easier if that's what it takes to survive, but there's a good chance the shame will still be there for doing so. There's a lot of potential in this series, and if it's a hit, one would think Netflix will be bringing a lot more of these types of shows our way.
Black Summer - April 11
Black Summer is the long-awaited prequel series to Z Nation, although fans should be warned this is different than the Syfy series. This prequel is set towards the beginning of the zombie apocalypse, and has been said to be overall more serious than the Z Nation series. Does that mean there won't be more links between this series and the Sharknado films?
Actress Jaime King is attached to star, and will play a mother looking for her daughter in what is touted to be the most dangerous summer of the zombie apocalypse. She'll meet up with some American refugees along the way so she's not going about things completely alone, but as The Walking Dead has shown us, more people means more chances to get stabbed in the back. Why can't humans ever put their differences aside in these situations?
Special - April 12
Special tells the story of a gay man with mild cerebal palsy who's decided to make a change in his life. He's going from blogger who writes at home in his pajamas to a life that's closer to the one that he ultimately wants to live. It's an off-beat comedy from series creator and star Ryan O'Connell who's based the adventure on his memoir I'm Special: And Other Lies We Tell Ourselves.
This definitely seems like the feel good comedy Netflix subscribers need for April, or really any month of the year. When done right, shows from this genre can be some of the best on television, so here's hoping Special scratches that itch.
I Think You Should Leave With Tim Robinson - April 23
Netflix has a comedy sketch show on the way, and it's one that, surprisingly, brings something new to the table. As the title may imply, Saturday Night Live vet Tim Robinson and guests participate in sketches that escalate to the point that one of the guests may feel encouraged or desperately want to leave whether they can or not.
That sounds like it could be incredibly awkward, uncomfortable, and also absolutely hilarious. What could possibly drive these people to such lengths they physically want to remove themselves from a sketch comedy show? The mind goes crazy with potential scenarios, and hopefully this show can deliver on at least half the uncomfortable moments we're thinking of.
Street Food - April 26
The creators of Chef's Table are back, except this time they're stepping away from the table and taking their show to the streets. That's right, Street Food will bring the wonderful format of the Netflix original and take it around the globe to food stands and trucks that have made a name for themselves in the wide world of cuisine.
While not everyone has the cash and freedom to travel the world and check out simple food stands, there's something to be said about Street Food highlighting the simpler style of cooking. Sure, these cooks still may be far better than the at-home chef, but at least there's that less-polished feel that gives a viewer a sense that they too can make spectacular food without top-notch training and their own five-star restaurant.
Yankee - April 26
Netflix already has the market cornered on Mexican crime dramas with Narcos: Mexico, and it looks like the streamer is trying to get another one going with Yankee. American Malcolm Moriarty crosses into Mexico, and slowly gets himself in deep with the drug trade. He crosses the border to protect his family, but will that still be the case when he's one of the area's big drug kingpins?
Now, there's no guarantees this one will be a hit for Netflix, but the streaming service has managed to do dramas better than other original concepts. Will this be another hit, or one of the many one-and-done series the streaming service has abandoned when the viewers weren't there?
Wondering what else is headed to Netflix (opens in new tab) in 2019? Head on over to our Netflix premiere guide for a list of shows on the horizon, and plot out a binging schedule for when the cable television offerings begin to thin out.
Mick likes good television, but also reality television. He grew up on Star Wars, DC, Marvel, and pro wrestling and loves to discuss and dissect most of it. He's been writing online for over a decade and never dreamed he'd be in the position he is today.
Your Daily Blend of Entertainment News
Thank you for signing up to CinemaBlend. You will receive a verification email shortly.
There was a problem. Please refresh the page and try again.